Planning or already booked a flight on Malaysian airline Malindo Air B737? It may be a small airline, but since March 2013 they've built an international and domestic network currently operating 60 routes.
Malindo Air operates two variants of the popular Boeing 737. There are 6 Malindo Air B737-900ER based in KLIA, Sepang along with 20 units of their workhorse B738-800. Sixteen ATR-72 operate out of Subang on mostly domestic routes.
Like most airlines these days, you do have to pay to choose your seats before you check-in. However, if you do a web check-in, you can usually choose your seat without charge.
Malindo Air B737: Best seats
We've flown in a number of Malindo Air B737 aircraft, including trips to Brisbane, Melbourne and Adelaide. These trips are obviously too lengthy for a direct service, so there's a one hour stopover in Denpasar, Bali. Since mid August 2019, Sydney has also joined the line-up and has the same stopover. As you need to leave the aircraft, you will get a leg workout, and a quick look at Denpasar airport. (They have some cool shops).
The leather seats are arranged in threes, either side of a single aisle. With a seat width of slightly over 18″ (46cm) and a pitch of 33″ (84cm), there was no need to feel cramped. Even when the seat in front was reclined there was sufficient space to use the tray table and see the screen.
For passengers sitting in the bulkhead seats (front row of the cabin), the tray table fits into the arm rest and your entertainment unit is on the bulkhead wall in front of your seat.There are also attachment points for a bassinet. If you are flying with small children, be aware that you can usually carry a child car seat with you for the child to use on board. This is for children up to 3 and you should check with your airline. There should be no additional cost.
Legroom
The single best thing that we like on these flights is the legroom. Having flown on many B737 and A320 aircraft with 10″ between the front of my seat and the back of the one in front, I really appreciate the extra inch in these aircraft. All Economy seats have 11″ legroom space except those in the exit rows and Row 4, the bulkhead row at the front of the economy cabin. Exit Rows also have extra space, these rows are different in the two variants.
Windows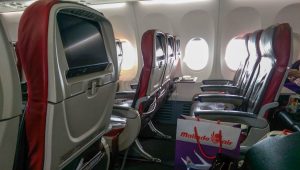 Most seats have at least one window for seats A and F. Some have two and 8A seat has no window at all (11A in the 737-900). Of course, if you have a night flight or just want to sleep, this might be your perfect seat.
Seat 7F in the 737-800 has two windows, so nowhere to rest your head if you want to sleep. Seats 9 A&F have a half wall, full window, which does give a place for your head to lean.
In the 737-900 variant, this arrangement is repeated further back, affecting rows around 21/22.
If your main reason for wanting a window seat is so you can see outside, then most seats other than those identified, will give you at least a reasonable idea of where you are.
Recline
The seats recline to a comfortable angle and the armrests can be raised to tuck into the gap between the seats. However, three rows have either limited (the back row) or no recline. Those with no recline are the seats in the row before the first Exit Row and the first Exit Row. The second exit row can be reclined, so combined with the extra legroom, it's worth considering. In the 737-800, the last row is 30, while it's 33 in the 737-900.
There is no headrest on your seat, so you will need your own neck cushion. In addition, exit rows and the two or three in front or behind are over the wings, so your view may be restricted. 
Foot Room
There are no footrests. However, if you prefer to choose your seat by the amount of foot-room available, they are all slightly different. There is a small IFE unit (in-flight entertainment) attached to the inside the strut for window seats (A&F). It is smooth and quite small and does restrict the space a little. The middle seats (B&E) have the most room and you can fit a small bag and average sized legs/feet in the space. The aisle seat (C&D) has the least space as the support is well inside the underside of the seat. There is not enough room for a bag and both legs. Your aisle side leg is either on the outside of the bar, or at an uncomfortable angle if fitted on the inside.
Summary
[table style="table-striped"]
| | | |
| --- | --- | --- |
| Seats: | 800 (20 aircraft) | 900   (6 aircraft) |
| Number of seats | 150 (+12) | 168 (+12) |
| Exit Rows | 12 & 15 | 16 & 17 |
| No recline | 11&12 | 15 & 16 |
| Last Row | 30 | 33 |
| Missing window | 8A | 11F,  21/22 A & F |
[/table]
Of course, there's also the other considerations – there are two toilets, loacted at the back of the aircraft, just in front of the gallery. If you are bothered by people waiting for the toilet, or food smells, then you might like to choose seats closer to the front. Remember too, that food is served from the front of the aircraft.
The other seat to watch out for is 8A as it has no window. Unless, of course, you don't need a window and value the flat wall to place your pillow as you sleep. The seats in the back row have limited recline and may be desirable if you need easy toilet access.
There is only one pair of toilets available in this type of aircraft for Economy passengers. They're located at the rear of the plane close to the galley. If having people waiting in the aisle for the toilet bothers you, or you don't like noise or smells from the galley, avoid seats in the last few rows. Food is served from the front of the cabin.
If you want more space and have the means, Malindo Air often has good promotions on business class tickets. Their seats are standard business class seats, with leg-rests and good recline.
Check out our video here, or watch it on YouTube.
images©LL