You can pack quite a lot into an afternoon in Geelong and this is just a very small taste of what's on offer. We visited in December, the height of summer, when daylight saving gives you longer evenings to enjoy. This is what we managed to do, plus a couple of other ideas we'd like to try on future visits.
Geelong – a quick peek
Geelong is the largest urban centre on the west coast of Port Phillip Bay. It's located on the shores of Corio Bay, a smaller inlet in the larger bay. The city is a great place to stay to enjoy trips to nearby Weribee and the Bellarine Peninsula or further afield to Bells Beach and the Great Ocean Road.
1. Segway around the waterfront
We were super surprised to discover that riding on a Segway is not hard! This writer was sure she'd fall off and was thrilled to discover that, not only could she stay on board, she could even do tricky maneuvers. Head over to the Geelong Waterfront to try your skills. A one hour training & tour will cost you AUD50 (at the time of writing) and longer experiences are also available.
Bookings are essential. Check them out at segwaygeelong.com.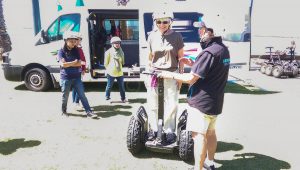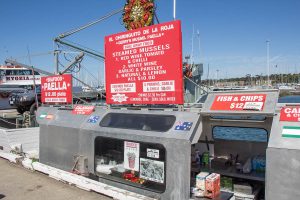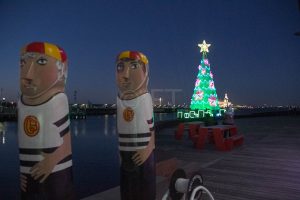 2. Enjoy the Beach
A walk along the waterfront will appeal to 'strollers', foodies and swimmers alike. Admire the carved wooden bollards as you walk. There are 103 of them, painted by Australian artist Jan Mitchell to represent local characters. Stop for a fresh seafood snack along the boardwalk and ride the Ferris wheel as you reach the beach.
Cool down with an icecream or gelato at the icecream truck and paddle in the clear water of the bay. The bathing beauties in their colourful, old style bathers will keep you company.
3. National Wool Museum
In the heydays of the wool trade, high quality wool from the region was exported through Geelong. Many of the old woolstores have been restored and re-purposed. Check out the National Wool Museum which shows the process of shearing and classing the wool (including the AU$1 million bale bought by Japanese interests!). They also run one of only two known remaining machines weaving carpet strips.
The museum is also notable for its construction, so look up and around you as you walk. Check out the various on-going and temporary exhibitions and stop by the museum shop on your way out.
4. An Aussie 'Pub Crawl'
Now, we're not suggesting you go on a real 'bender' and end up 'legless'. Head over to Little Mallop St, a short walk from the Wool Museum and you'll have plenty of choice, whether you like wine, beer or cocktails. Our first stop, at the Geelong Cellar Door, offered us an array of beautiful Aussie wines and craft beer to choose from.
Then it was on to the 18th Amendment Bar which only opens at 5pm, but offers a wide range of both alcoholic and non-alcoholic choices. Whatever you choose, this is an experience in itself. Modeled on the Chicago speakeasy bars  of the American prohibition era, 1920-1933, even the photos on the wall are interesting.
5. Dinner and a walk
Geelong is a very cosmopolitan city. With a community of many different nationalities and a sizable university population, there's a wide array of food choices. We enjoyed a lovely Italian dinner which used fresh local ingredients and then set out to walk it off. Check out the street art, some with light shows. The heritage buildings in the area come alive in the evening light.
In the run up to Christmas, kids of all ages will enjoy the animated windows in the Myer Store, along Malop Street. Then wander down to the waterfront and along the pier to check out the interactive, floating Christmas tree. You can play with the lights on the tree, so they change colour. Our video shows you how.
Year round, ride the Carousel beside the jetty. It's had quite a journey since it was built in 1892, before eventually making its way to Geelong. The Bellarine Railway  Heritage Train Ride is another experience we'd love to try in future. That takes you down to Queenscliff, also worth a 'look around' as they also have a Maritime Museum worth a visit.
This is only a short list of things to do in this attractive and friendly city. Collect information from the Local tourism people at Level 1 – 48 Brougham Street, or download guides from their website below.
EconomyTraveller visited Geelong as a guest of AirAsia X on their inaugural flight into Avalon Airport on 5th December 2018. We enjoyed our afternoon in Geelong with the guidance of Tourism Greater Geelong & The Bellarine. We stayed at the Novotel Geelong.