Having used Avalon Airport to travel to Brisbane some years ago, because it was closer to where I was in Geelong, Victoria, I quickly regretted my decision. My 4pm flight was delayed so many times that it was after midnight when I flew into Brisbane. I was whinging that I could have flown to Kuala Lumpur in slightly less than that!
Well, now you can, because AirAsia X is moving its Tullamarine flights to Avalon and lots of people are asking 'WHY!'? They'll start the first international service out of Avalon on 5th December 2018, with twice daily flights that don't require either early morning or late night trips to the airport. Construction of the new international airport is well underway, for opening before the inaugural flight.
Not far from Avalon Airport – lots to do
While we love Melbourne, there are lots of great places to visit that are easily accessible from this airport, particularly by car.
Education

Geelong Grammar School has a well established and renowned campus in Geelong.

Two of Deakin University's campuses, Waterfront and Waurn Ponds have their home here.

T

he city is 15 km from the airport and travel by car takes around 20 mins.
The city has many attractions including a Waterfront esplanade with a 19th-century carousel and family attractions including biking trails.

 Surf beaches

Bells Beach, home of the big international surfing championships each Easter long weekend. ** TIP – check your dates because there is a huge premium on last minute accommodation during the competition.

Torquay is the eastern end of the Ocean Road and a popular holiday spot.

The Great Ocean Road

with many sweeping views and the home of

The 

Twelve Apostles, Port Campbell National Park

some have already fallen – they were born from the water, that's also how they die.
Sunset and sunrise are great times to drop by – increase the drama!
Razorback is a dramatic sight at the lookout, just off the highway
A little to the west is Loch Ard Gorge, which also has a sheltered swimming spot.

Cape Otway – the southern-most spot in Western Victoria, in Great Otway National Park.

Visit the Lighthouse and see just how rough the water is below
Check out the nearby treetops walk.

Lorne is a pretty town, great for a lunch stop or overnight stay. Nearby:

Grey River Road near Lorne – a great place to see koalas sleeping above you.
The wreck site of the WB Godfrey
Teddy's Lookout, with great views along the coast. (see the top picture)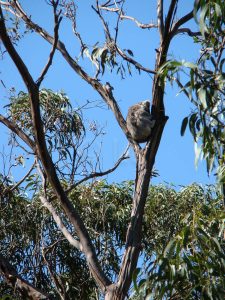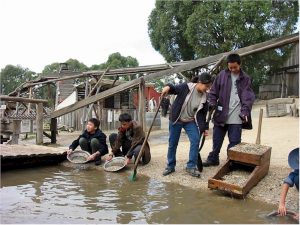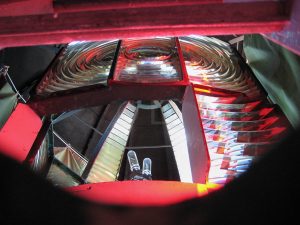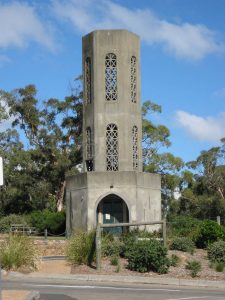 Go Inland

Ballarat – pan for your own gold at Sovereign Hill Historical Village in this old goldmining town.
Bendigo is another old gold minng town worth visiting, if you have the time. It's north of Ballarat and you can visit The Golden Dragon Museum, which celebrates the area's Chinese heritage.

The other side of the bay 

There's is no bridge across Port Phillip Bay, but you can cross between 

Queenscliff and Sorrento by Ferry.

The Queenscliff Car ferry

 caters to both foot and vehicular traffic. 
 The Mornington Peninsula

lots of small towns along the bay shore

protected beaches

Brighton Beach is the best known, for the colourful beach huts
Portsea is also a  seaside town popular for longer stays.

Beaches along the outside of the bay are more dramatic with rough surf and some are rocky

Fingal has good surfing and fishing at Gunnamatta Ocean Beach
Golfers are spoilt for choice, there are plenty of public golf courses, including the highly recommended St Andrews Beach Golf Course.

Dromana

Dromana has one of the few remaining Drive-in movie cinemas in Australia.
Arthurs Seat is on the hill above the town. You can drive up and over the other side towards St Andrews.
You can also take a walk up to Arthurs Seat if it's not hot. There are lots of spots to look out over Port Phillip Bay and the city of Melbourne is visible to your right.
A Chairlift gives you the option to walk up, ride down, or ride both ways.
There are a number of vintners and vineyards in or near Dromana.

Fort Nepean

Old Defence base, with lots of lots of unexploded ordnance – stay on the marked paths!
Situated at the narrow opening of Port Phillip Bay.
Tickets are required and you can walk in, or ride on the hop on/hop off trolley bus that does the trip.
Shots have only been fired twice in war – at the start of both WW1 (a German ship) and again at the start of WW2 (an unidentified ship)
Australian 

Prime Minster 

Harold Holt disappeared at Cheviot Beach in 1966. No body was ever found and the beach is marked. Swimming is prohibited as the sea is very rough and the shore is rocky.

Noise & Nature

Phillip Island and the Bass Coast

Motorcycle racing at Phillip Island Grand Prix Circuit is popular. There are races throughout the year, with the Australian Motorcycle Grand Prix held in October.
Penguins – there is a penguin rookery which charges for entry. The fairy penguins return around sundown and numbers are variable.
Enjoy your holiday!