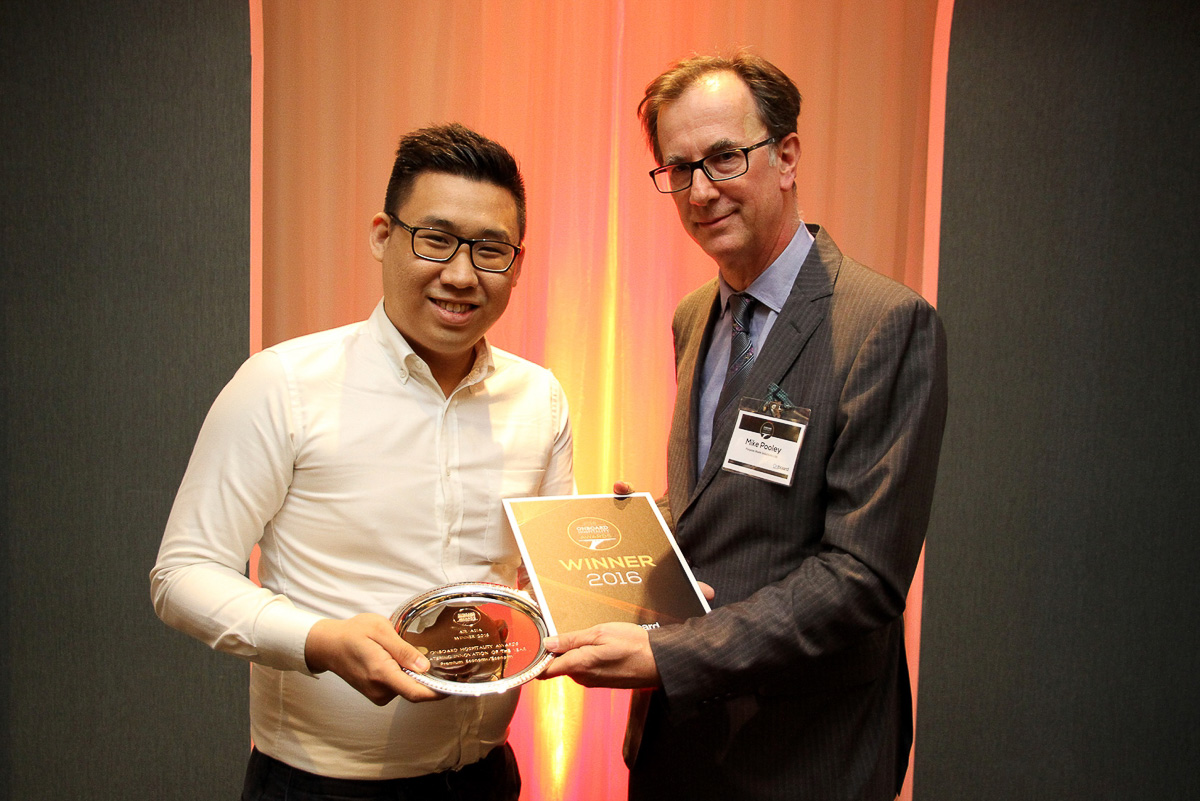 One year after introducing their 'Barista in the Skies' on selected routes, The AirAsia award came in the category of Onboard Hospitality 'Catering Innovation of the Year'  at the 2016 Onboard Hospitality Awards held in Hamburg, Germany recently.
The only low-cost carrier to win in any of the 10 categories considered, AirAsia took the prize for its Barista in the Skies gourmet coffee product, which offers guests T&Co coffees – espresso, long black, cappuccino and caffè latte – freshly brewed by cabin crew who have trained as professional baristas, using an onboard espresso machine. The product is currently only available on AirAsia Malaysia flights with the flight code AK.  ** Please note that while they still use T&Co coffee, they are no longer using the baristas to brew your cuppa.
What are these awards?
The Onboard Hospitality Awards recognises excellence and innovation in the airline industry, and seeks to recognise products that have changed the onboard hospitality industry for the better. It is organised by Onboard Hospitality, a leading magazine of the hospitality industry focused on onboard catering, inflight technology, airline trends, innovations and sustainability issues.
How were the winners selected?
Finalists were chosen by Onboard Hospitality readers via an online vote, with winners then chosen by a panel of industry experts.
Judges were asked to assess the finalists on 11 criteria:
first impressions
quality
durability
lifespan
weight
usefulness
design
functionality
taste,
content
how the product adds to customer experience
….. Barista in the Skies is a great concept as it reverse engineers the coffee making process to create specialist coffees such as cappuccino or latte possible in the air. Judges Mike Pooley and Keerthi Hapugasdeniya
A little bit about the coffee
T&Co was founded by a group of travellers, entrepreneurs and coffee enthusiasts who believe that everyone deserves great coffee. The team has developed a special Altitude BlendTM which caters to taste buds dulled by flying, made from Grade A Robusta beans from South America and Asia that have been lightly roasted to create a sweeter, more delicate sipping sensation.
…. We are thrilled to win the Onboard Hospitality Award for Catering Innovation of the Year. When AirAsia and T&Co started this service, we knew we were onto something good and this award is proof of that. It is a real testament to the commitment AirAsia has to innovation, not just in terms of technology, but also taking our inflight service to the next level for our guests. Spencer Lee, Head of Commercial, AirAsia