Whether you're a Malaysian Airlines Enrich frequent flyer member living in Australia or Malaysia, you can take advantage of their current redemption discounts.
If you're in Malaysia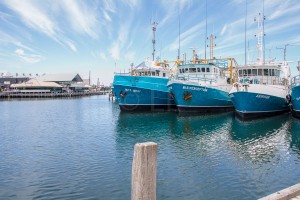 Travellers in Malaysia can take advantage of the current offer to visit Australia and New Zealand and explore the varying countryside in both countries.  Enrich frequent flyers can get up to 50% off Enrich Miles redemption for flights between Kuala Lumpur and Australia or New Zealand until 22nd April 2016 for travel up to 30th June 2016.
…. We are very pleased to launch this highly anticipated campaign to both Australia and New Zealand.  The campaign will enable our members to choose from a vast array of exciting attractions from stunning scenic drives, gastronomic experiences to extreme adventure at great prices.  Members can also fly direct to their destinations without the worry of long layovers and take this opportunity to experience our new lie-flat A330 Business Class seat to Sydney, designed for work, play and sleep. Khairul Nisa Ismail, Malaysia Airlines' Head of Enrich & Loyalty
Use your Enrich Miles to redeem flight tickets valid for either one-way and return flights on Malaysia Airlines. If you have insufficient miles to redeem your selected destination, you can use the Cash + Miles facility by starting with as few as 1,000 Enrich Miles, you can redeem flights by topping up the difference with cash.
If you're in Australia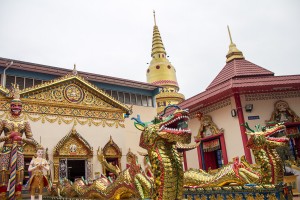 Your great escape from the coming winter may be just round the corner. Explore Malaysia and discover the diversity of the tropics. Book your tickets by 22nd April for travel by 30th June and save up to 50% off Enrich miles for your flight, so start planning your holiday in the jungle, the cultural areas, on the beach or in the shopping areas, or a combination of all of them.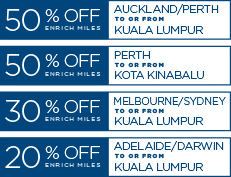 How to make your booking
For more information or make your booking, you can log on to Enrich online, or call Malaysia Airlines' Reservations on 13 26 27 (in Australia) or1 300 88 3000 (in Malaysia). You may also book through your preferred travel agent. All bookings must be made at least 24 hours before flight departure.