In line with most airlines world-wide, AirAsia has a carry-on baggage allowance of 7kg. This allowance has always been fairly strictly enforced at most departure airports, if you don't carry more than a small overnight bag and a handbag or laptop bag. They have recently updated the drop-in size checking frames with a reminder of the weight limit and you should find a set of weighing scales nearby.
AirAsia & AirAsia X carry-on baggage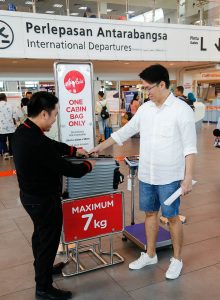 Making sure you have complied with the rules will ensure you don't have to fork out extra cash.
Dimensions:
One piece of carry-on baggage measuring 56 x 36 x 23cm (including handles and wheels)
One small bag (laptop bag or handbag) measuring 40 x 30 x 10cm
Total weight of the two pieces must not exceed 7kg
What if I have too much?
Carry-on baggage must not be
overweight,
oversized or
exceeding the allowed quantity
Excess baggage fees will be charged for non compliance. This is charged on a per kilogram basis. Alternately gate baggage fees may apply.
** Note: You may not strap, wrap or tie multiple pieces together. This does not count as one piece of cabin baggage.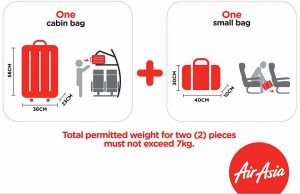 Exemptions
Duty-free items purchased at the airport are exempt from carry-on requirements and must be
packed in a Security Tamper-Evident Bag (STEB) and
within the duty-free allowance of the destination country.
These purchases must be accompanied by proof of purchase until disembarkation.
** Note: All other purchases, including free gifts from duty-free outlets, will count as part of the cabin baggage allowance.
Other useful Baggage information
Infants below the age of 2 are not allocated any cabin baggage allowance.
Children aged 2 and above will receive the same allocation as adults
Travelling with infants or children? Prams, strollers and buggies cannot be taken onboard but can be checked at no extra charge.
**TIP: Pre-book your checked baggage allowance online when booking your flight (it's cheaper then) or through Manage My Booking if you need to add more.
If you have a specific query, you can visit the AskAirAsia portal.