The Campaign
Over the past 5 months, special AirAsia limited edition T-shirts featuring the AirAsia cabin crew and pilot captain uniform designs have been sold to create a wider awareness of cancer. They've been on sale through roadshows across Malaysia and in response to requests, were available online as well. The limited edition T-shirts, designed by AirAsia staff were sold at RM30 per piece at 23 on-ground locations throughout Malaysia, as well as MAKNA's online store at its website.
How much was raised
AirAsia CEO Aireen Omar presented a cheque for RM120,945.64 to the National Cancer Council's General Manager, Farahida Mohd Farid in Kuala Lumpur on Sunday afternoon, 18th October 2015.
Also present were a number of local celebrities, who were there to show their support for the #AirAsiaMAKNA campaign and mix with a number of cancer patients, survivors and their family members who have benefited from MAKNA's initiatives.
How will the money be used?
MAKNA plans to use the funds raised to mobilise resources in order to provide curative, preventive and research support as well as providing support services to underprivileged cancer patients who cannot afford treatment, their families, high-risk groups, and also the general public within Malaysia and the region. It is the organisation's mission to fight cancer and reduce related pain, morbidity and the suffering that cancer patients undergo.
Raising Awareness
As part of the #AirAsiaMAKNA campaign, MAKNA representatives were present at all the on-ground sales locations during the campaign to provide information and guidelines to the public as well as using social media to disseminate important information about cancer.
In addition, AirAsia also ran an Instagram contest where members of the public who purchased the T-shirts could upload a creative photo of the subject wearing the cabin crew or pilot-designed T-shirts with the hashtag #AirAsiaMAKNA to stand a chance of winning a pair of flights each to Maldives or Sapporo!
From the more than 750 entries received, two lucky winners were selected and their names were announced during the presentation. Congratulations to winners @shaarin and @suzanekassim, who will be contacted by the airline to redeem their flights.
Can we still contribute?
Yes! Look out for the 'Travelling Beruang' who travels the world as the eyes and ears for children diagnosed with cancer who are not able to travel. The cuddly 'Travelling Beruang' is available for purchase on board AirAsia flights for RM65 each, with all proceeds channelled to MAKNA. This campaign has garnered encouraging support from the public with the #travellingberuang hashtag on social media.
You can also still purchase the special T-shirts at MAKNA's online store for RM40, which includes the cost of postage.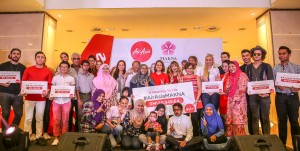 photo credit AirAsia