Kuala Lumpur International Airport opened on 27th June 1998, in time to welcome visitors and participants to the 16th Commonwealth Games. A quarter of a century later on that day, AirAsia, a Malaysian airline that didn't even exist in 1998, hosted its first Sustainability Day to champion immediate action towards 'greener skies'. In the last 22 years starting with two aircraft, AirAsia has emerged as an airline Group leading in the low cost airline market. We discovered how they have sustained their business and grown over these years.
AirAsia's Sustainability Day initiatives
Invited guests represented a diverse group of stakeholders largely from the finance and sustainable aviation fuel (SAF) markets. Capital A Chief Sustainability Officer Yap Mun Ching, who led the programme, noted that many financiers now require airlines to show their progress in particular, on the environmental aspects of sustainability. Therefore two of the segments related to these particular areas. Capital A is the parent company of the AirAsia companies.
However, layman and travelling public are interested in seeing how the airline is able to keep fares low sustainably, while maintaining efficiency. The topics covered the human factors as well as how AirAsia improves efficiency, while not compromising on safety.
Inaugural Sustainability Day 'Doing More with Less'.
The answers could be found in the presentations which looked at the 17 listed United Nations Sustainability Goals, of which Capital A is prioritising these 6 main areas:
5. Gender Equality
8. Decent Work and Economic Growth
9. Industry, Innovation and Infrastructure
11. Sustainable Cities and Communities
12. Responsible Consumption and Production
13. Climate Action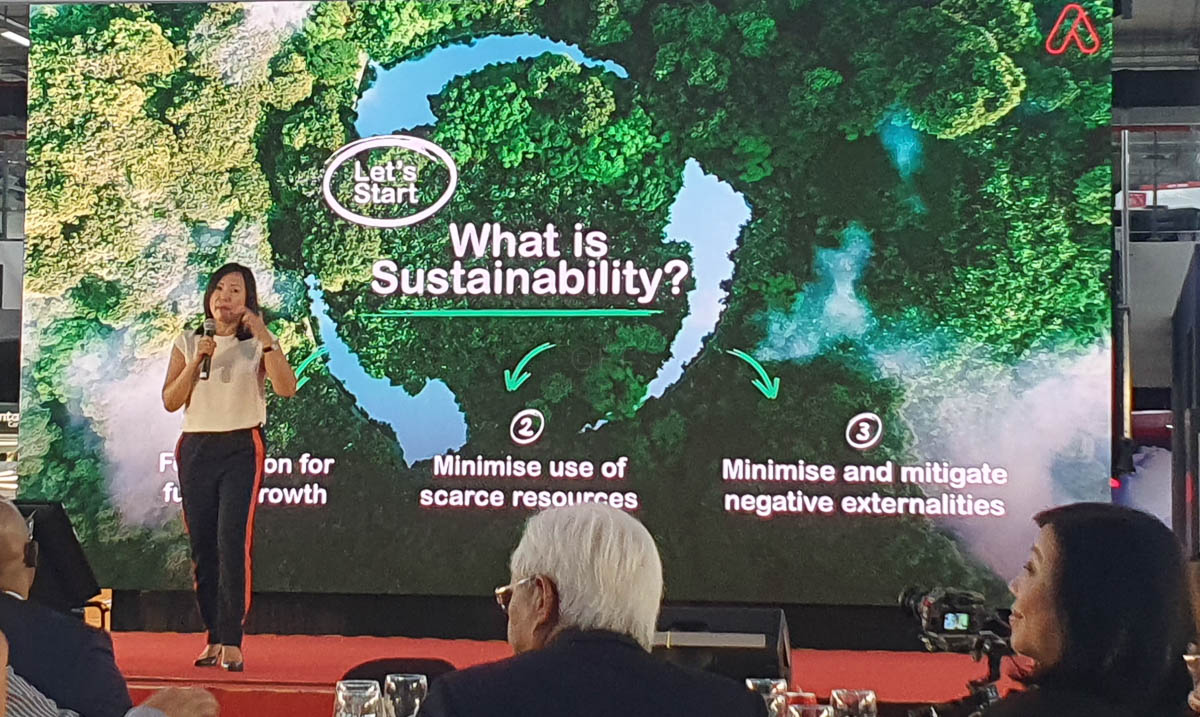 The speakers, comprising AirAsia technical heads and subject matter experts, with a focus on four main areas.
How AirAsia is factoring ESG considerations into the deployment of its fleet assets
Prospects in switching to greener biofuels
Opportunities for ESG financing
Managing talent to meet future growth needs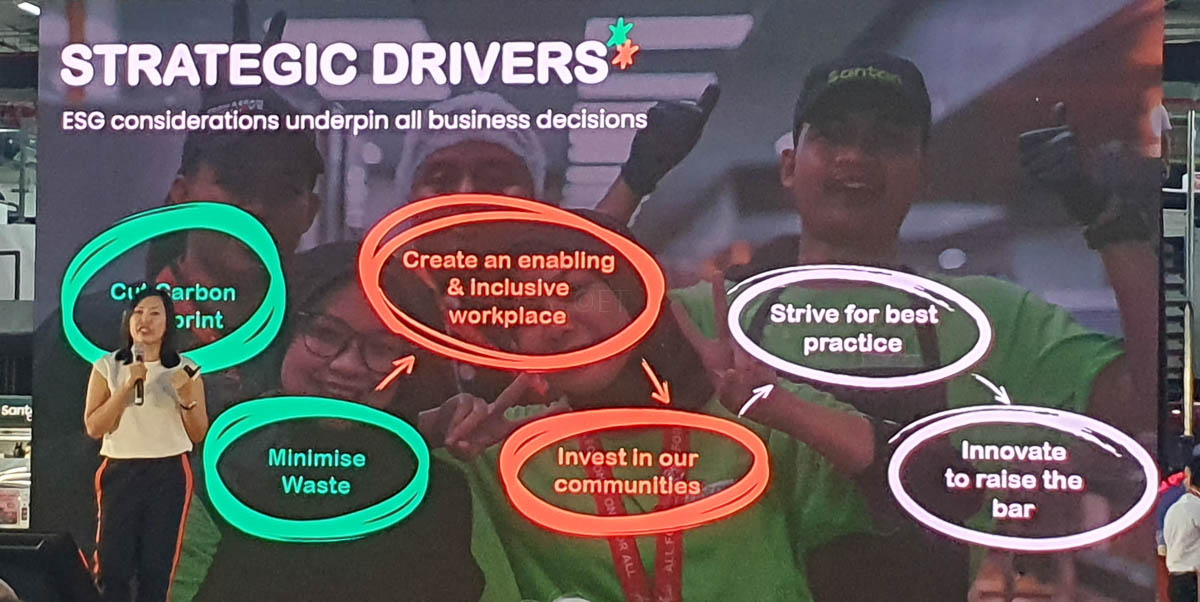 …Today marks the first time we are bringing all our key stakeholders from government officials, regulators, financial institutions, aviation analysts, business partners and the media, to advance their understanding of the intricacies of aviation sustainability.Capital A Chief Sustainability Officer, Yap Mun Ching
Top takeaways
While the focus of the sustainability Day was to showcase the airline's achievements for  their invited guests from the industries, there were many takeaways identifying how AirAsia maintains its sustainability. Many of these are through small actions, with beneficial results.
The use of paperless flight plans for a start, saves 20 sheets of paper per flight which adds up to around six million sheets per year. These documents must be stored for 7 years. Huge saving here!

Right f

rom the beginning AirAsia has not used agents, bookings are made directly with the airline, online. The use of IT has underpinned AirAsia's development throughout.
The use of RNP AR (Required Navigation Performance. Authorization Required). This can be defined as 'WAZE for aircraft', using GPS to navigate the most efficient route for landing approach. This saves both time and fuel.
Saving fuel offers both environmental and financial benefits. As Yap Mun Ching noted:
… All airlines are faced with four pathways to decarbonise, namely to upgrade their fleet, step up implementation of green operating procedures, switch to biofuels and offset remaining emissions.
AirAsia's top priorities are in
upgrading the fleet to the A321neo

362 new A321neo aircraft
to be delivered at about 20 aircraft per year between 2024 and 2035
This is currently the world's largest order
The A321 is currently acknowledged as the most fuel-efficient aircraft on the market
Expanding and deepening its industry-leading fuel-efficiency programme

through use of procedures such as RNP AR
Single engine taxiing

Only one engine is used to reach the runway for take-off and after landing

Use of sustainable aviation fuel (SAF)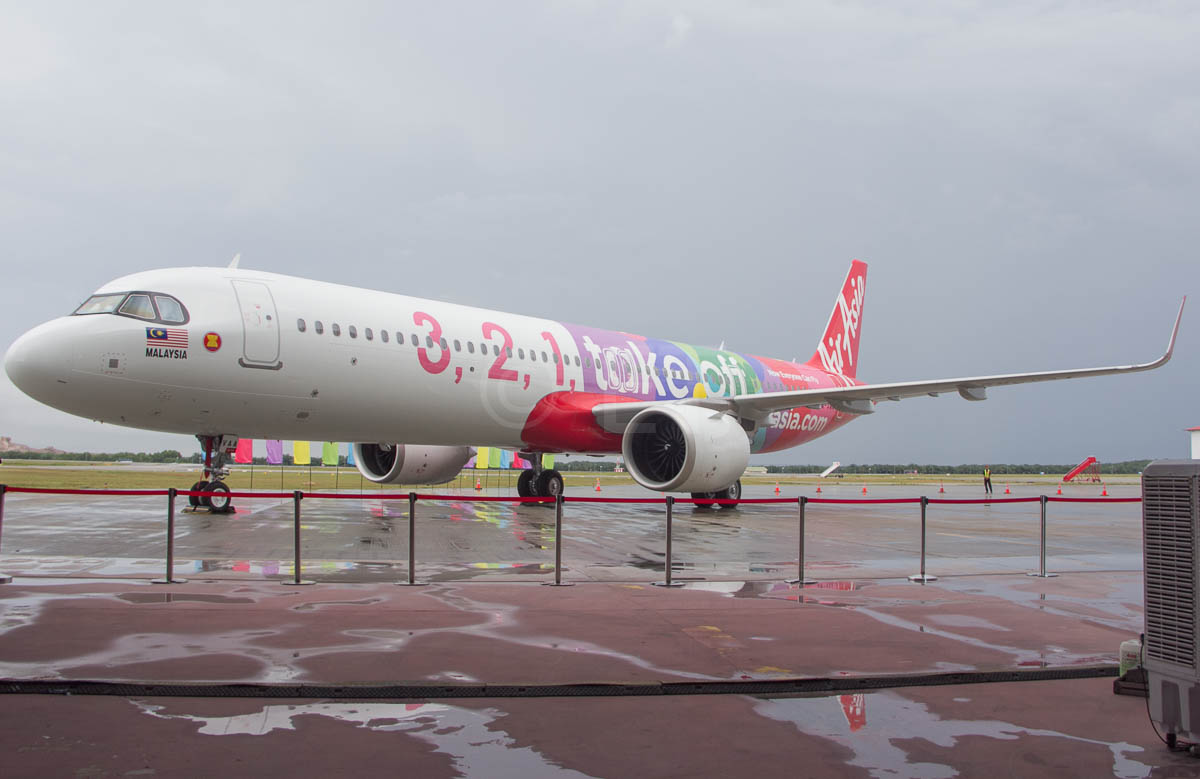 What is SAF and are travellers ready for a carbon price?
AirAsia is proud of their fuel efficiency programme as one of the best in the world, whether using fossil fuels or biofuels. AirAsia is also exploring options to introduce sustainable aviation fuel (SAF) into its fuel mix before 2025. Since 2015, the airline has saved over US$130 million in fuel consumption. This has enabled AirAsia to achieve among the lowest cost and emissions per seat in the industry. 
On the sidelines of the event, I spoke with representatives of SAF companies in Singapore, who explained the basics of SAF. SAF can be made from a range of biofuels, including used cooking oil. It can be used in older aircraft as a mixture with regular aviation fuel, or, in new engines, alone.
They also explained why sustainable aviation fuel is between two and five times more expensive that regular aviation fuel, largely because the technology is still evolving. They expect that, like petroleum products, the efficiency has improved over the years, as the costs have reduced.
Q&A discussions were held to support the talks and questions could be submitted electronically. Many airlines do currently offer the opportunity for customers to make a contribution to the environment through carbon offset purchases. This is voluntary and we heard that uptake in many instance is not encouraging. Japan Airlines offers this option, but apparently they don't publish results because it's 'embarrassingly low'.
Human Resources
The other main area of general interest is how the human factor is important to sustainability, not just in terms of cost saving, but also in human development and meaningful job creation.
This session on AirAsia's experience in harnessing diversity, equality and inclusion to create its competitive edge over the last 22 years created a lot of interest among participants, with a number of questions.
AirAsia has a culture of developing and celebrating their staff, known as Allstars and many have taken the opportunity to rise through the company in changing roles. There are pilots who started as more 'lowly' though important jobs and the culture is very supportive of diversity in gender and background.
AirAsia's first female pilot took to the skies in 2004 and there are 160 female pilots in the company today. This is better than many other countries but still well behind AirIndia where over 12% of their pilots are females. It seems that many of these women grew up with the culture of flying as they had (usually) fathers who were pilots.
Across the company, including Engineering, ground staff that those in the air, just over a third are women.  The AirAsia Group currently includes AirAsia Malaysia, Indonesia AirAsia, Thai AirAsia, Philippines AirAsia, AirAsia X, Thai AirAsia X and AirAsia India.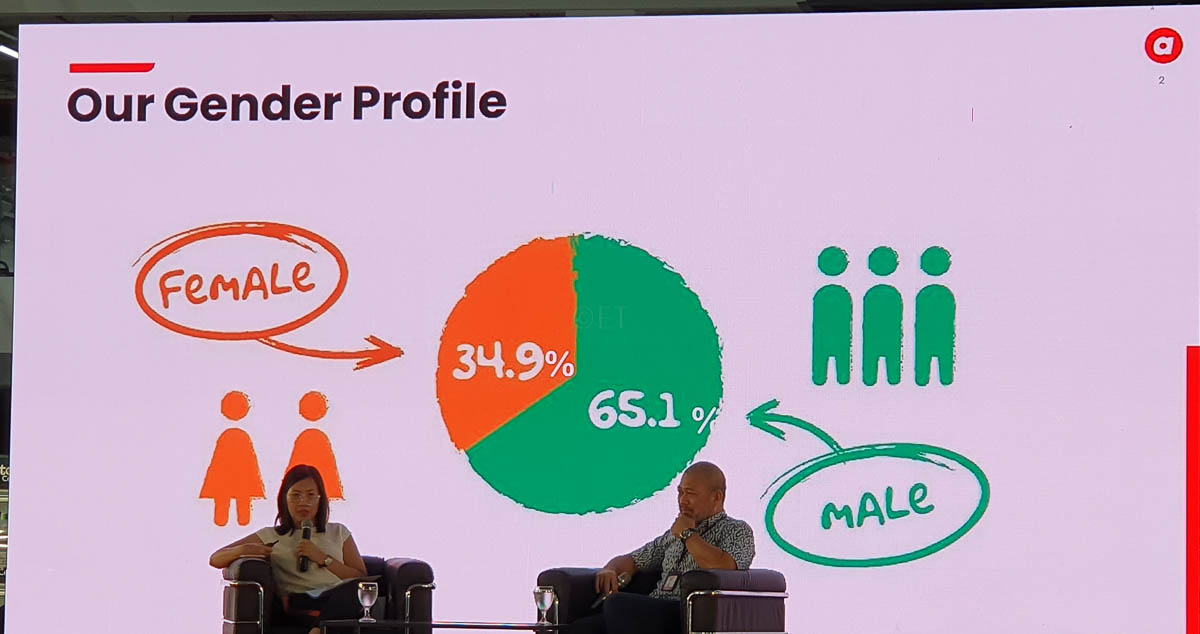 In conjunction with the event, AirAsia also launched its Guide to Aviation Sustainability, a handbook of aviation sustainability terms to make more accessible common concepts associated with the subject. All participants received one of these handy Guides. The handbook also highlights outcomes from AirAsia's own implementation of some of the measures listed. Publication of the booklet was supported by AirAsia's business partners, namely Avolon, Honeywell, Mirus Aircraft Seating, PETRONAS, Shell Aviation and SITA.
More information on AirAsia's Sustainability achievements, goals and targets are available in the Capital A Sustainability Report 2022. The day closed witha message delivered by AirAsia Aviation Group Ltd Sustainability Adviser Prof. Tan Sri Dr. Jemilah Mahmood.