The AirAsia Group is responding to the growing demand in air travel by reinstating existing routes, adding new ones and offering special fares for upcoming festive travel.  AirAsia Malaysia is adding its first ever direct route between Singapore and Sibu, with the inaugural flight set for 16th December 2022, with an initial frequency of 4 times weekly. This is in addition to the earlier introduced Singapore to Kuching and Singapore to Miri flights, which took off on 29th April 2022.
These services from Singapore, make AirAsia the carrier with the widest network and largest connectivity in Sarawak. Sibu, is located in the central region of Sarawak, on the Rejang River. Check out the Sibu Central Market and enjoy local cuisines inspired by the city's early settlers from Foochow, China, including Foochow Mee Sua, Kompia and Kompua Noodles.
Sibu – Singapore Flight Schedule
Route
Flight No
Departure time
Days of service
Sibu – Singapore
AK1411
1.40pm
Monday, Wednesday, Friday, Sunday
Singapore – Sibu
AK1410
4.00pm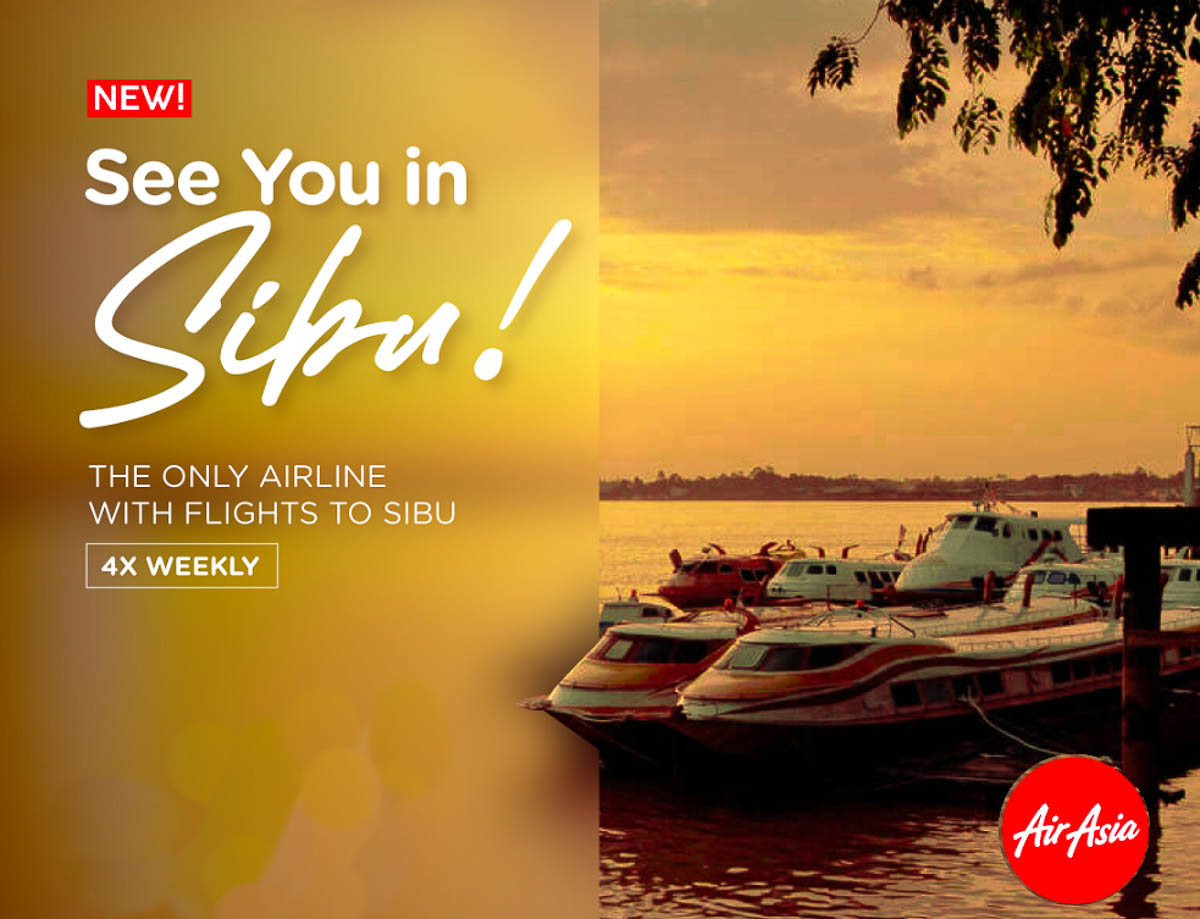 Other new services
South Korea is a popular destination for travellers, regardless of the season. To meet the demand, AirAsia X (AAX), the  AirAsia Aviation Group' mid-range airline affiliate, steps up as the first airline from Malaysia to reconnect direct flights between Kuala Lumpur and Busan, South Korea's popular destination in the south east, in early 2023. The three times weekly flights will be the second AAX route to South Korea after flights to Seoul were launched in April 2022.
… We are delighted to be the first airline to resume flights to Busan from Malaysia. Korea is a very important market and we have seen an average load factor from our existing Seoul route… Starting with three flights per week, based on the strong forecast demand, we expect the frequency of flights to Busan to return to daily flights by the end of the year. AirAsia X CEO Benyamin Ismail
New service Chiang Mai – Singapore
Thai AirAsia is adding a new route between Chiang Mai and Singapore with flights four times a week, every Monday, Wednesday, Friday and Sunday starting 1st February, 2023. To celebrate the launch, AirAsia members can pick up an each way fare for 3,390 THB, while general customers will fly for 3,430 THB each way. This offer is available until 4th December, for travel from 1st February, 2023 when you use the airasia Super App.
The increasing demand for services to the popular northern Thai city of Chiang Mai, has seen both domestic and international routes well-received. This will see its Chiang Mai-based fleet grow to four aircraft in anticipation of growth this December, nearing its size before the COVID-19 pandemic.
The Chiang Mai base currently serves eight domestic routes from Chiang Mai to
Bangkok (both Don Mueang and Suvarnabhumi),
Phuket
Krabi
Hat Yai
Surat Thani
Khon Kaen
Hua Hin
and five international routes from Chiang Mai to Singapore as well as
Vietnam – Hanoi and Da Nang
Taipei in Taiwan
Kuala Lumpur in Malaysia
Special fares for upcoming festive seasons
AirAsia will add extra low-fare flights ahead of the peak travel seasons of Chinese New Year and Hari Raya, offering extra low fares and late night flights from Kuala Lumpur and other key hubs to multiple domestic and international destinations. Although the details are not yet available, the special fares will be available to meet pent-up demand. Apart from domestic destinations, you'll be able to pick up good deals to international destinations including India, Cambodia, Vietnam among others, with gradually increased flight capacity to meet rising demand.
As the airline gradually recovers from a two-year hiatus, AirAsia has been steadily increasing its flight frequency and resuming other major routes. However, the road to recovery has been challenging as most airlines face a global shortage of maintenance, repair and overhaul (MRO) facilities to return all aircraft to service.
Things to remember
Airasia has resumed their operations in Singapore to Terminal 4, so you must factor this in if you are planning to transfer from a flight in Terminals 1-3 or catch the MRT from the airport.
From December, AirAsia will also be increasing its flight frequency for Singapore-Kuching to 11x weekly and Singapore-Miri to 5x weekly. Flights are available for booking from the airasia Super App and airasia website.
You can also stay up to date on the latest in flights, travel, lifestyle and more by following them on Instagram, or use @airasia on Twitter and WeChat/Weibo for the latest.