AirAsia X (AAX) began it's journey in 2007, with its first ever service heading off to Australia's beautiful Gold Coast in Queensland, the Sunshine State. Now the Gold Coast is back in the AAX schedule, with the the inaugural flight leaving for their brand new International Terminal on 15th February 2023.
The route will be the airline's fourth destination in Australia, following the return to Sydney, Melbourne and Perth recently. Between April to November this year, AAX has carried over 30,000 travellers between Malaysia and Australia, a number set to grow substantially the with the Gold Coast back in the schedule. The initial three times weekly schedule will hopefully grow, as additional frequencies to Sydney and Melbourne are launching this month.
Gold Coast is back with promo fares
To celebrate AAX's return to its first ever route, the airline is offering great value fares between Kuala Lumpur and the Gold Coast for travel between 15th February and 28th October 2023. Fares start at RM799 (under AUD299), all-in one way for economy and RM3,999 (under AUD1,999) one way for Premium Flatbed. *All-in fares include airport tax, fuel surcharge and other applicable fees. Terms and conditions apply.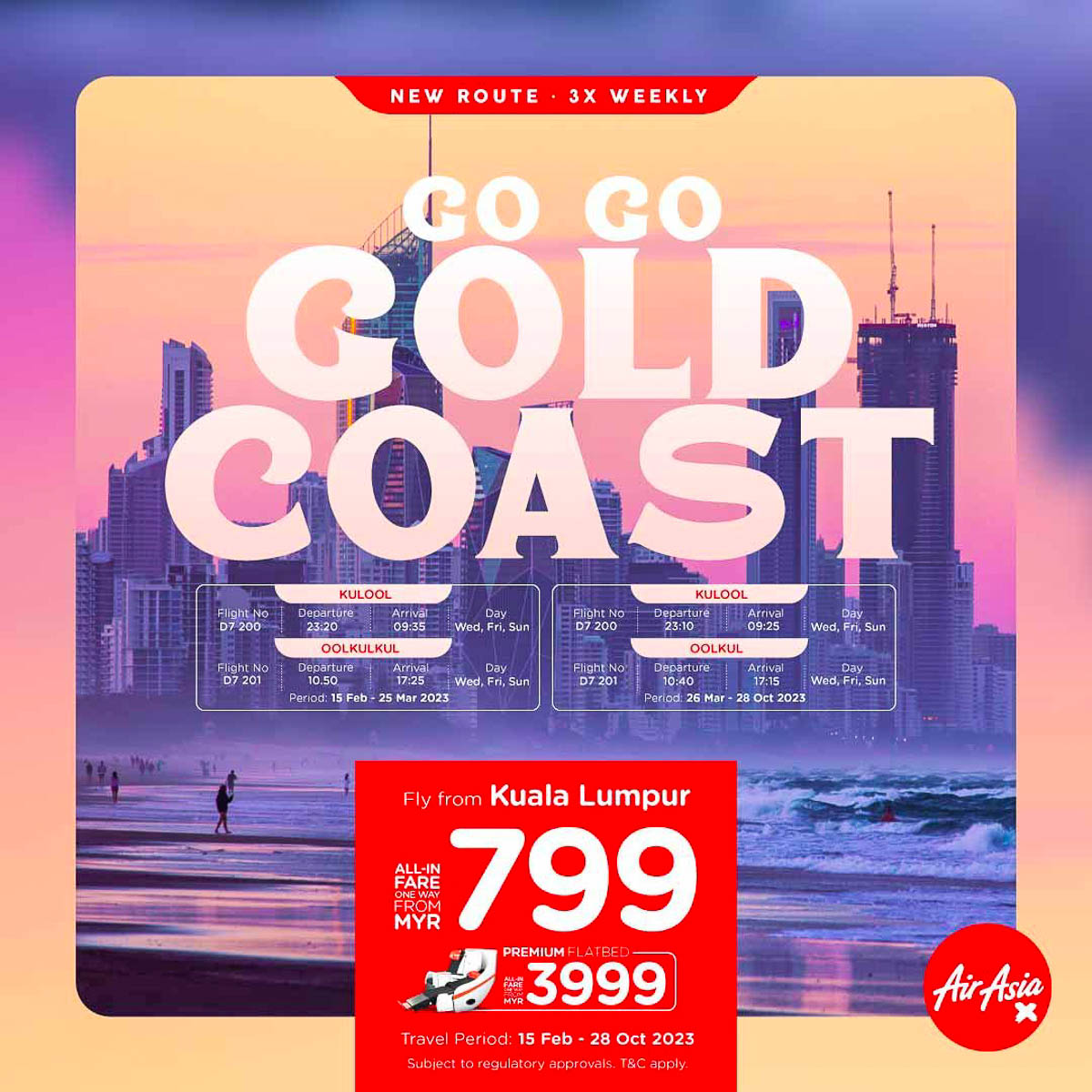 AirAsia X CEO Benyamin Ismail said there has been overwhelming demand for the airline's return to the 'Gem of Queensland' as the Gold Coast is a key leisure destination in its own right and gateway to Australia offering strong domestic connections to Queensland and beyond.
The timings of the reinstated service are also more 'user friendly' for those looking to connect through to Brisbane, or nearby destinations in northern New South Wales. Public transport is a good option to reach the airport in time to check-in or to reach your end point during daylight after arrival.
Flight schedule Kuala Lumpur / Gold Coast
| | | | | | |
| --- | --- | --- | --- | --- | --- |
| Flight No | Route | Departure | Arrival | Days of Service | Travel Period |
| D7 200 | Kuala Lumpur (KUL) – Gold Coast (OOL) | 23:20 (11.20pm) | 9:35 (9.35am) (next day) | Wednesday, Friday, Sunday | 15th Feb – 24th Mar |
| D7 201 | Gold Coast (OOL) – Kuala Lumpur (KUL) | 10:50 (10.50am) | 17:25 (5.25pm) | Monday, Thursday, Saturday | 16th Feb – 25th Mar |
| D7 200 | Kuala Lumpur (KUL) – Gold Coast (OOL) | 23:10 (11.10pm) | 9:25 (9.25am) (next day) | Wednesday, Friday, Sunday | 26th Mar – 27th Oct |
| D7 201 | Gold Coast (OOL) – Kuala Lumpur (KUL) | 10:50 (10.50am) | 17:15 (5.15pm) | Monday, Thursday, Saturday | 27th Mar – 28th Oct |
All times are local
Benyamin Ismail is thrilled to be returning to their first destination and acknowledged this in his announcement of AAX's return to their first ever route in November 2007.
… Fifteen years ago the Gold Coast was the catalyst for the birth of AirAsia X and our Australia expansion, which quickly became one of our most popular core markets…….. Through Kuala Lumpur, AirAsia X will connect visitors to more than 130 destinations across Asia, including Thailand, Vietnam, Japan, India, South Korea and many more.
Queensland Tourism Minister Stirling Hinchliffe also commented that the return of AirAsia X to the Airport's Arrivals board is a terrific investment in Gold Coast tourism and jobs, with his comments echoed by Queensland Airports Limited CEO Amelia Evans. She commented that more than two million passengers have flown with AirAsia X between the two locations since 2007.
… Since AirAsia X last landed at Gold Coast Airport, we've opened our brand-new International Terminal and we look forward to welcoming the AirAsia X team and passengers back, this time through our impressive new building.Amelia Evans
Gold Coast Airport
The Airport straddles the Queensland and NSW borders and is the second largest airport in each state. Anyone who's flown internationally through the old terminal will appreciate that the new version, opened in November 2022, will be very much welcomed and we look forward to checking it ourselves, soon.
The three-level expansion covers 30,000sq metre and connects seamlessly with the existing terminal and the six new gates, four with glass aerobridges, allow space for nineteen aircraft on the tarmac. Among the services are new border control facilities, shops include an expanded duty-free store and cafes, with seven escalators and nine lifts supporting the new departure lounge and baggage handling area.
The extra space in the existing terminal, now servicing domestic traffic, allows the addition during 2023 of eighteen new food and beverage and retail outlets trading at the airport.
AAX's sister medium haul airline, Thai AirAsia X has recently launched its first direct services between Bangkok to Sydney and Melbourne. This delivers a combined total of six mid range routes to Australia, providing more value and choice travellers. Additionally, short haul airline Indonesia AirAsia has increased services between Perth and Bali, flying twice daily to meet overwhelming demand.