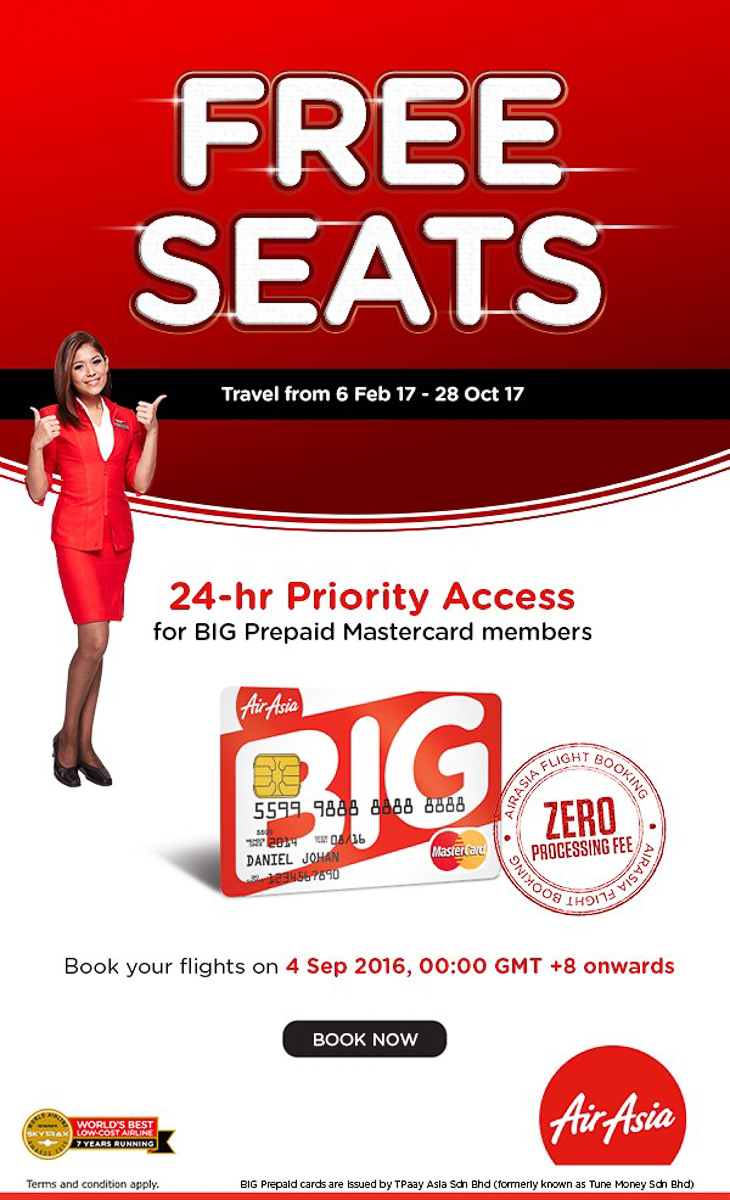 Do you have a BIG Member Card or a BIG pre-paid Mastercard? You have priority access to the AirAsia Free seats on offer from 4th September before everyone else gets a look-in on the 5th. Make sure you log in using your BIG number for access.
The sale is open to everyone for online booking between 5th September (0001h GMT +8) and 11th September at midnight (2400h GMT +8) for travel between 6th February 2017 and 28th October 2017. Bookings can also be made on the AirAsia mobile site or by using the mobile apps for iOS and Android.
Please note that the MYR 0 fare relates to the base fare, you'll still need to pay the taxes and other fees, then add your baggage and meals etc. If you're using a BIG pre-paid Mastercard, the processing fee is waived.
AirAsia Free Seats
For a one-way base fare of MYR 0 you can choose from a range of great regional destinations that are under about five hours from Kuala Lumpur. This includes Malaysian destinations like Kuala Lumpur or Johor Bahru from Penang and journeys within ASEAN to Siem Reap, Chiangmai or Pekanbaru.
Or you could head to China to Nanning or Hong Kong. A multi-stop from Kuala Lumpur – Langkawi – Guangzhou – Kuala Lumpur is also possible and if you're coming from out of Malaysia, why not use the fly-thru at KLIA2.
AirAsia X Promo Fares
While AirAsia X don't have any MYR 0 fares on any of their routes, you can pick up Economy one-way fares starting from MYR58 (plus taxes and fees). Pick up a Premium Flatbed from Kuala Lumpur to Auckland, Seoul, New Delhi, Melbourne, Osaka or Xi'an from RM699 and if this is part of a fly-thru or you check in early, your Premium ticket will give you complimentary access to the newly opened Premium RED Lounge in KLIA2.
There are three million seats available, so if you know your plans, why not get in quickly before the best tickets disappear.