AirAsia BIG Loyalty today launched BIG Xchange at the BIG Loyalty 'Big Fest' at Quill City Mall Kuala Lumpur.
The app is the world's first airline points exchange platform – BIG Members can instantly and seamlessly convert BIG Points or partner points. The app goes live from 25th September 2018 for BIG members to link their partners loyalty accounts to their BIG Loyalty account via BIG Xchange. The feature is only available on the AirAsia BIG Loyalty mobile app and makes it easier to convert partner points to BIG Points on a single platform.
BIG Xchange benefits
If you have a Citi credit cardholders, you're ahead already! Citi Malaysia is the first partner on board BIG Xchange and members can enjoy a number of benefits:
instant conversion of Citi Rewards points or PremierMiles to BIG Points
exclusive monthly member-only Final Call Sales with up to 90% off flight fares
In addition, Citi credit cardholders who convert their Citi Rewards points or PremierMiles to BIG Points on BIG Xchange also collect:
a bonus of 50% BIG Points from 25th September to 15th October 2018
a 30% bonus through to year end.
Citi credit cardholders who enrol their cards on BIG Xchange during the promotional period will receive 200 BIG Points per Citi credit card. You'll also collect the 200 points if you sign up for a Citi Card at BIG Fest until Monday 17th September.
The partnership extends to Citi Thailand and financial and lifestyle partners with loyalty points in coming months.
To date, BIG Loyalty financial partners include (in Malaysia)
Maybank
Public Bank
UOB
CIMB
Standard Chartered Bank in Malaysia,
as well as
Citi Thailand and KBank in Thailand,
BNI, Maybank Indonesia & BCA in Indonesia
How they do it
Speaking at the launch, AirAsia BIG Loyalty Acting CEO Sereen Teoh commented that members want freedom to decide how to spend their loyalty points. The ability to transfer Points from one Loyalty program to another regardless of location obviously helps.
She added
…. Conversion is the fastest way for BIG Members to build up their points. 
Citi Malaysia Consumer Business Manager Elaine Fan agreed, adding that Citi has a focus on innovation through digitization. She said that this is done by
leveraging the globality of their strengths,
building valuable e-commerce partnerships and
harnessing the power of their digital capabilities in serving customer needs.
She went on to add
…. The digital revolution is transforming consumer behaviour and business interaction. It is an exciting future as we see greater consumer preferences especially amongst the growing millennial segment for digital financial solutions and services. Citi is in the forefront as a premier global digital bank.
Win BIG Points
AirAsia BIG Loyalty also recently hit the 20 million members mark.
BIG Loyalty is giving away 20 million BIG Points in prizes to its most active members from 1st September to 30th November 2018 as part of its #WeAre20MilBIG contest.
BIG Members who earn, redeem or convert the most BIG Points during the campaign are in the running to win
20,000 BIG Points every week
a grand prize of 200,000 BIG Points at the end of the three months.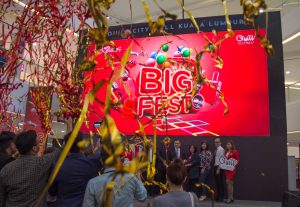 BIG Members who convert the most BIG Points from their credit card or participating loyalty points partners will also collect 50,000 BIG Points monthly during the campaign period.
BIG Members can take part
by earning BIG Points from

qualifying AirAsia flights,
BigPay or
any of the over 160 lifestyle and travel partners

converting bank and other 

partners' 

loyalty points from.
BIG members can also redeem AirAsia flights, hotel stays and exciting tour activities to increase their chances of winning. More details on the giveaway can be found at airasiabig.com.