Penang Airport (Penang International Airport) is a single runway airport serving both the Penang mainland and the island. The airport caters to international and domestic traffic, with both scheduled and charter flights. The island is well connected to both the mainland and around the island, by road and bridges and affordable public transport. There is currently no rail transport, although this is in planning, but there is an effective and inexpensive bus service. There are also plans for an upgrade to cope with increasing demand, although concrete plans are not yet available.
Penang Airport 'must knows'
Penang Airport is located in Bayan Lepas at the southern end of the south-eastern coast of the island. It's well connected by road to all parts of the island and via two bridges to mainland Penang.
1. Airport layout
The airport has a single, two level terminal, with a straight building layout parallel with the runway. There are aerobridges, although not all airlines use these. These include some low-cost carriers and turboprop services run by Firefly and Malindo Air. Please advise your airline in advance if you need any special assistance.
2. Getting to and from the airport
Taxi / Ride car
The Airport is served by city taxis which use a coupon system, with rates fixed based on your destination. Purchase coupons at the Taxi counter located in front of the Arrival door. A number of ride share companies are available. Uber is not available in Malaysia, but the company is a shareholder in Grab, one of the major players in the ride share arena. Download the App for either Android or iPhone. Payments may also be made in cash.
By car (self-drive / drop off or collect)
The drop-off area is on the Departure level. Most of the large international car hire firms have a presence at Penang Airport as well as a number of local car hire firms. The counters are located between the domestic and international exit gates on the Arrival level. They are stairs and escalators connecting up to the Departure level. There is also a lift available. This end of the departure floor has a number of shops and fast food outlets as well as international and domestic departure entrances. Check-in is at the opposite end of the terminal.
Public Transport
You do not pay any airport surcharge for travel to or from the airport on the public bus service, Rapid Penang. Both pick-up and drop off are at the bus stop opposite the exit from the Arrival Concourse, Level 1 at Curb-side Lane 3.
All the buses servicing the airport pass through KOMTAR, the main bus terminal in the city. Wait at Lane 5. Frequency varies between 30 minutes and one hour.
There are four buses which connect the airport to different parts of the island. See Rapid Penang Journey Planner for info re schedules and routes.
102 

401

401E

Airport Transfer 
To get to the mainland, you have a number of options including bus to the Ferry at Pengkalan Weld and across to Penang Sentral for connections.
Check the Rapid Penang schedules.
3. Arriving
There is a shared arrival/departure hall for domestic passengers. When you disembark, follow the signs downstairs to the baggage collection area. This area is not open to the general public, but it is always wise to arrive at the carousel as quickly as possible.
If you are arriving off an international flight, you will be directed to the Immigration counters. Transit and transfer passengers should follow the signs to these counters. If you are transferring to a domestic flight, your checked bags will be subjected to customs checks before you transfer.
There are auto gates for travellers with Malaysian passports. These are also being progressively installed at major international airports in Malaysia for holders of foreign passports. If these are available, you will need to register, but reports suggest this is quick and easy. You will pass through the duty-free area to the baggage collection area. Trolleys are available at no cost.
After collecting your luggage, proceed to Customs checks. A number of food items are prohibited imports, including pork products (due to swine fever concerns) and some fruits.
Meeting People
Parking
Parking is available in a 600 parking bay open-air car park in front of the terminal building. A new parking building is currently under construction. Rates are MYR2 per hour, with a daily rate of MYR24, for stays more than 12 hours.
Valet Parking is also available in a guarded facility with 24-hour security surveillance cameras. Rates are MYR6.00 per hour, up to 24 hrs. For 24 hrs, the rate is MYR40.
4. Departing
Checking-in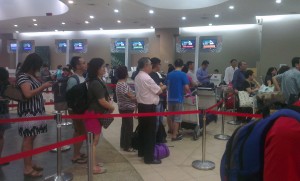 The check-in area is located at the right side of the terminal building as you enter. Self check-in terminals are located in a bank along the entry side wall of the concourse.
Make sure you have packed your luggage yourself, ensuring you are not carrying prohibited items. Power banks must be hand carried.
Ensure your hand carry items are within the size and weight limit as per your booking.
Check that your LAG items are available for easy checking and in containers of less than 100ml each. The items should be in a clear plastic bag maximum size 1 litre.
Services and facilities
The airport toilets we visited are clean and there are showers available. You will need your own towel and toiletries.
A nursing room is available on Level 2 of the Public Concourse, behind McDonald's. Find a Children's Playground while you await your departure, at Gate B7, Domestic Departure.
Both Domestic and International Departure areas have Smoking Lounges available. They are clearly marked.
ATMs are available on both Level 1 (Arrival concourse) and Level 2 (Departure concourse).
Rest and Go massage chairs are a pay per use service available at selected spots around the airport.
The airport offers free wifi at "Airport@WiFi". Both domestic and international airside departure areas are equipped with charging stations.
There is a Clinic on the Arrival Concourse, Level 1 and the airport has four Muslim prayer rooms.
Duty Free
The duty free shops are located inside the Departure Lounge. As we were flying to a domestic destination, we didn't have access to those duty free outlets selling items which are dutiable in Malaysia. However, there is a large duty free cosmetics outlet accessible to all passengers.
Prices are similar to those outside the airport, although they do not generally have any 'free gifts' that may be offered in outside outlets. Some brands do offer special travel packs and sizes that are unavailable outside duty-free stores.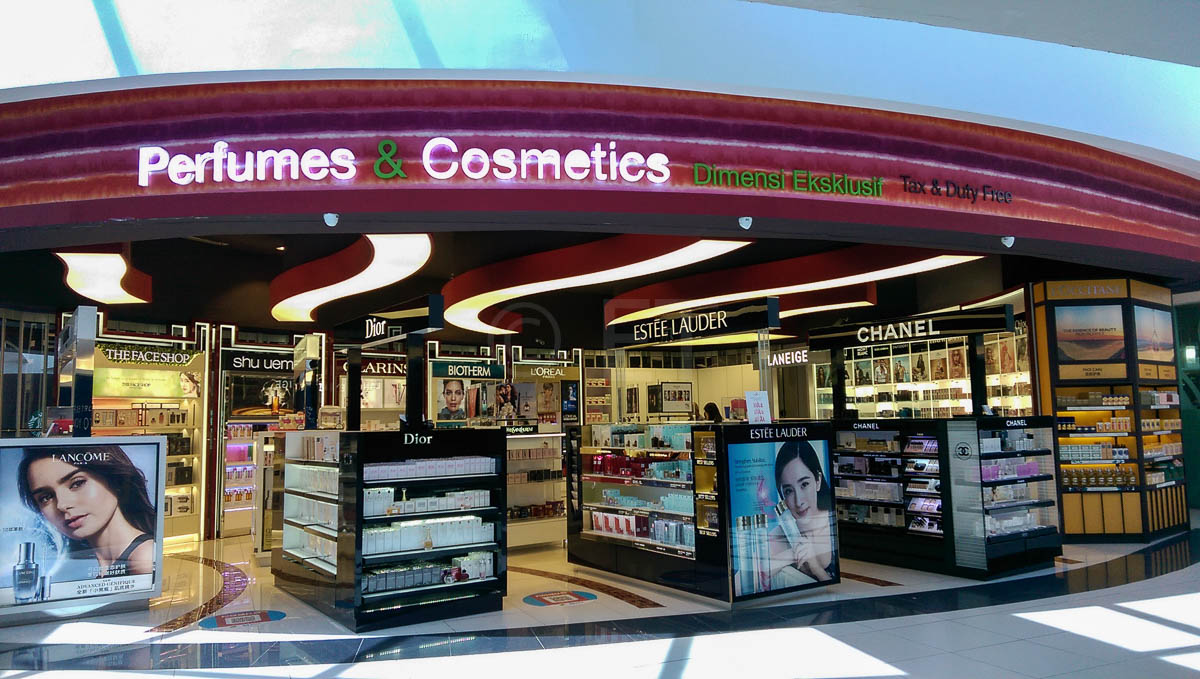 Where to eat?
The Departure level is the best place to find food. There are many outlets selling a wide variety of meals and snacks. Fast food outlets are located in front of the entrance to the Departure lounges.
You can pick up any last minute purchases of local specialties to take with you, though we noticed that the prices are significantly higher than what you will pay in town outlets. There are also various outlets in the Departure Concourse near the Departure Gates.
Lounge facilities
For Lounge facilities, look for the Premium Plaza Lounge on Level 3, Landside, and Airside, on Level 2.
5. Other useful info
If you have lost something at the airport and they have been passed to the airport security, they will be kept for 30 days before disposal. Contact the Security Operations Centre at 04-252 0278.
The airport offers ramps, elevators, restrooms, telephones and other facilities and services suitable for disabled visitors and accessible by wheelchairs.
If you need more help, look for the Airport CARE Ambassadors wearing a sash 'Ask Me'. They may also be wearing orange or blue suit jackets or blue t-shirts.
Attractions near the airport include the Snake Temple, with live vipers freely living on the altars. You may be able to negotiate with your pick-up driver to make a quick stop as it's quite far from the city for a special visit. There is also a WW2 bunker in the area, though this is not easily accessible by public transport.
images ©ET