When a friend told us a couple of days ago that she managed to get two last minute tickets to Dublin from Kuala Lumpur on Etihad Airways for well under MYR5000*, my eyes nearly dropped out!
I was pretty pleased with the two tickets we found on Qatar Airways from Kuala Lumpur to Paris earlier this year, also for less than MYR5000, but her find was really impressive. We've been keeping our eyes on the three big Middle-Eastern Airlines that have extensive networks that include Australia and Asia and with end of year holidays coming up, maybe this is a good time to see what you can find in great offers.
Etihad Airways

Etihad flies out of its home base in Abu Dhabi to destinations on all continents, either directly or with a number of codeshare partners. Singapore, Melbourne, Perth and Brisbane have Etihad flights and Kuala Lumpur and Sydney are serviced by codeshare partners.  They fly both Boeing and Airbus aircraft and have a reputation as one of the airlines with the youngest fleet.
One of the conveniences offered on their website is the ability for passengers to book onward ground travel in France and Germany, as well as planning & booking a stopover in Abu Dhabi, booking for a group, or making multi-city bookings. Etihad also offers you the opportunity to book convenient Airpasses to use in India, Australia & New Zealand or Europe.
Check for offers and book your tickets at the Etihad Airways Website.
Qatar Airways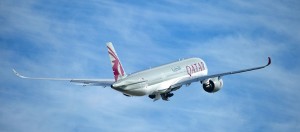 Qatar flies through their home base of Doha, using a range of aircraft from both Airbus and Boeing and will be a launch customer for the Airbus A350. Their hub is the new Hamad International Airport, offering links to all continents. If you are flying to or from Australia, flights are available out of Perth and Melbourne. The booking interface is very simple and easy to use, but you need to know where you're planning to go – they don't  have a drop-down selection of all the possibilities.
For passengers using an Android or iPhone, Qatar has a downloadable mobile app which offers extensive functions, including a mobile boarding pass useable in multiple countries. The app is available in both English and Arabic. If you're one of those who needs to be 'connected', and are prepared for international roaming charges, the airline offers Inflight mobile services on selected A319, A320, A321 & all B787 aircraft and Inflight internet services are available on all B787 aircraft using OneAir.
Check for offers and book your tickets at the Qatar Airways Website. Qatar Airways is a member of the oneworld alliance.
Emirates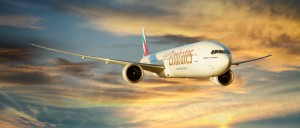 Emirates fly from their home base in Dubai with an extensive network on all continents. From five cities in Australia, two in New Zealand and seven across South East Asia, you can connect to multiple cities in Europe, the Americas and Africa. China and India are also well represented in their route map. Emirates also have a strong partnership with Qantas, extending options for passengers and has proven beneficial for both airlines.
If you're booking your flight on the basis of wi-fi provision, this may be the one for you. It's currently free to blog, post or tweet on most of their A380 fleet and if you want more, you can pay US$1 for 500MB which should keep you in touch. US$1 will also get you connected on selected Boeing 777s. With new Airbus and Boeing aircraft making up their fleet, they fly the largest number of A380s (currently 65) to more than 30 destinations.
Check for offers and book your tickets at the Emirates Website.
Why fly via the Middle East?
Break your journey. If you're travelling between Australasia and Europe or the Americas, this will break up your journey nicely and give you a chance to re-adjust your internal clock, especially if you're flying west. Whether you are just changing flights (in airports well set up to make this pleasurable) or having a stop-over you will find this useful. Apart from shopping the three countries are also working hard to expand the offerings for visitors and there's lots more to do than shopping.
Good pricing. All these airlines are well financed and even though they fly from different cities, they are competing for similar markets. The three consistently score highly in airline reviews and win awards, but they are able to offer very competitive prices for full services.
New planes. All three can boast places close to the top of the 'youngest fleet' category. Partly because the airlines themselves aren't that old, but they are all expanding and purchase new rather than older aircraft.
In-flight wifi. This is being rolled out differently in the three airlines. While Qatar allows you to use your own International Roaming, Etihad is progressively rolling out paid for wi-fi access on selected flights and aircraft types. Emirates are rolling our free or low cost wi-fi on most of their fleet.
International service. This applies both on board and on the ground. The crews of these airlines are made up of citizens of a wide range of countries with lots of different language specialties. In addition, the engineers who look after the planes before they take you anywhere are also sourced internationally.
Innovative offerings.  Looking around their websites, it is clear that the three are all working to expand their market share and are not just relying on the 'tried and true' offerings of a long established carrier. This is why each is offering something that they hope will put them just that bit above the others.
One last  **TIP –  you may not bring duty free alcohol into these countries. In addition, if you are flying on to Australia, even in transit, you will have liquids taken away from you because of regulations in Australia. You may only take purchases made in your last port of call. This also includes flights through Singapore or Kuala Lumpur.
* With currently fluctuating exchange rates, this may vary in US$/AUD etc. All fares are therefore quoted in the local currency of the starting point.