This is probably the best time to get great fares for trips you plan to take in the new year. AirAsia is having another round of offers so if you missed out in the last round, you may find something that suits this time.
2016 is a great opportunity to squeeze in lots of quick getaways, with NINE long weekends with public holidays falling either on Friday or Monday in Malaysia, so take your pick of the offerings which are available for booking until 4th October 2015 for travel between 4th January to 30th June 2016.
Some of the destinations on offer: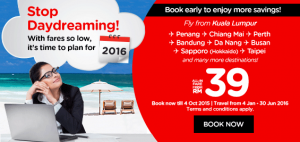 Domestic destinations – all-in one way-fares from KLIA2 to Penang and Alor Setar starting at RM39*, Langkawi from RM59, or Kuching and Kota Kinabalu from RM109.
International destinations – including Pattaya, Thailand with all-in one way-fares from RM109, Goa, India from RM199, Changsa, China from RM209 and Sapporo, Japan starting at RM329.
Goa is one of 10 new routes introduced in 2015, seven of which are direct routes including Goa, Pontianak, Pattaya and Kaohsiung, offered only by AirAsia.
If you prefer to book your accommodation as part of your ticket, you can do this at Air Asia's holiday division, AirAsiaGO and pick up some great deals starting from RM288 per person for flight and hotel packages. You can also just find a hotel from RM88 per night depending on location during the promo period.
Remember you need to book your luggage as well – it's much cheaper to do it either when you initially make the booking, or via 'Manage my Booking'. It's also cheaper if you've gone a bit overboard in the shops and need more – you can add extra up to 4 hours before you fly, also via 'Manage my Booking'. Remember too, that you are allowed only one piece of hand carry baggage, with a limit of 7kg. Most airlines and airports are now enforcing this quite strictly.
Book your tickets online, use AirAsia mobile or their mobile app downloadable for iPhone or android.
Fares include taxes, but you will need to add other charges for meals and baggage etc.