Stopping off for a couple of hours in Doha's new Hamad International Airport seemed like a good idea when we found that the best fare we could find Kuala Lumpur / Paris and return was via Qatar Airways. As this is the airline's home port it meant we had a good range of connections to choose from. We elected to catch the early morning flight leaving Kuala Lumpur that arrived in Doha in time for breakfast, to connect via their new A380-800  to Paris a couple of hours later. Our return flight left Paris in the evening, also arriving in Doha for breakfast and on to Kuala Lumpur after about the same length of wait. You can find a review of these flights HERE.
Security upon arrival
The first place an arriving transit passenger will make 'official' contact after passing through the well sign posted corridors, is at the Security Control. This is a normal 'belts off, phones & laptops in the tray' security check and depending on your next destination may be the only one you need to go through before you leave.
Prohibited items:
Carrying of Weapons, firearms and ammunition or Narcotic drugs is prohibited, and such items will be confiscated. You will not be able to claim them back.
Transfer passengers can carry alcoholic beverages in baggage subject to some provisions:
must be packed in containers of less than 5 litres.
cannot be taken out of the airport if you are making a stopover visit before continuing your journey. (They will be confiscated and not returned)
if travelling to Australia with alcoholic beverages or cosmetics purchased from an airport other than Hamad International Airport, these will be confiscated at your onward flight's boarding gate. This procedure is in accordance with Australian regulations.
There is a Transfer desk to the left as you approach the counters, or if you are coming from a different direction, the desk is well signposted. One of the most useful and considerate amenities is the provision of rows of comfortable seating where you can park your children or yourself as you put back your belt and if necessary, your shoes.
If you are looking for your next flight, there is a large board as you leave the area, beside the top of the escalator down to the Passenger Concourse / Departure Hall. There are also lifts at the side and to the left, a corridor to male and female toilets and a parents' room. There's also a water bubbler here. The toilets are clean and well provided with soap and paper and sufficient stalls so you don't have to wait long at busy times.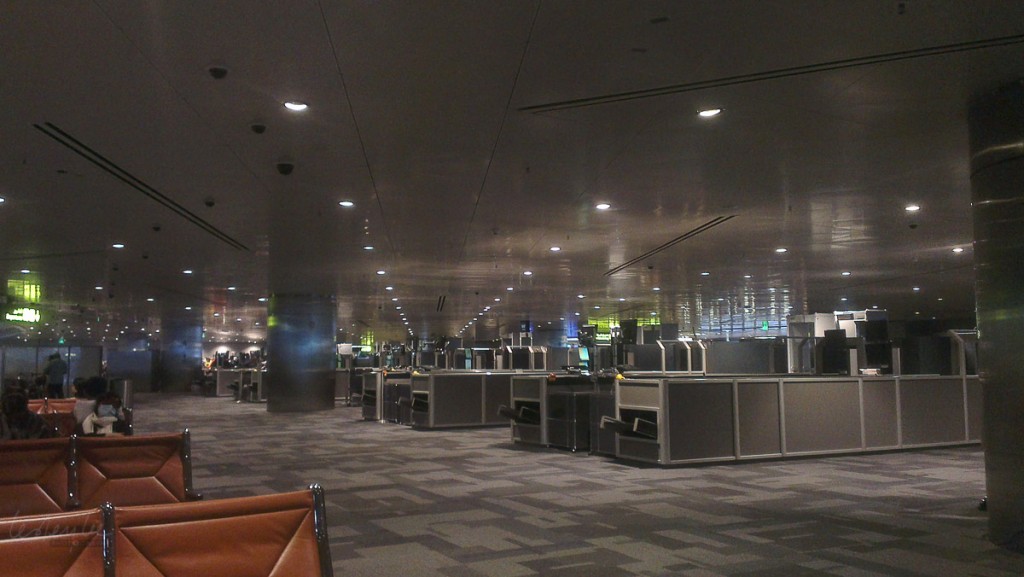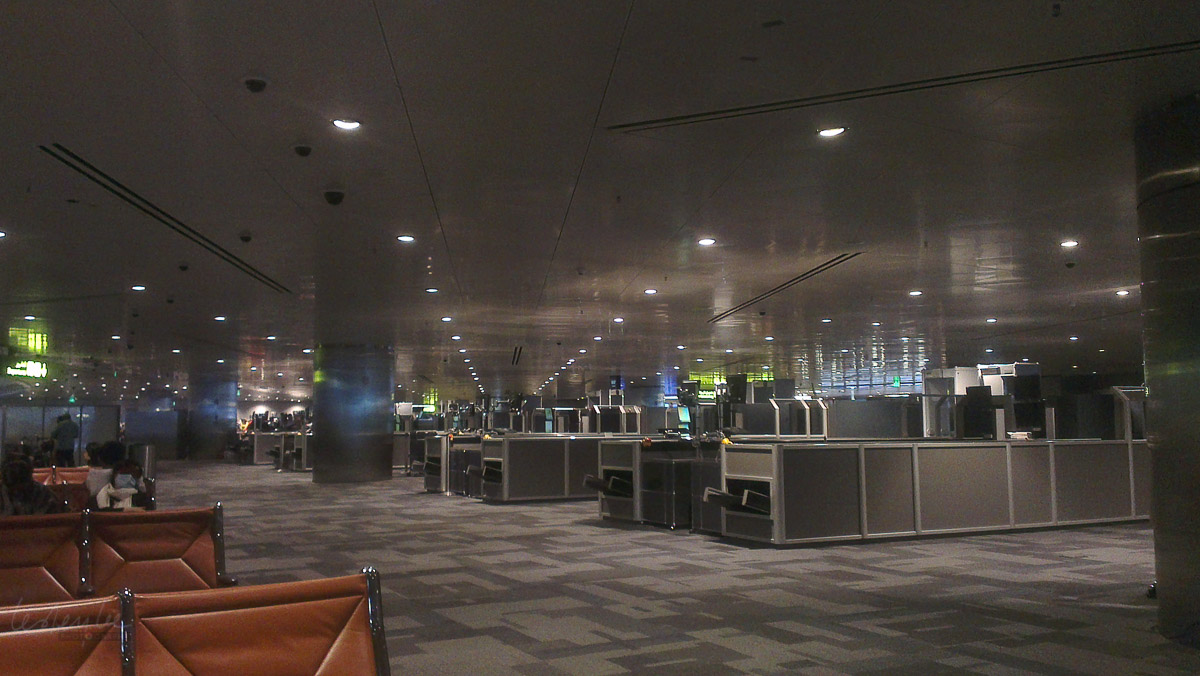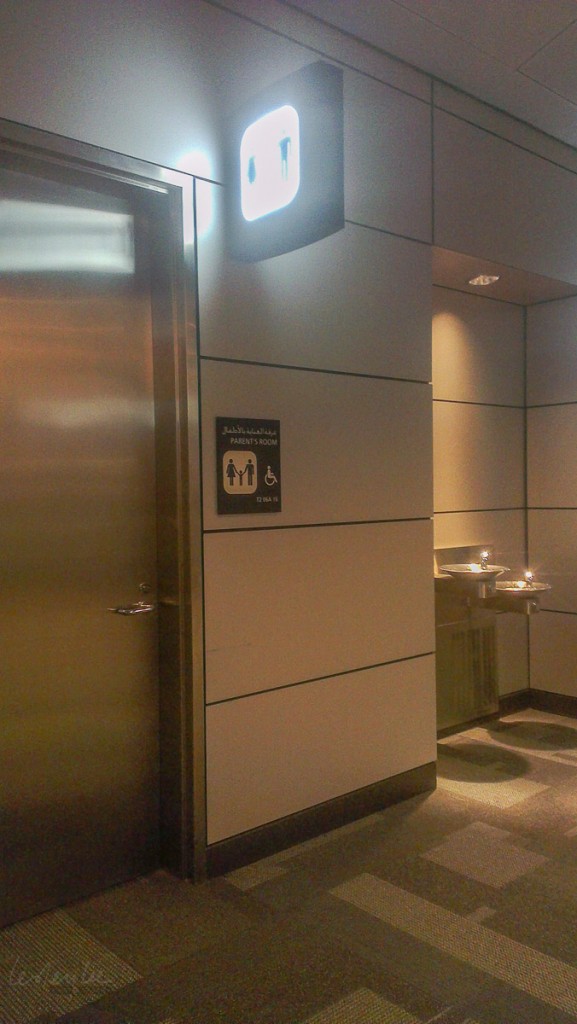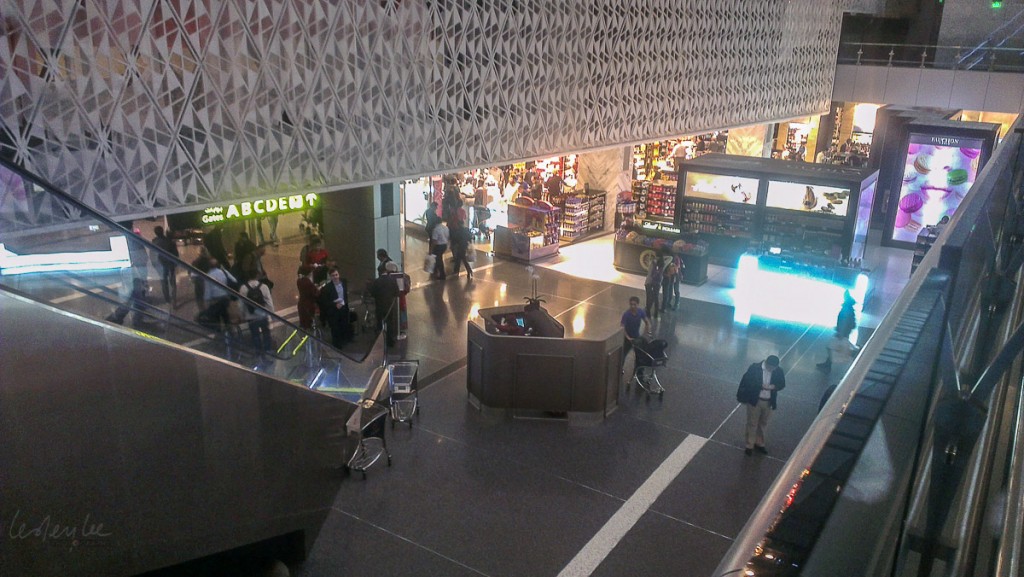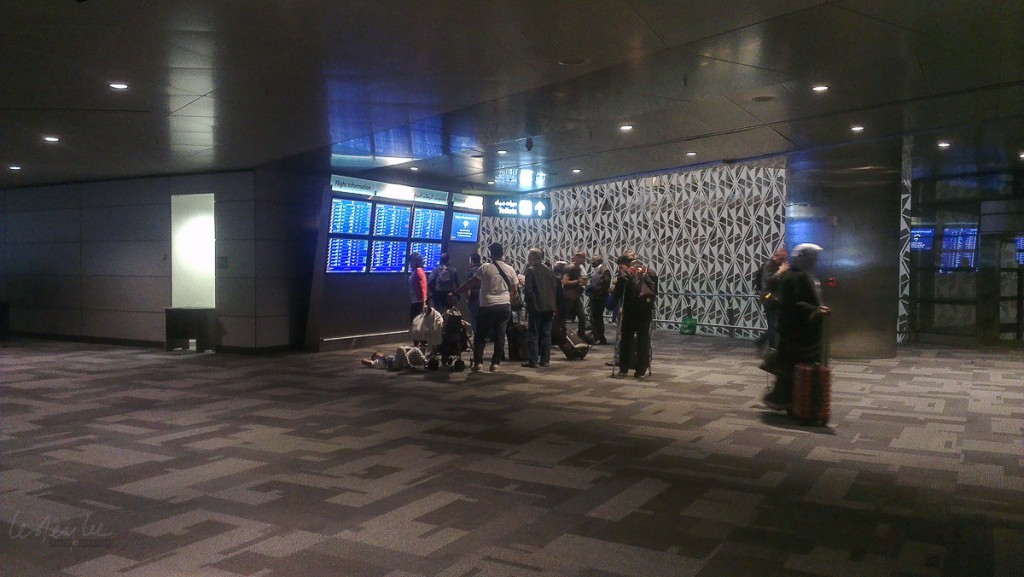 Passenger Concourse / Departure Hall
As you come out of the lift, or off the escalator, the Passenger Concourse opens out in front of you. Shopping areas and the Food Court 'Eat Street' are close by and large yellow letters identify the entrances to the corridors leading to the various boarding areas. There is an enormous yellow bear seated on a podium right in the middle. To ensure you see him, he is wearing a bright light hat! The Information Desk is located just in front of the bear. The bear is facing the entrances to Departure Lounge corridors A and B, and the corridor for Departure Lounges C, D and E are behind him.
Showers  We were looking for showers – it's always nice to be able to have a quick shower, especially after a night flight to refresh you for the next leg. However, all we could find was a sign to the Hotel & Spa, up to the right of the big yellow CDE gates sign. A little further investigation showed that the Spa is open to travellers upon payment of 120 QAR which will give you access to showers as well as a 25m swimming pool, a fully equipped gym (there is a fitness instructor available) and a hydrotherapy tub.
Additional charged services include access to the Spa and a range of massages and treatments as well as a squash court with racquets, balls and shoes provided.
Duty Free Shopping  Apart from the usual alcohol, cigarettes, chocolates and cosmetics, look for the local specialties – lots of lovely dates and nuts to choose from and there is even a Caviar specialist, easy to find in the middle of the concourse.
There is also an Foreign Exchange facility  in the Departure Concourse approaching Concourse B (near Marché restaurant).
Hamad International Airport is strictly a non-smoking facility. However,there are some designated smoking rooms fitted with extractors around the terminal. For the locations, you can check with the Information Desk.
An animated dinosaur in a little niche at the side of the main area attracted a lot of attention from children (and a few parents who were busy taking videos for their youngsters).
Departure Procedures
When we left on a Qatar Airways A380 for Paris from our A gate lounge, we were not required to go through any further security checks. We just lined up and showed our passports and boarding passes. Upon noticing that some in the line in front of me were carrying takeaway coffee, I asked one of the staff if this was OK and when he said yes, we took the opportunity to nip along to the nearby coffee stand for a big take-away morning wake-up. That was probably the stand-out for me, every other airport I've been through makes you go through the security check again as you go in to the departure lounge before boarding and they won't let you take drinks on board.
On our return trip, it was a different story. As we walked along to our gate 36C, a remote gate right at the end of C wing, we passed many 'regular' departure lounges where checks were taking place as we were used to. I wasn't able to establish if this was airline, destination or aircraft type specific. I would think perhaps one of the latter two possibilities though, as all our sectors were on Qatar Airways. We also had to go through the checks before boarding the bus out to our aircraft.
Be aware that if you have a 'high number' gate, it will probably be a long way from the central concourse and it will take quite a while to get there, even making use of the travellators along the way. There are courtesy trolleys, but these should only be for those who genuinely need them, not tardy shoppers!
Overall, we found Hamad International Airport quite a user friendly airport with clear and obvious signage, enough shops for the shopaholics and plenty of food outlets. Oh and the latte I took on board – most satisfactory!