Do you have a stopover in Singapore Changi Airport? Changing flights or airlines? Couldn't connect straight through or perhaps you just want a break and have heard the shopping is good.  Whether you're on a short transit stop or have a stopover of a day or more, we have a few suggestions about how you can fill those hours.
Take a free tour of Singapore
For this one, you can be travelling on any airline. You do need to be in transit for at least five and a half hours and be eligible to actually enter Singapore, but this is a special, guided trip around the sights. There are two trips – one is a general look at the 'tourist attractions' and the other takes in the Heritage areas. Well worth the effort. Leave your luggage in the 'Left Luggage' and don't pass through Immigration. Sign up as soon as you arrive as the tours are on a 'first come, first served' basis. However, if you're travelling Singapore Airlines, you get 'first dibs' and can reserve a spot online.
Go shopping
Singapore's Changi Airport is well known as a shopping airport. There are lots of things to tempt even the most jaded traveller and if you've forgotten someone in your souvenir list, you'll likely find something here.
The Changi Transit Programme is another special available to passengers flying Singapore Airlines, Silk Air and Air New Zealand where they can redeem a Changi Dollar Voucher (CDV), valued from S$20. There are quite a few conditions attached, and it's only available until 31st March 2016, but if it gets you a bit extra for shopping……
Catch up on some sleep, get some work done, have a shower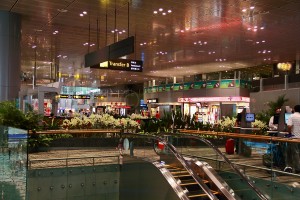 There are currently three terminals in operation at Changi, with Terminal 4 due to open in 2017. There's free wifi and hundreds of internet connections available across all the terminals so it's easy to stay connected. You do need to stand though while using the kiosks, and normal precautions when using a public connection should be taken.
There are 'free-to-rest' areas in all terminals, but be aware that these are really popular so you may need to wait for a recliner to be available. If you need something a bit more comfortable, there are Transit Hotels in all terminals. Make sure you don't clear immigration and it's advisable to make a booking beforehand as rooms are very much in demand, especially at peak times.  If you want a shower and perhaps a massage, again, you can find them in each terminal. These are paid for services.
All terminals are well provisioned with restaurants and if you need medical assistance that's also available. Smoking is not allowed in the terminal, although there are designated areas where you can have a puff if you're desperate.
SIA Hop-on bus
If you're travelling with Singapore Airlines on a Singapore Stopover package, you have complimentary access to the SIA Hop-on bus. With designated stops in the shopping and entertainment districts, you can also hop off and on at major attractions and community areas such as Little India and Chinatown. The air-conditioned tourist buses run daily between 9am and 9pm.
The service makes it easier to see Singapore at your own pace, with the added advantage of audio commentaries in 10 languages on open-top buses with wheel-chair support facilities. There's more information on the
SIA Hop-on bus page
, with a schedule and map.
Get extra Value from your Boarding Pass
 If you've kept your Singapore Airlines or Silk Air Boarding pass, you can use it to enjoy special privileges and discounts on hotel accommodation, shopping, dining, tourist attractions and transport services in participating outlets in Singapore. If you don't have your boarding pass, and you have a PPS Club or KrisFlyer membership card produce that instead. Your Singapore Airlines or Silk Air Boarding pass will also let you enjoy offers at selected outlets at Singapore Changi Airport on your day of travel, subject to applicable terms and conditions.