WorldMate is one of many online travel assistants that you can get these days, but this and TripIt seem to be the most common.  This review focusses on WorldMate, which is created by San Francisco-based WorldMate Inc.  I have been using WorldMate since it was a pre-installed application on my trusty Nokia smartphone in 2006, but it has come a long way since then.
Why do I need a travel assistant?
In the olden days, a travel booking often consisted on one itinerary assembled into a neat package by a travel agent. That's because the travel agent was one of the few ways to get competitive fares and hotel rates. The notion of calling an airline to book a seat directly was ludicrous if you were not prepared to pay full-fare.
In the internet age, fare hunters are more likely to assemble their own itineraries, consisting of direct bookings with websites, hotels, car rental companies and any other providers that offer bookings via the internet. With all of these booking records and different itineraries, it can be an exercise in confusion with a heap of information to juggle.  A travel assistant helps you assemble an array of departure and arrival times, booking references and any other information that you might need on-the-go, just as a travel agent would otherwise do for you.
How do you use WorldMate?
A neat feature of WorldMate – and most good travel assistants – is that you can forward your flight itinerary or hotel confirmation emails to a WorldMate email address and it'll automatically place all of the details in your itinerary. While it's a real time saver, some people may not be comfortable sharing a complete itinerary (with payment details etc.) with a stranger on the internet, so you can easily add your travel details manually too.

When you sign up for a free account with WorldMate, your "landing page" will be a list of trips, which will be empty to begin with. To begin a new itinerary, add a new trip manually, or send a confirmation email to WorldMate and it will create a trip automatically. Once the trip is created, you can add any flight, hotel, car rental and meeting entries manually. When creating your trip, to pay attention to the LinkedIn sharing option. While this might be handy for some travellers, sharing travel details with all of your contacts on LinkedIn might be overshare for others.
Another nice feature of WorldMate is its advisory messages, warning you if your connections are short, or if any nights of your trip are missing accommodation – very handy in the planning stages.
Flights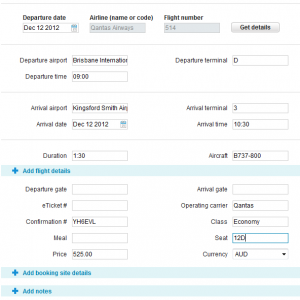 By entering just the flight number and the date, you can automatically pull up arrival and departure times, airport names and terminals, and even the type of aircraft you will be flying.  It gets its information from the same sources that travel agents use to find information about itineraries, so it's fairly reliable. You would then enter any additional information you might have, including inclusions in your air fare such as baggage and pre-purchased meals.  These are important things to remember in the era of low-cost travel with its never-ending add-ons.
Hotels
Hotels are almost as easy as flights, as WorldMate will suggest hotel names and addresses as you type them. If one is suggested, make sure you select the name of the hotel from the list. Doing that means you don't need to fill out the other details, and also ensures that the location will show up on your itinerary's maps.
Mobile access
Many people travel with smartphones, and if you're like me, you're usually fumbling for it the moment you walk into a terminal (or as soon as the flight attendant says you can turn it on). One of the first things I do when the phone goes on is to check what WorldMate says. If I have a data connection it'll usually have my next leg's gate displayed, or if there's a delay it'll usually say so. The iPad app is similar to the mobile device app, but itineraries look fantastic when displayed on the large touch-friendly screen.
Calendar Sync
The calendar sync function is probably one of my most used features. All of my flight and trip details show up in my Outlook calendar and on my phone, which is great for planning trips and getting a good visual on where you'll be and when.
Finally, there's one extra use of WorldMate that I find extremely useful. When I have a loved one travelling, I will often put their details in my WorldMate trip list so that I know whether they are delayed, saving me the worry and time of constant checking. It's particularly handy when I'm picking someone up at the airport, or if I have a meeting with someone who's flying in to meet me.
In short, I don't travel without my travel assistant. The version I have assessed here is WorldMate Gold for Android, which is an in-app upgrade costing US$9.90 per year, or you can get three months of WorldMate Gold for free every time you book a hotel through its built-in system (based on hotels.com, as far as I can tell).