Two very different events are among the line-up of things to do in Queensland in May 2017. So whether you're a fan of pumpkins or badminton, or neither, why not check out these cool places to visit? The Goomeri Pumpkin Festival is on the last weekend in May 2019! See you there?
Badminton or Pumpkins – take your pick
Badminton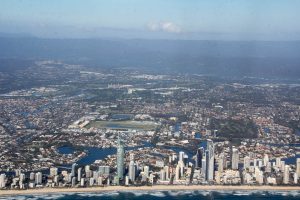 Badminton fans will be looking forward to the upcoming World Badminton Mixed Team Championships at the end of May 2017. This year's prestigious event, known as the Sudirman Cup  will be held for the first time ever at the Gold Coast in Queensland Australia. Thirty-two countries have so far confirmed their entries, which will be fought out at the Gold Coast Sports & Leisure Centre, newly constructed for the Gold Coast 2018 Commonwealth Games.
Tickets are on sale from a link at the top of the the official site. The venue is close to the entertainment centre of the Gold Coast, Surfers Paradise. Visitors will also be spoilt for choice with some of Australia's best beaches nearby. Also easily accessible from the main M1 Motorway, visitors can stay in Brisbane and drive down or stay locally. Visitors have a range of fly in options – a number of airlines offer Domestic and International services to the Gold Coast Airport at Coolangatta. These include Jetstar, AirAsia and Scoot for fans from SE Asia.
Pumpkins
Queensland is the home of the genuine pumpkin scone – famous throughout Australia for its taste and texture. People will argue about the best type of pumpkins to use, with many placing the Queensland Blue at the top of the list. Goomeri seems to be the home of pumpkins. They have plenty to share at this time of year, so what else to do, but have a big party!
The Goomeri Pumpkin Festival comes up on the last Sunday of May with lots of cool things to do. Some of which will be an education of sorts if you've never been to an Aussie Community event like this. This is your chance to meet plenty of the locals and try out some really unusual activities like Pumpkin Bowls or Pumpkin Power Shot Put. They have a Pumpkin roll, not as easy as it sounds. There's even a Dinner Dance, another great country event not to miss. Catch up with the latest on their Facebook page.
There'll be plenty of good food on offer apart from tasty things made from Pumpkins. The latest on the list on their Facebook page is a Gourmet sausage stand.
Goomeri is a scenic drive about three hours north west of Brisbane. If you're enjoying a beach break, head west from the Sunshine Coast via Nambour. There are camping facilities available but remember, it is a small town so plan early.