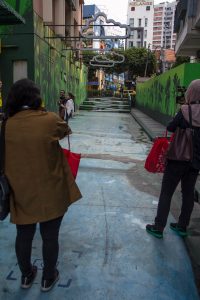 Unseen Tours KL is an initiative of Kuala Lumpur NGO  Yellow House which offers opportunities and shelter to street folk and the urban poor. Yellow House KL itself is a small community centre-cum-backpackers hostel and always welcome volunteers to help out in their programmes. The programme, founded by Shyam Priah has the support of enthusiastic band of volunteers, including university students and visitors to Kuala Lumpur.
While many NGOs organise food programmes for people who live on the streets, Yellow House has taken it a step further, offering people from the street community and urban poor the opportunity to improve their situation. This includes shelter and counselling support as a starting point.
As the programme gained interest within the community, it became necessary to grow. The Yellow House now has support from City Hall Kuala Lumpur (DBKL) and  travel360.com, the digital expansion of AirAsia's inflight magazine travel360. This partnership was launched with the unveiling of a mural, painted by 'John', on 11th October 2018.
The mural is located on Lorong Bandar 20, Jalan Tun H.S. Lee in Kuala Lumpur city centre close to the Sri Mahamariamman Temple.
Positive programmes
DBKL has embarked on a number of projects to beautify the city and empower its people. The growing examples of street art in the city encourages walking, especially in back lanes that weren't previously welcoming.
One-stop travel platform travel360.com hopes to provide an even more experiential travelling journey by integrating real communities and their stories. Working with Yellow House through its 'Unseen Tours KL' project, the'll be offering an exclusive 'travel360 Dance-walking Tour', led by trained former street folk and underprivileged urban people as the tour associates.
….. Travel is no longer just about fun-filled holidays but adventures and discoveries. People are now looking for social experiences and engagement with everyday people and cultures. We are excited to embark on this partnership to see the power of tourism in transforming the lives of people from different backgrounds.  travel360.com CEO Spencer Lee
Yellow House Founder Shyam Priah was adamant that Unseen Tours Kuala Lumpur is not poverty tourism. She explained that the programme turned the weakness of our street friends into strengths by giving them an opportunity to create something that will uplift their lives.
….. Our tours are not about showing the poor side of Kuala Lumpur. In fact it's the exact opposite based on the fact of who knows the streets better than our street friends. ……… It's transformational, sustainable and it returns their dignity. With a partnership such as this, we hope to empower more lives as the social enterprise model allows scalability and to replicate to other cities. Shyam Priah
Unseen Tours KL
The dancewalking tour has been developed in conjunction with travel360.com. This one-stop travel platform caters for all types of travellers helping them to seamlessly explore the world. They offer flights, accommodation, transport and activities with an added edge featuring inspiring stories of real people and communities.
The 'travel360 Dance-walking Tour' is available for purchase online from travel360.com/dancewalkingtour  or yellowhousekl.com/unseentourskl/travel360-dance-walking-tour/. The tour costs MYR 85 per person. You're encouraged to dance to the music coming through the supplied headphones as you walk. Your experience includes interpretative dancing and flash mobs. Liven up the local landmarks and back alleys as you experience the sights, smells and sounds of Kuala Lumpur. Listen out for interesting snippets of lost history dating back to the late 1800s.
Mayor of Kuala Lumpur, YBhg. Nor Hisham, was pleased to unveil the mural, adding that
….. We welcome great partnerships like today as it truly shows that despite the scales of different organisations, we are able to come together with a unified mission to propel the city for the world. We have great confidence that the city's latest mural will be a lively and positive addition that is bound to attract tourists and locals alike.