For the first time, Tune Hotels is introducing a nightly 'flash sale' they are calling their 'Crazy 8' Sale.
How the sale works…
The special sale will take place for only 80 minutes each night, for eight nights from 18th – 25th June 2016 only between 8.00pm (GMT +8) and 9.20PM (GMT +8).
Rooms up for grabs in selected Tune Hotels in Malaysia, India and Indonesia from RM8 per night (Rp 18.000 for Indonesia and Rs 180 for India)
The promotional rates include local tax but excludes breakfast. For Malaysia, the quoted price includes services charge and GST.
These rates are available on a first-come first-served basis, subject to availability.
Which Hotels?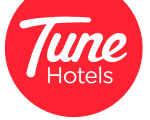 In Malaysia, the 'Crazy 8'offer includes your room, with air conditioning, towel, toiletries, WiFi access, and television at Tune Hotels in Downtown, Kuala Lumpur;  KLIA2, Selangor;  Cyberjaya, Selangor; Danga Bay, Johor Bahru; Downtown, Penang; Kulim, Kedah; Kota Kinabalu, Sabah and Taiping, Perak.
In Indonesia, the offer is available at Tune Hotels in Bandung and Yogyakarta.
For Tune Hotels in  Kota Damansara, Selangor; Kuching, Sarawak and Kota Bahru, Kelantan and  Ahmedabad, India you  are offered options for purchase of add-ons at prevailing normal rates over the counter or online.
How to book
Bookings must be made on the Tune Hotel website  between 8.00PM (GMT+8) and 9.20PM (GMT+8) each night until 25th June, for a stay between 11th July – 31th December 2016.
….. We are excited to introduce a sales campaign which we hope will be something iconic for Tune Hotels, and offer our guests with unbeatable room rates for our properties in Malaysia, India and Indonesia. This is also a way for us to show appreciation towards our Tune Hotels guests and we hope that everyone will have a good 80 minutes every night for eight nights, and explore all the destinations featured in this sale when they stay with us. Jack Tan, COO of Brand and Hotel Management, Tune Hotels