Looking for food in Tasmania? We used to get our apples from the 'Apple Isle' – Tasmania. That's what this island state of Australia was always best known for, apart from the natural beauty of the landscape and the convict past. We found a lot more than apples during our visit to Tasmania, from venison steaks to berries and ice cream.  So here's our short list of the top things we found to eat, while checking out the local culture in Tasmania…..
A bit of Food and Culture
There are numerous galleries and museums, some with a small entry cost (a gold coin at the Swansea Museum) and some like the Museum of Old and New Art (MONA) which will cost you more. MONA is a private gallery located in Berriedale with an eclectic mix of art and history – think 'Egyptian Sarcophagus', think 'poo machine'. We can't show you though – MONA does not allow publication of photos/videos from their gallery.
The museum in Swansea on the other hand, is a historical museum with a fascinating mix of artefacts going back to colonial times. Ask about the cockroach catcher, or rather, see if you can find it. Or have a laugh at the display of useful tools, seen in our photo.
Markets you can look for include the Scamander Market in Hobart on Saturdays, but be there early, by 4.30pm, most people have gone. Sunday morning, you can visit the Farmers Market in Bathurst Street. Pick up fresh fruit and vegetables, fresh bread or why not look for some wallaby sausages?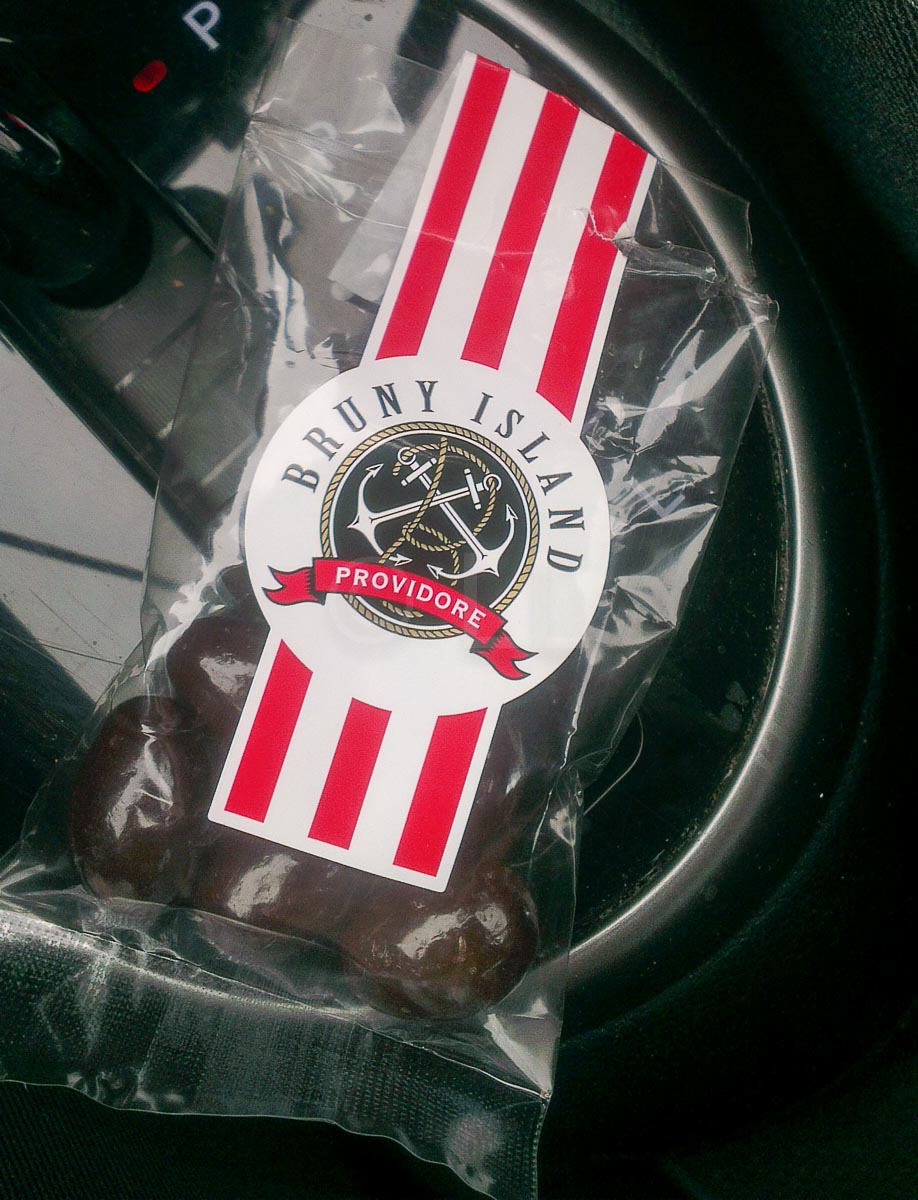 We enjoyed the fresh seafood pies we picked up to keep for dinner as we left Ross – scallops, salmon and abalone are especially popular items on the menus for both locals and tourists.
Look out for the berry farms scattered throughout the main island and on Bruny Island, or stop at a food truck for local ice cream with fresh berries. We had a good smile when we saw the chap queuing for ice cream with his parrot on his shoulder.
Stop off at a winery – again scattered all over Tasmania. Have a taste at their Cellar Door and maybe buy a souvenir or two to take home. The wine will go well with the seafood you'll have for dinner. Follow that up with some local chocolate. Why not?
We discovered the Ironhouse Brewery almost by accident as we drove down the Tasman Highway, south of Scamander. It looked like a good place to have a break from the rain, and we discovered that not only do they make their popular beer on site, but also have a whiskey distillery, all of which is behind a glass wall so you can see the process.
Conclusions
We'd have happily stayed a lot longer, we hardly had enough to time to sample all the food in Tasmania. The food choices were wonderful, especially if you enjoy dairy (ice cream and fresh berries, anyone? or did I already suggest that?) fresh fruit and vegetables, seafood, especially abalone and oysters. We found our accommodation to be excellent (we used Air BnB) though a little on the high side, but it was available in places in interesting smaller towns.
Tasmania is certainly worth a visit, whether you go for the countryside or coastline, the little towns you pass through, or the food. If you have the time, stay at least a week, a fortnight would be better, you may even love it so much you will want to stay!
images ©LL