On a recent trip to Brisbane, with plenty of free time to explore, this writer decided to spend the time searching out as many free things to do as well as a list of cheap things to do in Brisbane and nearby. We discovered a lot of things to do, including many that won't cost you anything, some that will, but not too much. Plus some that aren't really cheap, but there are ways you can save on the cost. Here's a selection of what we found.
Go to the pictures (Cheap Tuesday)
How about a movie? Even better if you can find an Aussie movie showing in a heritage cinema. Some Australian movies may give the unwary overseas visitor instant immersion into the Aussie slang, but even if you have trouble with the words and accents, you will often be able to pick up the story easily enough as you are treated to a good look at the Australian landscape and way of life.
If you can pick up a cheap ticket, even better! Tuesday is usually the day to pick up your seat for AUD 8 per ticket, but check the conditions – there may be some time restrictions for the movie you want to see. Days may vary between cinemas.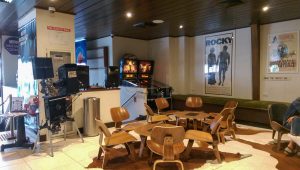 It was for these reasons that we decided to check out 'Red Dog, True Blue', the prequel to 'Red Dog', released in 2001 at the New Farm Cinemas in Brunswick Street, New Farm for one of their 'cheap Tuesday' screenings.
The cinema was first built around 1921 and has gone through a few revamps, being known as the Astor Theatre and Merthyr Picture Palace, before opening in the 1972 as the Village Twin Cinema Complex. This was a new concept at the time with multiple cinemas in one complex.
The story is, of course, about, well, a dog, but it's also a story about growing up and is a good introduction to one of Australia's most fascinating regions, the Pilbara in north western Australia.
If you're early, you can relax with a drink in the foyer, while you check out the movie memorabilia on show.
Check out the local wildlife
There are quite a few wildlife parks close to the Brisbane CBD and a number of places where you can see native wildlife up close without having to pay to do so. However, we enjoyed our visit to Enoggera Reserve Dam, a bus ride out of the city. (Route 385 – go to the end of the route at The Gap Park 'n' Ride. Walk about 5 mins further along the road on the same side)
Bring a picnic lunch and your swimming things as there's a swimming area and a range of paid water activities available.
After your swim, if you want to see a platypus, one of only two egg laying mammals in the world that suckle their young, this is probably the best place to go. The Walkabout Creek Discovery Centre is well worth the admission fee, even if all you see is the platypus. Go around 2.30pm just after they've been given their food and you'll have lots to see as they stalk the poor crayfish and worms that will be their lunch. At the time of writing, renovation work is underway to upgrade the facility so a number of birds and animals have temporarily moved to other facilities.
Get out of town – go to a beach or an island (day trip. train / ferry)
If you'd like to get out of the city, there are some great nearby islands where you can go swimming or snorkeling.
The old whaling station at Tangalooma on Moreton Island, a short boat ride from Brisbane is a great place to spend the day. Unless you decide to have lunch at the resort near the long closed whaling station site, your only real expense is getting there. Check out our recent story for the details.
Stradbroke Island (there are actually two islands) lies to the south of Moreton Island and you can catch a ferry across from Cleveland (or nearby Victoria Point). Catch the bus or train to Cleveland, the ferry leaves from the wharf about 800 metres from the Railway station. Go for a day, or stay overnight.
You can also take a vehicle on the vehicle ferry, to make it easier to get around. Booking is advisable. If you're going on foot, the water taxi service runs frequently, either hourly nor half hourly during the day. Bookings aren't required, but it would be a good idea to check the timetable to plan your journey.
If you have a car and feel like a trip outside the city, why not take a drive up the Bruce Highway to the Sunshine Coast. Mooloolaba is one of the first seaside towns you'll come to, there's a lovely beach with free showers to make it easy to have a swim before you continue looking around. Head off to Nambour, stopping at the Big Pineapple on the way – still worth a visit, but perhaps past its best. If you haven't had lunch at Mooloolaba, go through Nambour and up the range into Mapleton – the Mapleton Pub does some great lunches and has sweeping views out to the coast from the veranda.
Go to the Markets
Weekend flea markets (Eagle St, Brunswick St Mall, Southbank are three we always enjoy) are a popular weekend destination for both locals and travellers. Depending on where you are staying, there is certain to be one or more nearby. Ask around and people will be happy to point you in the right direction. The Brisbane City Council does have a register of markets both fleamarkets and farmers' markets in Council venues and carparks, but there are many more than these, spread across the city and surroundings.
Two things to note:
Not all markets operate every weekend and some are only open on either Saturday or Sunday
Many of the markets take a break over the summer school holiday period, from Christmas to late January
If you're in the city on a Wednesday, you can pick up some great fresh veggies, fruit and various international treats at the Jan Powers Farmers Markets at the top end of Queen Street in front of the casino. It's open 8am until 6pm. We're happy to see that the Powerhouse Markets in New Farm Park are now open every Saturday – there's a good range of stalls and you can pick up beautiful coffee, fresh pasta and a great variety of breads, cheeses and olives as well as other gourmet foods. This is also the place to see the locals' designer dogs out for their morning walk, as you check out the goodies in the stalls.
Rocklea Markets: The Brisbane Markets are open every day as this is a wholesale market. There are times when the general public have access, but Saturday or Sunday mornings are good, because there are stalls set in the Sherwood Road area. The weekend Markets are open throughout the year.
Catch the bus (you'll need two from the city, a 425 or 430 to Indooropilly Shoppingtown and change to the 598, which stops just outside the market on Sherwood Road. There is a train station at Rocklea, but it is quite far from the markets and if you want to buy much, you'll have a long way to carry it back to the train.
Friday and Saturday evenings, from 4pm to 10pm, and in the cooler months, on Sunday during the day, make your way to the Eat Street Markets. This Asian style food heaven is the place you go if you don't care about your waistline although there are some available options for those on a Gluten Free or Vegetarian diet.  There is an entry fee – currently $2.50 for adults and you can't take in your own food or drinks. There's live entertainment on a stage in the middle of the market, the website has details of what's on. Free parking is available or you can catch the CityCat to Brett's Wharf and walk in the same direction along the river for about 8-10 minutes.
Editor's note: From April 2017, Eat Street has been renamed Eat Street Northshore and has moved to a much more expansive location a little downstream. It's still along the same street but if you go by CityCat, get off at the Hamilton Northshore stop.
Museums, Galleries & Libraries
The cultural precinct located along the South Bank of the Brisbane year occupies most of the area used for World EXPO 88 and has been successfully developed into a Cultural Precinct using the area the other side of the main dividing road. On the western side you can find the Art Galleries, including the Gallery of Modern Art, GOMA. Also in this space you will find the Queensland Museum and the State Library. While general admission to all is free, there are often 'pay for' exhibitions and activities that may choose to join. These can be busy especially during weekends and school holidays, so get your tickets early and then look around while you wait for your time slot. Likewise the Botanic Gardens at Mt Cootha (catch the Translink bus No 471) are free to wander around and enjoy a picnic, but are also home to the Sir Thomas Brisbane Planetarium, which charges an admission fee. You can gaze skywards like Russian scientist, Konstantin Tsiolovsky for free.
On the old EXPO site, apart from the free activities – a children's playground, a very popular city beach and picnic spots, you can enjoy a ferris wheel ride or catch a movie, or enjoy one of the many restaurants. Catch the free CityHopper or the CityCat across the river to the South Bank Parklands stop from North Quay.
Getting around
Driving yourself around is an option, especially if you have a number of people to take with you.
If you choose to drive, remember:
Road rules are strictly enforced all over Australia. Don't break the speed limit or drive after drinking alcohol – make sure you know the rules and follow them
Road tolls where they exist, are expensive and if you have inadvertently driven into a toll road and passed through the toll reader, you will need to pay. Ask your car hire company the procedure for this.
Parking is usually expensive and many accommodation providers don't provide free parking.
Parking on the roadside is strictly controlled, with time limits and no parking / standing any time during peak hours. Your vehicle will be towed away immediately if it is still there when the restricted time starts.
Getting around Brisbane and the surrounding area by public transport is generally do-able, with a good variety of options available, both ticketed and free especially if you are a lone traveller or a couple. We have more details in our story here.
Do you want food with that?
Just in case you're hungry after all that activity, we have a couple of favourites, apart from our 'always on the shopping list', roast chicken (with stuffing) from the supermarket. If you want to splash out, three places we enjoyed this time around included the Smart lunch at Jamie's Italian in Edward Street in the City. Choose two from the three courses for AUD25 or pick a dish from all three for AUD30. We were very satisfied with our choices, which were more than substantial enough to last us until dinner time. Drinks are not included, but they'll refill your water for free.
For a quick snack, or something more substantial, Shingle Inn is open during the day only, just off the lift lobby in City Hall. This old cafe used to have a prominent spot in Edward St, just opposite where Jamie's Italian is now. When the original building was demolished, all the fittings were saved and the cafe was rebuilt in its new home. Here you can enjoy hearty home style tucker from pre-seventies Queensland and for a bit of nostalgia, try their patty cakes (never cupcakes or muffins!).
If you want a good fish & chips meal, make sure you're hungry before you head to Fish's Seafood Market in Newstead. (Catch the CityCat to Teneriffe) and walk back to Macquarie St. We ordered a  Family Value Pack (4 x Dory, 1 x 4 Chips, 1 x 12 Calamari with Tartar Sauce and Fresh Lemon) – make sure you have at least 4 people to share and you are all hungry.
The Ekka
And here's a little extra if you happen to be in Brisbane during the winter. Winter in Brisbane is not really cold, so getting about is very pleasant. Why not make a visit (or two) to the Royal Queensland Show, known locally as The Ekka. The Ekka runs for 10 days in mid-August every year. It's a great way to see much of what this big state has to offer and have fun as well. Economy Traveller will be there in 2017, to report on the best parts of what you can see and do.
images©LL