If you fly into Sydney International airport (Terminal 1) and have a connecting flight to another domestic destination in Australia, you must clear Immigration and Customs in Sydney and make a terminal transfer. This may take a while if you've come off a full flight at a time when a number of other similar flights have arrived. Expect particularly busy times in the early morning and late afternoon.
Sydney Terminal Transfer
You will be tired and you have to negotiate the formalities and collect your baggage. Don't forget to declare any foodstuff or other declarable items as per the Customs and Quarantine regulations in your card.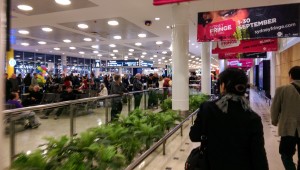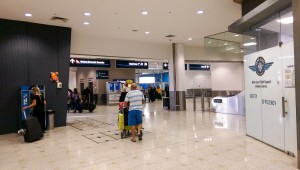 You now have to get to the Domestic Terminal (Terminal 3 for Qantas domestic flights, or T2 for everyone else). Turn right and walk in front of all the eager people waiting to collect someone. If you came in on a non-Qantas flight, you can catch the train or one of a number of other options, available on the Sydney Airport website.
If you are a Qantas passenger – lucky you! Just to the left of the train ticket kiosk is the sign directing you to the Qantas Domestic Transfers. From the waiting lounge, you'll go on a free bus across the air-side roads to the Domestic terminal. Definitely a journey to savour.  Virgin Australia also offers this Seamless Transfer service.
Enjoy the ride!