Malaysia's Minister of Tourism, Arts & Culture, Tiong King Sing on Friday launched a 5M free AirAsia seats* campaign to both domestic and international destinations. AirAsia's strength as the biggest airline with the widest network and the lowest fares, also serves to support the Ministry of Tourism, Arts and Culture (MOTAC) in its aim to strengthen Malaysia as a multi-faceted and multi-destination attraction.
Free AirAsia seats
Fly to Penang, Langkawi, Kuching, Sibu, Kota Kinabalu and other destinations, starting from RM23* or to international destinations including Bali, Krabi, Jakarta, Macao, Shenzhen, Guangzhou, Phu Quoc, Ho Chi Minh City, Singapore and more from RM60*.
*The FREE SEATS exclude airport tax, MAVCOM fee, fuel surcharge and other applicable fees. Terms and Conditions apply.
However, most countries require sellers to show the price to be paid, including all fixed costs and taxes. Therefore the prices quoted must include these fees, so you don't get a big shock when the total comes up. The break down is itemised when you select your flight. You still have you own add-ons to calculate as well – meals, baggage and choice of seat if you wish.
For example: A free AirAsia seats RM22.60 flight to Penang includes a base fare of RM0 and the breakdown of the RM22.60 is shown:

Want to fly further? AirAsia X offers flights to Gold Coast, Busan, Taipei, Tokyo and more with all-in low Economy fares from RM329* one-way. Flights are available for booking starting today until 19th February 2023 for travel between 1st March 2023 and 10th December 2023.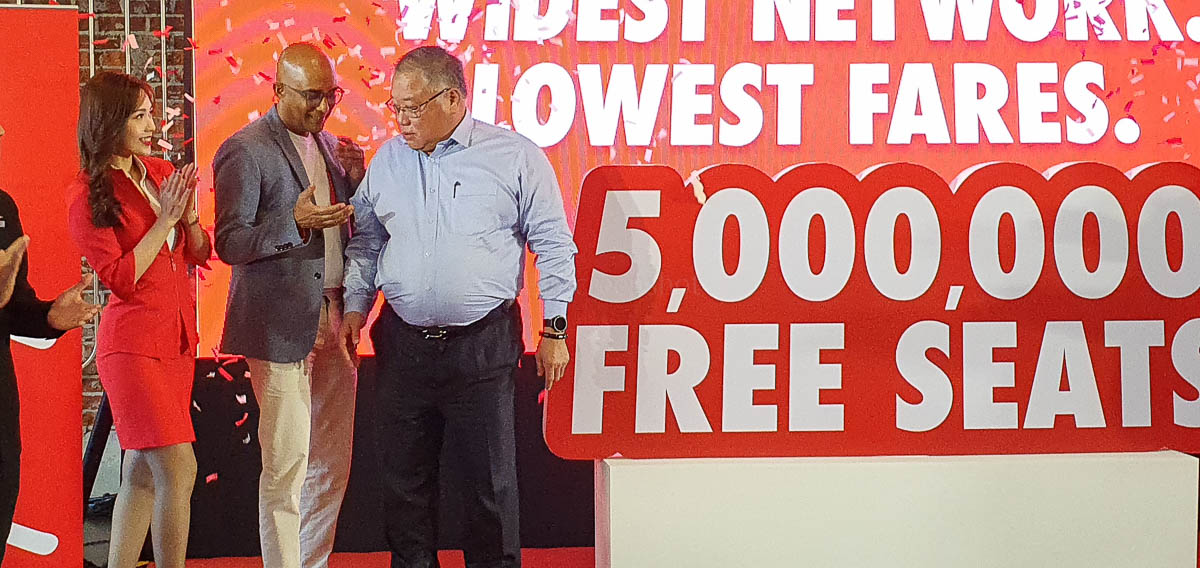 The tourism sector is a major economic driver for Malaysia, accounting for almost 15% of the country's gross domestic product (GDP) and air connectivity is the backbone of our tourism sector.
… AirAsia has done a fantastic job connecting the dots within Malaysia to Asean and beyond and has been instrumental in facilitating both national and international connectivity all these years, besides being a major player in supporting the country's tourism industry.Tiong King Sing, Malaysia's Minister of Tourism, Arts and Culture
Flight Delay Insurance for peace of mind
The Flight Delay Insurance** offers a one-off payment of RM200 if the flight is delayed for a minimum of two (2) hours from the originally scheduled departure time or any new departure time. Please note that this applies to delays that are notified as in the ** below.
It is available for FREE to all guests who book their flights between 10th and 19th February 2023 for travel between 1st March 2023 and 10th December 2023. The insurance will be available for purchase starting 20th February 2023 from RM10 (one way) or RM14 (return) on the airasia Super App and the website.
AirAsia has partnered with BigPay exclusively to provide automatic claims credited to the BigPay user's account within three (3) working days. If you don't already have a BigPay card, you can apply for one free. We've tried and tested it and it's very useful as it also comes with a physical Mastercard.
**The claim is applicable for guests who received a delay notification from AirAsia within 24 hours before their scheduled time of departure as stated in their itinerary or any new departure time. BigPay users will receive their claims in their BigPay account within three (3) working days based on their mobile phone number. Non-BigPay users will need to submit their claims to Tune Protect accordingly by clicking this link. For the full T&Cs please refer here.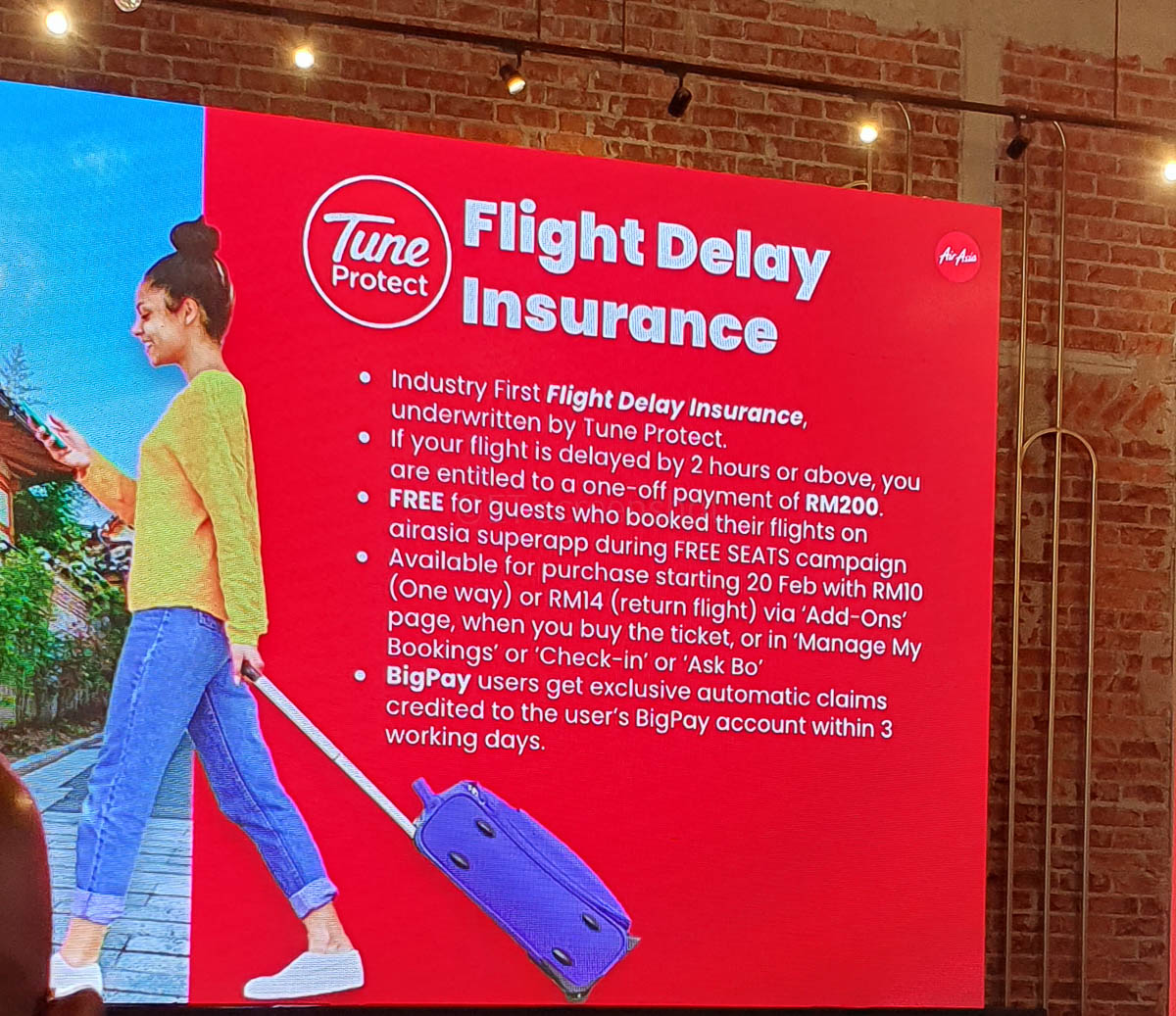 Tony Fernandes, CEO of Capital A, speaking to media at the launch of the Free Seats campaign, noted that the airline's time performance (OTP) has been steadily improving, and is now averaging around 80%. He's confident about their improving OTP but is responding to travellers who have been affected by flight delays as schedules slowly return to normal levels. They're looking for peace of mind when they travel with AirAsia, which is why the airline is launching an industry-first Flight Delay Insurance underwritten by Tune Protect.
AirAsia is the pioneer of low cost travel in Asia, having carried close to 800 million travellers in the past two decades. In 2019 pre-pandemic, the airline carried over 25 million visitors to Malaysia, with more than 40 million passengers to the Asean region and 17 million to North Asia. They are the largest low cost carrier and the fourth largest carrier (including full service carriers) in Asian and continuing to expand its network. AirAsia Malaysia (AK) will restart its service to four destinations in China – Macao, Shenzhen, Guangzhou and Kunming. The airline will welcome the first flight from Guangzhou on Saturday 11th February with a strong load factor of 96%.
…. As they say, size matters! When it comes to airlines, bigger is always better so we can leverage economies of scale and pass on to our guests in the form of lower fares and delivering more value and choice. Tony Fernandes, CEO of Capital A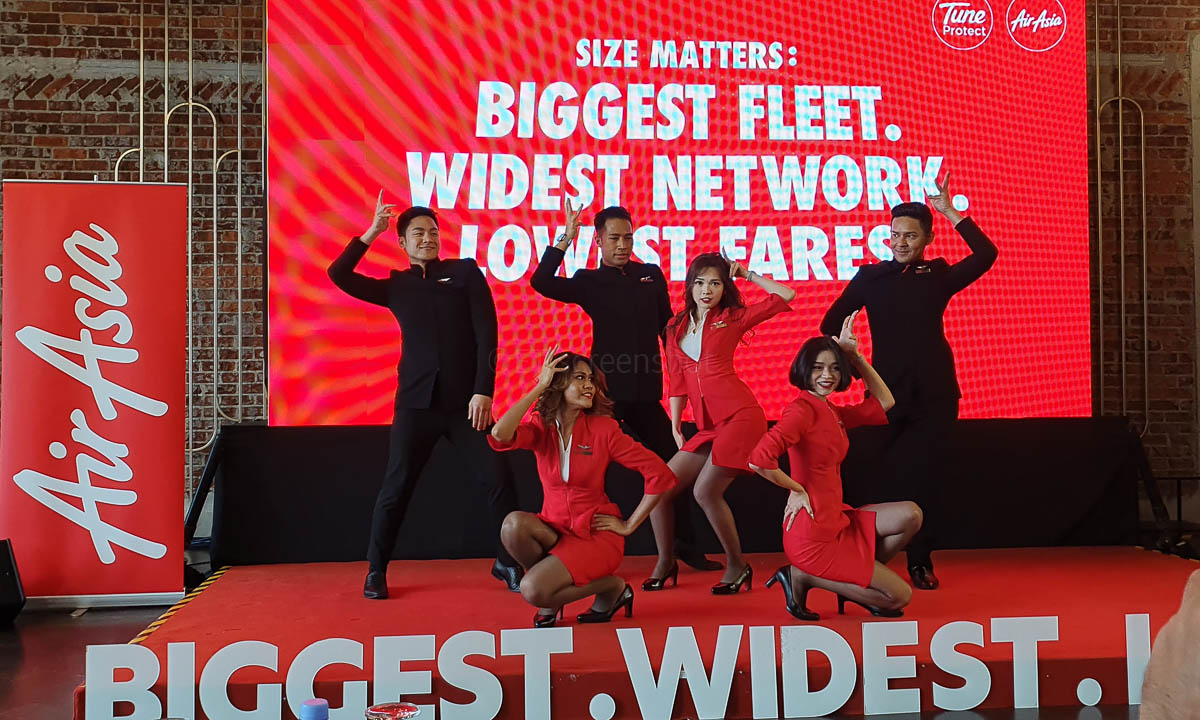 He noted that AirAsia has been a major contributor to Malaysia and Asean's GDP. AirAsia alone contributes to more than 2% of Malaysia's GDP. You may think that 2% is a small number but for a big country like Malaysia with GDP worth more than RM1.5 trillion, that 2% is a sizable contribution.
To book your Free AirAsia seats, head over to their website, or download the airasia Super App from the Apple App Store, Google Play Store, or Huawei AppGallery.
images©ET