When AirAsia introduced their EZpay multi-currency payment card, this writer trotted along to find out more and signed up for one. But never used it. Mainly because the card was really only useful when travelling overseas and a deposit in Malaysian Ringgit needed to be converted to the local currency before use. So when it was replaced by their latest offering, BigPay card, I was somewhat sceptical. However, I decided to sign up when I attended an event where the card was being promoted and spoke to people who already had the card. They found it useful, so I made the required minimum deposit to register.
Enter the BigPay card
Registration is done online at bigpayme.com or by downloading the app on your iPhone or Android. You need a valid Malaysian phone number to register, but you don't have to be a Malaysian citizen.
BigPay has a number of the features of an e-wallet, the big difference being that you will get a physical card. This card is a pre-paid Mastercard usable across the world, at shops, ATMs and online.
Physical Card
You should receive your card within 5-7 days of registration. Make sure you check that you have entered the address correctly, or it won't arrive. Log in to the app to check the progress. My tracking was stuck at 'Printing Card' for the longest time. Then I decided to ask. My address was entered incorrectly. They needed about 2 weeks to block the earlier card and issue a new one, hence the first screen. Update: You will receive a virtual card to use while you wait for the physical card to arrive. It has a different number from the physical card.
When the card is delivered,

open the app
perform the activation.
This takes less than 5 minutes.
**Remember to sign your card.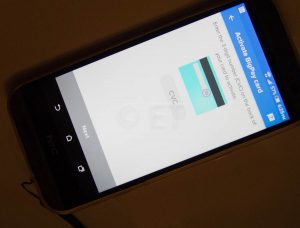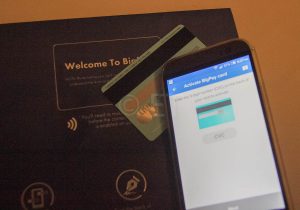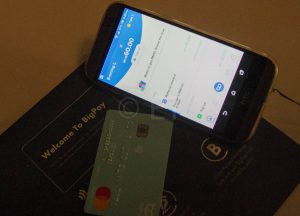 What else can BigPay do?
No fee Forex

Pay with BigPay in the local currency when you're abroad
Get the best exchange rate – with no extra fees
No need to change cash before you go

Expense Tracking

Automatic, 

categorised

 e

xpenses 

tracking within the app
Keeps a track of what you spend and where

Instant money transfer

No fee
Quick & easy process
3 taps from home screen
How can I save with BigPay?
Save on AirAsia flights

access to exclusive sales
pay with BigPay – no convenience fee

Top up with your preferred credit card

transaction is a purchase on your card (it is not a cash advance)
earn Rewards points on your credit card

Log in as a BIG member (not a member? Sign up for free)

get member discounts on fares
earn BIG Points
For more information visit their website or check out their Facebook page and Twitter.
Testing time!
I hadn't actually got round to using my shiny new card, but decided it was time to give it an airing on a recent trip to Australia.
First, I made sure I had some credit on board before I left.

That was easy enough to add, as I'd already set up the card details.

Second, I did a test run for a small amount in a department store once I arrived.

Faced with choices for which account to use, I clicked the wrong one and the transaction failed. Never mind, I decided to try again in a nearby supermarket.
Again, I pressed the wrong choice. The checkout lady suggested I try again and select 'credit', which seemed to do the trick. I had to key in my pin and everything was good.

I went back to the first store to try again. This time, plain sailing.

also discovered that it had remembered me and I had automatic approval.
The thing I liked best was the the immediate confirmation with equivalent in MYR. There's also no credit card loading.
Reloading overseas
Now I had the 'hang of it', I used it quite a few times and then decided to put some more cash on board. That's where I hit a problem. Because I was using a local sim card in my phone, I wasn't able to receive the verification code for my card transaction. That's a problem if you prefer to use a card over a bank transfer over the phone. Some people are strange like that.
It would be handy to have another method available, like PayPal, where a one time code isn't required.
Solution 1:
Use a roaming service/or provider roaming with your home number.
Solution 2:
Change your phone number with the bank so you receive the verification code.  We tried this method. This works. Don't forget to change it back you your local number when you return. 
Next Test
Next time I'm overseas, I'm going to get two cups of coffee and pay for one with a credit card and the other with BigPay to compare ease of payment, exchange rate etc. This has now been done and we have a result.
Result:
2 cups of coffee at AUD5.50 each
Coffee No 1 paid with BigPay = MYR 16.04
Coffee No 2 paid with Credit Card = MYR 16.40
BigPay ticked all the promised boxes. It was very helpful to have an instant confirmation of payment & exchange rate  and remaining balance. All your spending is also clearly itemised for you to check.