Singapore Airlines new menu hits the sweet spot
by

Lesley
on November 23, 2020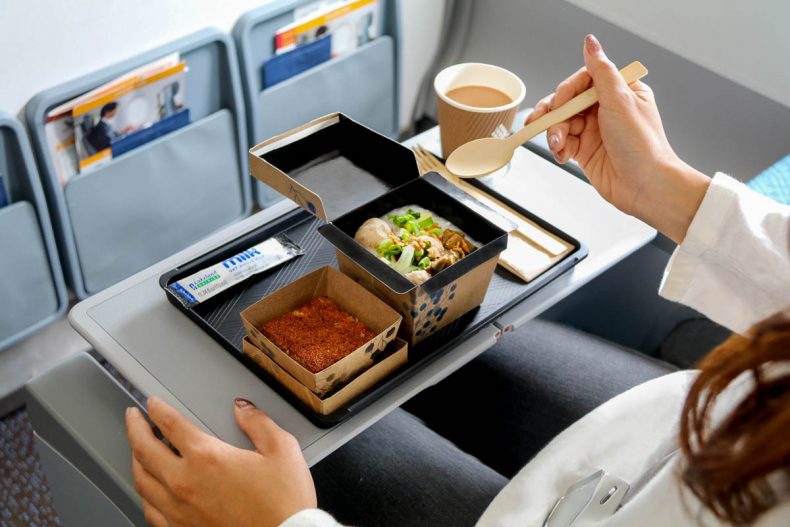 Singapore Airlines new menu, also available from 1st December 2020, on SilkAir flights, includes a wider range of main courses. The menu will be offered on flights under 3.5 hours except flights between Singapore and Kuala Lumpur, Penang, Medan. Travellers can look forward to a greater variety of local Singaporean and international favourites as part of the airline's new Economy Class meal concept.
Singapore Airlines new menu, new presentation
Singaporean favourites such as congee, laksa and gravy-rich mee siam, previously not available in Economy Class feature in the line-up. More than 40 new dishes will be available on rotation on different flights. The meals will be served in an innovative leak-proof box and cup made of Forest Stewardship Council certified paper. The dessert box and a cutlery pack are made of bamboo with a paper wrap. These replace SIA's current plastic casserole service ware.
The new box can hold the same amount of food as the casserole but is deeper and more secure, allowing it to retain gravy and soupy dishes without any seepage. It's also oven-safe and resistant to overheating, ensuring that food quality is preserved even after reheating.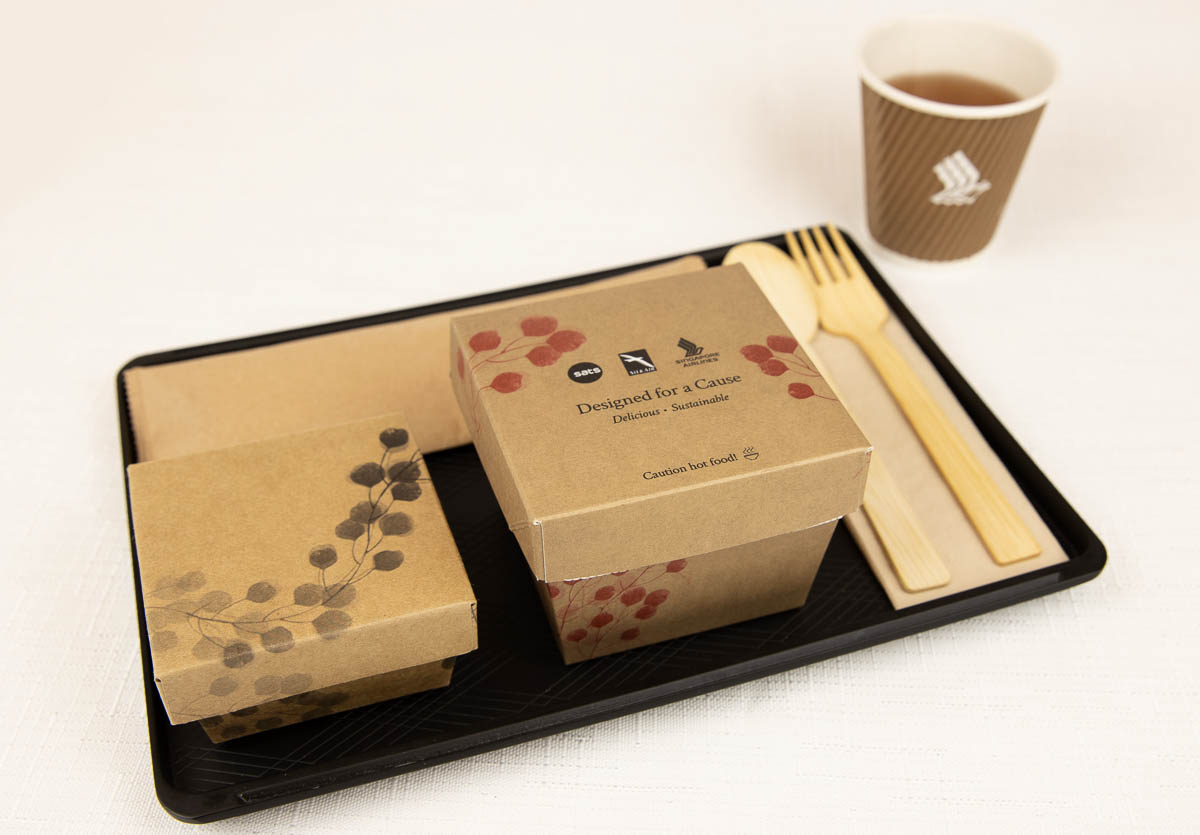 SIA and SATS, the Airline's Singapore-based catering partner jointly developed the new meal concept. The process involved a study into potential pain points and areas for improvement in the short-haul in-flight experience. The research and development that followed, resulted in a versatile and eco-friendly box and enhance taste, variety and meal quality.
The new service ware reduces the amount of single-use plastics on the meal tray, including cups and polybags for cutlery by 80 per cent by weight. After use, these items will be brought back to Singapore, sent to an eco-digester at SATS, and converted into pellets. These pellets can be used as refuse-derived fuel, a source of energy that can replace fossil fuel and coal.
The onsite processing of waste gives an approximately 60% reduction of catering waste and further reduces incinerator emissions. The use of lighter paperware helps to reduce fuel consumption on flights as an added benefit.
Visitors to SIA's Inside Singapore Airlines tours in November 2020 will be the first to preview the new meals, which will be served at the event. These tours offer the visitor a chance to go behind the scenes and into the SIA Training Centre. The exclusive guided tours includes activities and experiences for all ages. Try your luck for the remaining tours on 28th and 29th November 2020.
Check the details of SIA's flight schedules from November 2020 to January 2021 HERE.
What's on the menu?
These are the dishes identified in the rotational list. Not all will be offered on each flight. Dishes marked * are available for visitors at the Inside Singapore Airlines tours. Those marked # will be introduced on short-haul flights in December 2020.
Course
Meal
Dishes
Main Course
Breakfast/All Day Dining
·       Congee with Pork Ball and Century Egg*#

·       Mee Siam*#

·       Fried Carrot Cake with Prawn*

·       Nasi Lemak with Chicken*

·       Chicken Congee#

·       Scrambled Egg with Sauté Spinach and Potato, Herb Tomato Sauce#

·       Scrambled Egg, Shashouka Spiced Tomato Sauce, and Chicken Chipolata

·       Pear Cinnamon Steel Cut Oat Porridge

·       Vegetable Fritata, Mushroom, Baked Bean Ragout with Bacon

·       Tomato Upma and Sambar

Soups
·       Beef Barley Soup

·       Beef Goulash*

·       Chicken, Leek and Potato Soup

·       Smoked Lentil with Chorizo Soup

·       White Bean with Smoked Duck Soup

Lunch/Dinner (Western)
·       Chicken Bolognaise

·       Alfredo Pasta

·       BBQ Chicken on Potato Cubes with Roasted Carrot and Beans

·       Penne Pasta with Tomato Basil Sauce*

·       Penne Samfaina Catalan Pisto

·       Lamb Albondigas

·       Chicken Ala King and Cheese Mash with Roasted Pumpkin Braised Beef and Mushroom Ragout with Mash Potato*#

·       Braised Beef with Dupay Lentils, Porridge Polenta and Parmesan

·       Beef Bourguignon

Lunch/Dinner (Oriental)
·       Salted Fish Fried Rice with Chicken*#

·       Sliced Pork with Ginger and Fried Rice

·       Beef Brisket with Egg Noodles

Lunch/Dinner (Ethnic)
·       Thai Green Curry Chicken with Steamed Rice

·       Laksa Goreng

·       Thai Yellow Curried Fish with Steamed Rice

·       Curry with Rice

·       Dry Mee Siam

·       Laksa

·       Chicken Briyani

·       Tom Yam Bee Hoon with Cabbage, Carrot, Thai Chilli

·       Japanese Chicken Curry with Rice

Dessert
·       Pulut Hitam Cake*#

·       Ondeh Ondeh Cake*

·       Banana Sugee Cake

·       Coffee Milk Jelly

·       Raspberry Cream Cake*

·       Chocolate Fudge Cake

·       Earl Grey Chiffon Cake

·       Coffee Mousse with Pecan Crumble and Pear Compote

·       Chocolate Mousse with Brownie Crumble and Salted Caramel Sauce

·       Banana Chocolate Chip Cake

·       Coffee Bavarian Cream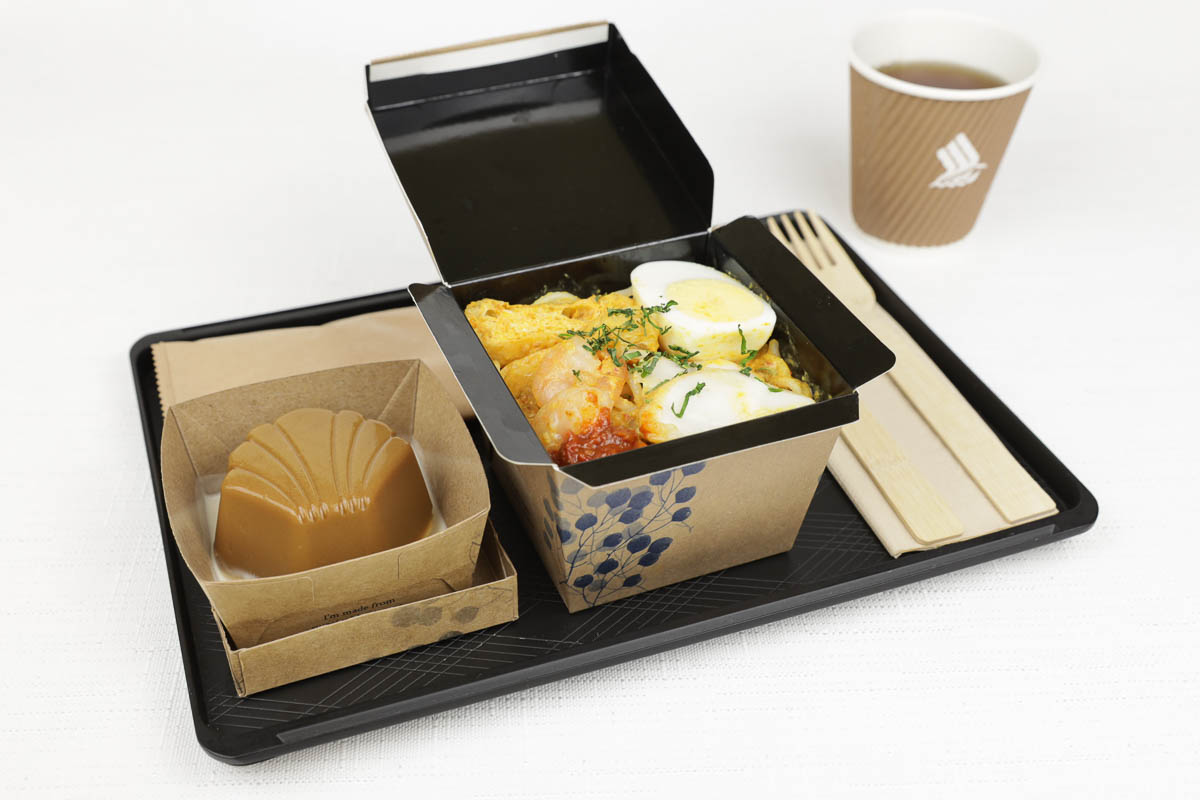 0 likes
Lesley
Lesley loves photography, budget travel and getting value for money, visiting places on and off the beaten track.