For some years, a handful of full-service airlines have been offering pre-departure meal selection for their premium passengers. With examples like Singapore Airlines' Book the Cook and Malaysia Airlines' Chef-on-Call, the service has been embraced by business and first class passengers as a welcome amenity. It's rare to find an airline that offers a business class service for free to economy class passengers, yet that's precisely what Qantas offers in its pre-departure meal selection service, called Select on Q-Eat.
A rare but welcome economy perk
We think Select on Q-Eat is a great idea because:
It allows you to select your preferred in-flight meal prior to departure, allowing you to see what's on offer instead of having to make a snap decision about "chicken or beef".
You have an additional (and tasty) bonus option available to you when pre-ordering online that is not otherwise available in-flight.
You have the option of declining a meal in order to maximise rest. This is particularly useful when travelling on a red-eye flight where you'd rather sleep than be disturbed by the meal service.
The airline is able to reduce waste which in turn lets them reduce costs, the benefits of which are often passed onto travellers.
An added bonus is that you will often be served before everyone else, usually when special meals (e.g. vegetarian, halal and kosher meals) are being served.
How to select your meal
Select on Q-Eat is available at no extra cost on international flights departing Australia and is available to passengers in Economy, Premium Economy and Business Class. If your flight qualifies, the selection becomes available online from 7 days and up to 12 hours prior to take off. To select your meal, retrieve your booking on the Qantas website on the Qantas mobile app and look for the "Select your inflight meal" button. This is what the steps look like on a flight to Singapore on the Qantas website: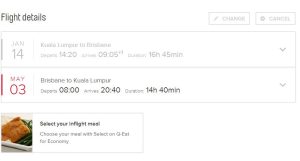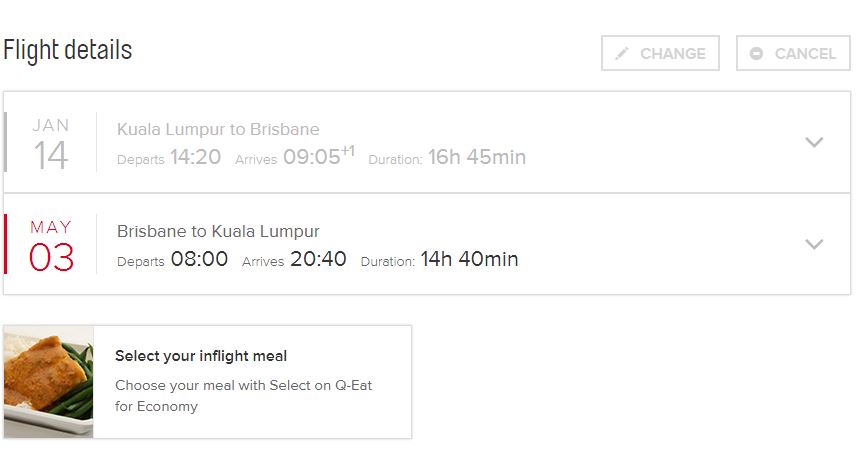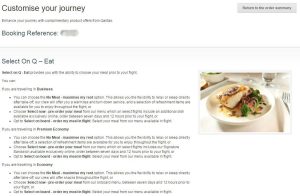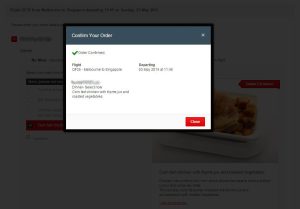 Here are some meal selections we've had on the menu for some recent flights from Australia to Singapore.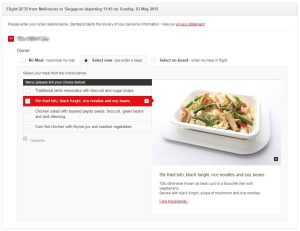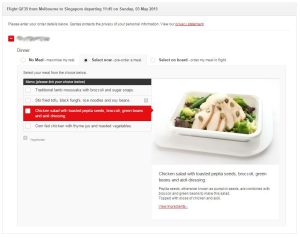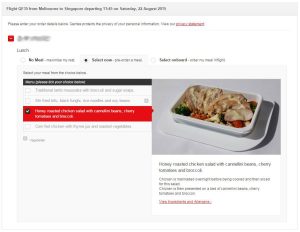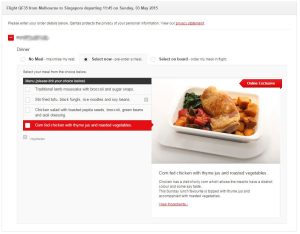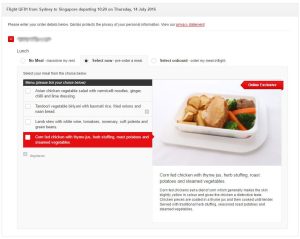 So does the meal you've chosen online actually resemble what's served in real life? You be the judge: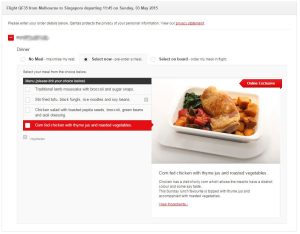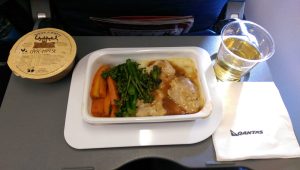 Some final notes
There has been one occasion where we selected a meal from the regular menu (i.e. not one of the online exclusive or vegetarian options) but the meal was not served before everyone else. In fact, the normal cart service came around, and the option we had selected was no longer available. This was in the early days of this service, and appears to have been addressed since.
We've also found that since Qantas abolished tray service, the serving portions of Qantas International meals are larger than those served on airlines that continue to use the traditional tray service. The quality of meals has also improved considerably, so even if you end up having to select something else in-flight you should still end up with something tasty.
You can find more information about Select on Q-Eat, including eligible flights here.