Sarawak welcomes the world with the addition of two new international flights to AirAsia's line-up. The airline's inaugural Shenzhen-Kuching flight landed at Kuching International Airport just before 8am on 27th December 2017. Later in the morning, the inaugural  Singapore-Bintulu flight landed at 11.00 am at Bintulu Airport.
Both aircraft were met by the traditional water salute as they pulled into their parking bay.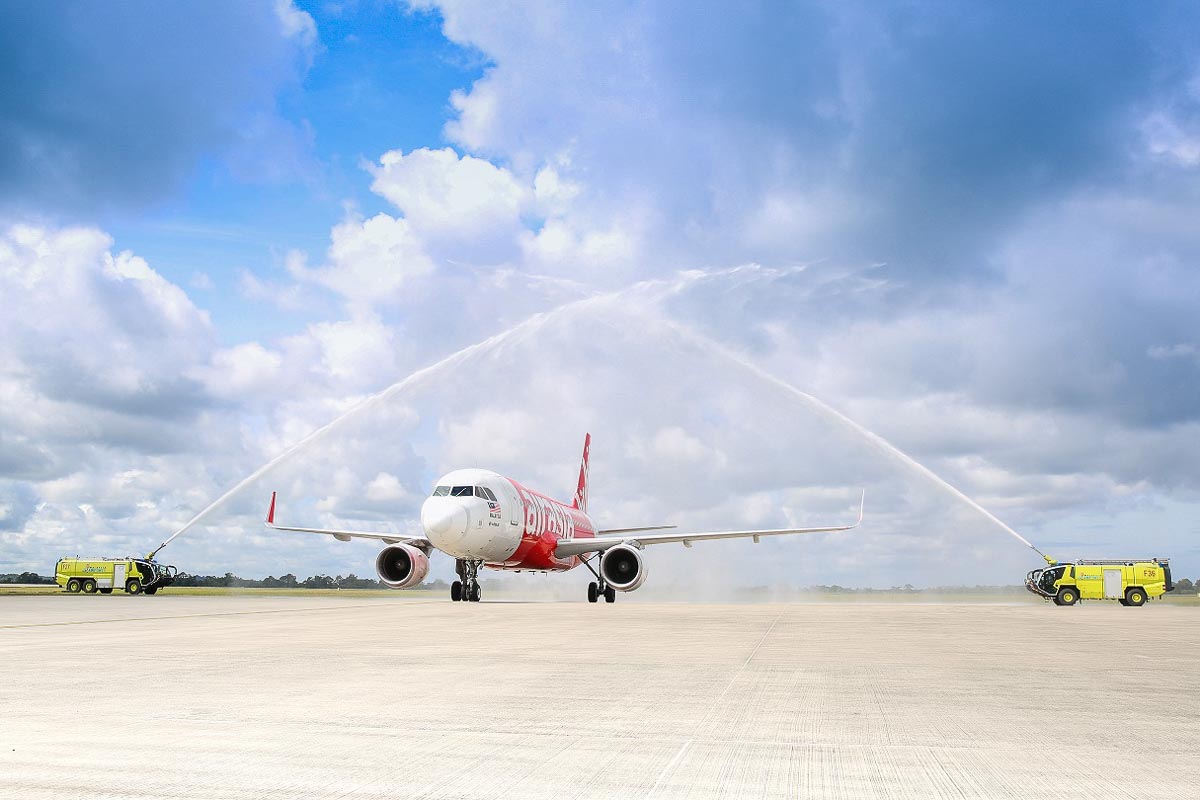 These two new direct international flights boost the international connectivity into East Malaysia. They improve flight connectivity into the state and help tourism industry access.
…. We are honoured and humbled to welcome two new international flights into Sarawak today. AirAsia has always been committed towards expanding the markets in Sarawak and these direct flights reiterate our commitment to grow the connectivity in and out of the state. To-date, we have flown about 4.8 million guests in and out of Sarawak which is 12.1 percent more from 2016 with China and Singapore in the top five nationality. Spencer Lee, Head of Commercial, AirAsia Berhad
He further added that AirAsia is proud to be recognised as the leading airline operator by the Sarawak State Government at the Sarawak Hornbill Tourism Award 2015/2016 this year.
AirAsia currently flies to 12 destinations from Kuching with a total of 229 weekly flights one way.
In addition to Shenzhen, the airline also flies from Kuching to
Singapore,
Pontianak,
Miri,
Sibu,
Bintulu,
Kota Kinabalu,
Johor Bahru,
Kota Bharu,
Penang,
Kuala Lumpur
Langkawi.
AirAsia also flies 39 weekly flights to three destinations from Bintulu:
Singapore
Kuala Lumpur
Kuching
Flight Schedule Kuching (KCH) – Shenzhen (SZX):
Route
Flight No
Departure
Arrival
Days of operation
Kuching – Shenzhen
AK 1241
2245hrs (10.45pm)
0245hrs (2.45am)
Daily
Shenzhen – Kuching
AK 1242
0350hrs (3.50am)
0750hrs (7.50am)
There is no time difference between Kuala Lumpur and Shenzhen
Flight Schedule for Bintulu (BTU) – Singapore (SIN):
Route
Flight No
Departure
Arrival
Days of operation
Singapore – Bintulu
AK 1284
0910hrs (9.10am)
1100hrs (11am)
Monday, Wednesday, Friday, Sunday
Bintulu – Singapore
AK 1285
1125hrs (11.25am)
1315hrs (1.15pm)
Booking is available online at airasia.com or by using the mobile apps for Android and iPhone.