When Qantas flight QF73 flew out of Sydney on the afternoon of 17th February, it had a few extra special passengers. Four of Australia's most exciting technology and science innovators shared their vision for the future of technology and design in the first of a series of talks held on board QF73 during the thirteen hour flight.
'Ideas That Travel'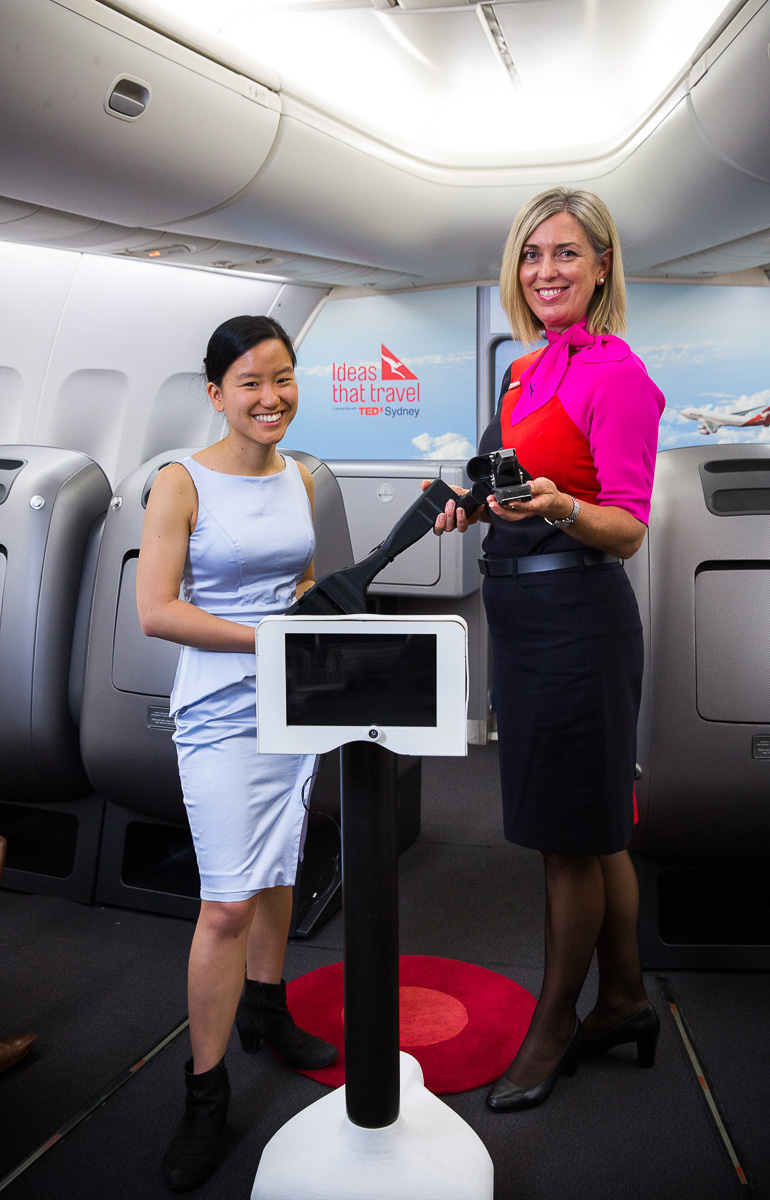 This Qantas partnership with TEDxSydney was live-streamed to passengers via the in-flight entertainment system during the flight and available online following QF73's arrival into San Francisco. The series will also be screened during TEDxSydney on 25th May 2016.
The speakers who shared their insights:
Accompanying them to San Francisce were ten Australian tech entrepreneurs and representatives of start-ups selected by innovation hub, The York Butter Factory, and Australia's leading supplier diversity organisation, Supply Nation.
Rowan Matz, Vice President of Product, 

Drawboard

James Crawford, Co-Founder & MD, 

Beanhunter

Valentin Muenzel, CEO & Co-Founder, 

Relectrify

Christopher Seymour, CEO, 

CarCloud

Mitch Secrett, Co-Founder, 

Omny

Bree Johnson, Director, 

Frank Body

Kirsty Broderick, CEO, 

HC Building and Construction

Shane Fields, CEO, 

Fields Group

Mitchell Ross, CEO, 

Muru Group

David Williams, CEO, 

Gilimbaa Pty Ltd
The group will tour the world headquarters of tech giants Google,Twitter, Facebook, Khan Academy and Silicon Valley Bank and participate in workshops at the Singularity University to help their businesses develop their business plans and explore new business opportunities on both sides of the Pacific.
…. Ninety-five years ago, Qantas was a start-up itself, and a large part of our success comes from the fact we have kept trying new ideas. So, we're delighted to be able to give these emerging thinkers a unique platform to tell their stories. This is the perfect route for a world-first. We all know about the impact of the California tech boom, but what's really exciting is the growing number of Australians doing business with Silicon Valley on the one hand, and building a home-grown Australian culture of entrepreneurialism on the other. One of the reasons we re-launched flights between Sydney and San Francisco was to support growing business travel driven by the tech boom, and we're looking forward to playing our part in strengthening the ties between innovators on both sides of the Pacific. Olivia Wirth, Qantas Group Executive - Brand, Marketing, and Corporate Affairs
During the trip, the startup group will also wear Fitbits to trial the new Qantas Assure app, a new insurance membership with its own wellness program which goes live later this year. Australian Qantas Frequent Flyers who buy eligible insurance products from Qantas Assure,  and download the app will be able to earn Qantas Points for being active, which they can monitor through wearable technology.
…. We are thrilled to be partnering with Qantas on this exciting 'Ideas that Travel' adventure celebrating the airline's San Francisco service connecting Australian and US-based entrepreneurs. Some of the most exciting speakers from TEDxSydney alumni will be sharing their ideas at 30,000 feet while members of our extended networks are anticipating some serious meeting and greeting in the Bay Area next week. We're all looking forward to hearing more about those experiences at TEDxSydney 2016 at the Opera House in May. TEDxSydney Founder Remo Giuffré
Qantas' Sydney-San Francisco services operates six days per week, with flights operated by Boeing 747-400 aircraft with the same interiors that feature on the airline's flagship A380s. The service re-started in December 2015.
Qantas Assure will  be available to Australian resident Qantas Frequent Flyers aged 13 years or over, later in 2016.