If you're thinking of a year end getaway, or even a holiday in early 2016, this may be the best time to grab a good deal. All offers are on sale from 9th to 15th November for travel between 11th November 2015 and 28th May 2016. Fares on offer are for one-way travel and include all taxes. They don't include baggage or food. Pre-booking these add-ons is less expensive than doing so at the airport or on board.
**TIP If you realise you need more baggage, you can add more allowance up to 4 hours before your flight via 'Manage My Booking'.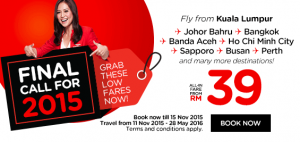 AirAsia and AirAsia X are having a special year-end promotion across the airline group's route network, with domestic Malaysian flights from RM39 one-way, inclusive of taxes.
That can get you a ticket from Kuala Lumpur to Johor Bahru or Kota Bahru and you could pay RM49 for a one-way ticket to Penang.
Spending RM109 will see you off to East Malaysia to Kuching or Kota Kinabalu one-way.
Thinking of somewhere further afield?
How about Goa in India? That's available from RM279 one-way or you could go to Perth, Australia from RM299.
Both Winter and Spring are great times to visit Busan, Korea (from RM329) or the popular snow town of Sapporo, Japan (from RM449).
Does China beckon? You could try AirAsia X's award winning Premium Flatbed to Chengdu from RM799 or for Korea, RM999 one way to Seoul. With the Premium Flatbed, you'll enjoy the use of universal power sockets, adjustable headrests and built-in personal utilities such as tray table, drink holder, reading light and privacy screen. Premium Flatbed guests also enjoy complimentary products and services including unlimited flight change, Pick A Seat, Priority Check-in, Priority Boarding and Priority Baggage. In addition, you can take advantage of immigration fast track at selected airports and your ticket price includes 40kg Baggage Allowance, a pillow and duvet as well as a complimentary meal and drinks.
Book your tickets online at the AirAsia website, the AirAsia's mobile app on iPhone and Android devices, or the AirAsia mobile site.