Melbourne-Avalon Airport gained a new status when the first scheduled international flight landed just before 8.30am on 5th December 2018. AirAsia X flight D7 218 made its inaugural flight, returning to Kuala Lumpur later as D7 219. The airline will fly two scheduled flights daily following the move from Melbourne-Tullamarine.
Avalon Airport is designated Melbourne-Avalon in their booking page, so if you're booking your flight, that's the one to choose.
AirAsia passengers flying to Melbourne-Avalon will benefit from a range of 'Avalon Advantages'. We discovered these during our recent trip through the airport in both directions. Much of the information applies whether you are travelling internationally or within Australia. In a recent story we wrote about some of the nearby attractions and we'll have another one soon on Geelong in particular.
Melbourne-Avalon Airport – what you need to kn
o

w
1. The roads to Avalon are toll free
Avalon International Airport (Avalon Airport) is 20 kilometres north of Geelong's CBD.

It's about a 25 minute drive.

The airport is 55 kilometres south west of the Melbourne CBD

It is a 45-minute drive along the Princes Freeway.
2. The airport is privately owned
Avalon Airport was 

purchased i

n early 1997 

from the Australian Commonwealth 

by Linfox Group.

Linfox is an 

Australian company with operations in Australia, New Zealand and a number of Asian countries. 

Negotiations to take the airport international took 10 years.

The AirAsia Group was actively involved in planning for an efficient and traveller friendly facility.
3. Two airlines use the airport
Two airlines currently use the airport, meaning it's congestion free.

Jetstar has used Avalon Airport since June, 2004 the first commercial service to do so.
The airline operates domestic flights across Australia.

AirAsia X began flights into the new International facility in December 2018.

The Airline operates two flights daily to Kuala Lumpur.
4. Airport Layout
There are no aerobridges.

If you require assistance, advise your airline during booking.

All check-in counters are in the domestic terminal.
An open concourse connects both sections of the airport.
A number of small shop spaces are located in this area.
5. It's a 'straight through' airport
The existing domestic facility handles all check-in operations and domestic arrivals. Operations are designed so passengers move in a straight a path as possible. Procedures are simplified as much as possible to improve efficiency and people/baggage movement.
Departure
Domestic c

heck-in and departure are located in the original terminal building.

After 

check-in for 

international flights, proceed to the new International arrival/departure building.

The TRS (GST refund) window is on the outside wall of the international building, between the arrival and departure gates.

See these officers if you have 

claims 

for 

large items that will be checked in.

All LAG items must be in a clear plastic bag as you enter the departure area for checking.

LAG bag (Liquids, Aerosols & Gels) carried as carry-on , must be in sizes of 100ml or less.
Bags are available on the counters.

 A  number of bag-weigh machines are located in the check-in area.
Proceed straight through to Immigration clearance.

All stations have passport smart readers making the process very quick.

Remove laptops etc for security clearance check.
TRS refund counter for small items is just after you clear security check.

More information on TRS claims HERE.
Arrival
Make sure you have completed your pink arrival card before you reach the passport counters.

Complete only one form per family.

Passport control is currently manually done.

Smart readers will be installed in early 2019.

Baggage should be waiting for you as soon as you clear immigration.

The baggage carousel is directly behind the border control counters.

Trolleys are available at the end of the hall.

Coins for the trollies are available from the machine near the exit doors.
Each trolley costs AU$4.
Return the trolley at the return bay to get your coins back.

If directed by an officer, you will need to have your bags checked by a customs agent.

Make sure you have read your pink card carefully and discarded all prohibited items.
Ask the officer if you are unsure.
6. Facilities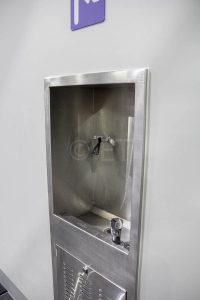 Avalon Airport may be small, but it has all the essentials
Food and Drink
Light food (snacks, coffee and cold drinks) is available in the domestic terminal.

Opposite the check-in counter.
Limited seating is available.

A wider choice is available in the International Departure lounge after security clearance.

Light meals are available, e.g. noodles.
Hot and cold drinks are available as well as a 

coffee bar.

Alcoholics drinks are available at the bar.
Shops
A small number of shop lots line one side of the concourse area between the two buildings.
At the time of writing, the end lot is occupied by a drink provider

Coffee, tea and other hot and cold drinks are available
While you wait
International passengers have access to two Duty Free Outlets (at Arrivals and Departure)
Departure lounges are well equipped with

cafe facilities
clean toilets
drinking water (to fill water bottles)
charging facilities (USB and sockets (Australian 3 pin type)

AED (for cardiac arrest) boxes are distributed throughout the airport
7. Transport
Although there is a railway station in Lara, the nearest town to the airport, this is not your best option.
By car
There are no freeway tolls on the roads to and from Avalon Airport

use your own car
Drop off area is close to the domestic terminal.
You must not stay longer than is necessary to let passengers get out and collect their luggage
Parking is available opposite the entrance

Hire car

The counters are located beside the concourse entry, in the domestic arrival/departure building.
If you're collecting a car – remember, you drive on the left side of the road in Australia

Taxis, Uber or other ride share options

Pick up is outside the domestic terminal entrance

Avalon Airport will introduce a AU$3 fee for all commercial vehicles accessing the airport to pick up passengers.

This charge begins 12th January 2019.
Bus
SkyBus runs services from both north and south

Services are timed to meet major flights
Up to 4 children (4-16) travel free

From Melbourne CBD via Weribee

Bus arrives and departs from Southern Cross Station in Spencer St, Melbourne

Geelong, the Bellarine & the Surf Coast

The bus stops at Geelong and South Geelong train station
Travellers to the Bellarine & the Surf Coast can use local bus.taxi/Uber from Geelong

To the Mornington Peninsula (across Port Philip Bay)

Catch a local bus to Queenscliff and the Ferry to Sorrento. (Watch for our video/story on this option, coming soon)
Bonus Advantage: Parking
The airport has a 900-space open car park.
It's located directly in front of the Domestic terminal, across the access road.
Booking is not necessary.
Parking charges

 

are time based, but reduce the longer you stay.

This makes long-term parking a viable option if you have a family or group.

Two ways to pay:

by credit card – tap on the way in and again on the way out
Take a ticket on entry, pay at the machine before leaving.
The machines 

accept 

Visa, Mastercard and American Express cards.
Smokers be aware:
Smoking is not permitted inside the terminal buildings.
There are designated smoking areas outside the Arrivals and Departures terminals.
Drop all cigarette butts in the bins provided.
Check out our video showing how to get round Avalon International Airport. Please note that there's no footage of any of the security areas (Customs and immigration controlled areas) as photography and filming are prohibited in these areas.
Economy Traveller travelled to Avalon Airport as a guest of AirAsia X.
Images ©ET