The new Malindo Air Brisbane inaugural flight flew into clear blue skies this morning from Kuala Lumpur, arriving at Brisbane International Airport just after 6am. The traditional water salute also fare-welled the departing return flight which left right on time at 7.15am. After a one hour stop enroute in Bali, the flight takes off again for KLIA at 12.45pm, for a touch down expected at 3.45pm.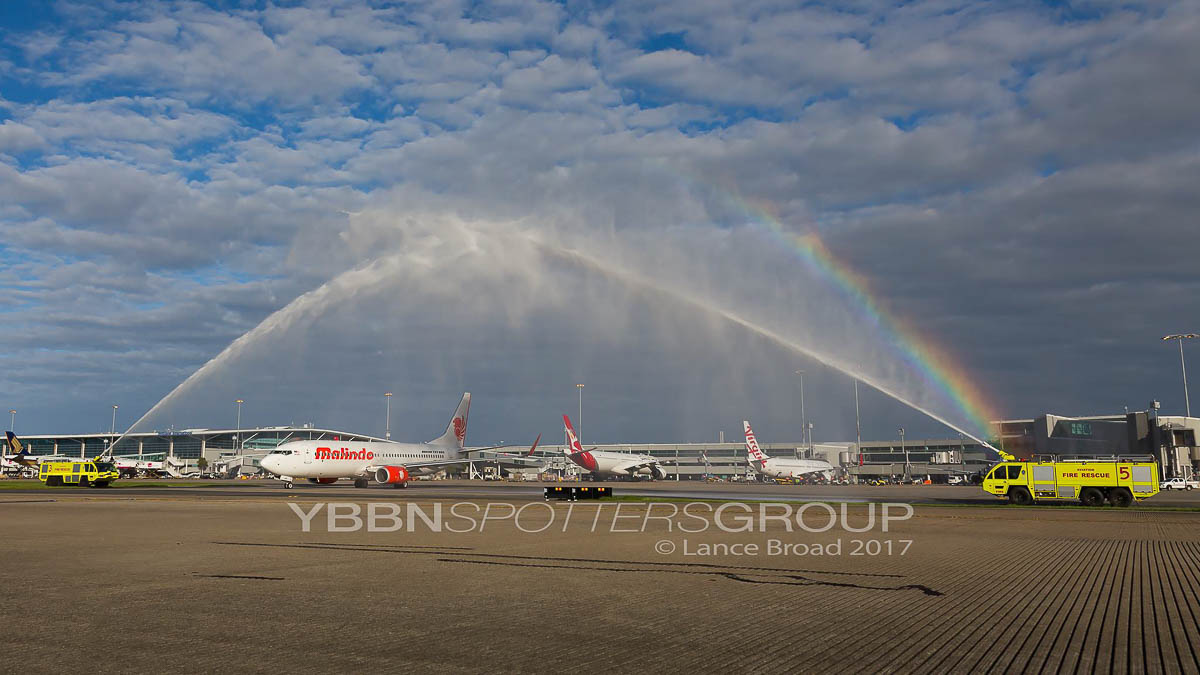 The outgoing flight from Kuala Lumpur left KLIA just after 6pm, with a brief stopover in Bali of one hour, before heading off at 10pm for the overnight leg to Brisbane. Malindo Air is currently the only airline offering direct flights, despite the brief stop, between Kuala Lumpur and Brisbane since Malaysia Airlines dropped the route last year in its rationalisation plan.
Read our reviews: Brisbane – Kuala Lumpur and Kuala Lumpur – Brisbane.
Malindo Air Brisbane promotional fares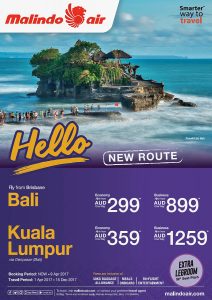 If you're looking to get to Brisbane without having to go a roundabout route, or make a long commute to or from the Gold Coast, Malindo Air is currently offering promotional fares from MYR1049 for a one-way Economy class seat. Your ticket includes a baggage allowance of 30kg, in-flight entertainment and meals.
If you're in Australia looking for a good deal to Bali, tickets are currently available until 9th April for a one-way Economy class seat between Brisbane and Denpasar, starting from AUD 299. For AUD 359, they'll take you all the way to Kuala Lumpur. Travel until 15th December 2017. Check out all their promotions HERE.
To make a booking, visit www.malindoair.com, or through mobile phones, use mobile.malindoair.com or download the Malindo Air App from Google Play and App Store.
This new route and the timing is expected to appeal to travellers in both directions. Australians who want a Bali holiday and perhaps an onward trip to Kuala Lumpur will appreciate the convenient daytime arrivals in Denpasar and Kuala Lumpur. The evening departure and morning arrival in Brisbane will appeal to Aussies who can fully enjoy the last day of their break. This will also appeal to Malaysian travellers heading for Brisbane.
The daily Malindo Air Brisbane flight is their second route into Australia after the Perth service began in November 2015.
Malindo Air Schedule KUL-BNE (Brisbane)-KUL (Kuala Lumpur)
| | | | | | |
| --- | --- | --- | --- | --- | --- |
| Sector | Flight No. | ETD | ETA | Frequency | Flight Time |
| KUL-DPS | OD157 | 18:05 (6.05pm) | 21:10 (9.10pm) | Daily | 3:05 hrs |
| DPS-BNE | OD157 | 22:00 (10pm) | *05:40 (5.40am) | Daily | 5:40 hrs |
| BNE-DPS | OD158 | 07:15 (7.15am) | 11:45 (11.45am) | Daily | 6:30 hrs |
| DPS-KUL | OD158 | 12:45 (12.45pm) | 15:45 (3.45pm) | Daily | 3:00 hrs |
All timings are local, Brisbane time is 2 hrs ahead of Denpasar and Kuala Lumpur.  *Next day
additional images © LL, LKY, flightaware