Malindo Air's inaugural flight Kuala Lumpur – Phuket took off on Thursday afternoon, 10th November 2016 and made an on-time arrival into the International Airport just after 3 p.m. local time, welcomed by the traditional water salute. After passengers disembarked they were welcomed with gifts and orchid necklaces by airline and  tourism board representatives.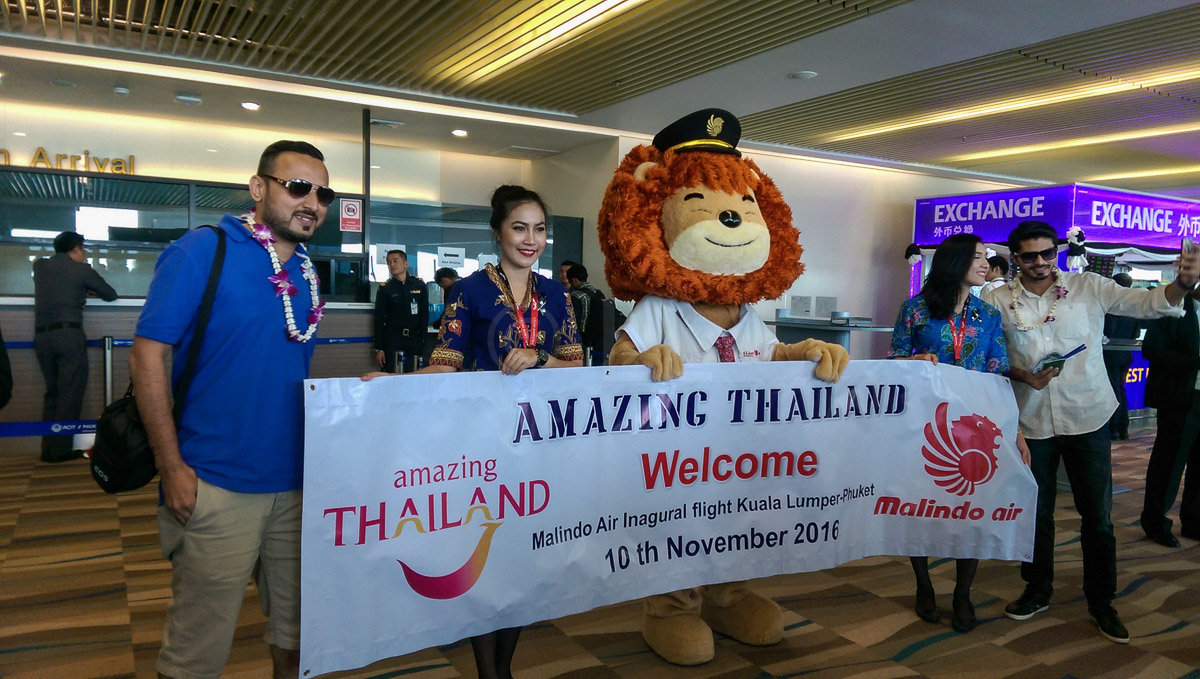 This new service will run four times weekly from Wednesday to Saturday, leaving Kuala Lumpur's main KLIA terminal at  2.45 pm for a 3.10 pm arrival in Phuket. Local time in Phuket is one hour behind Malaysian time.
The return flight leaves Phuket's new (opened in mid 2016) International Terminal at 3.55 pm, landing in Kuala Lumpur at 6.25 pm. Flight time is 1 hour 25 minutes.
In conjunction with the inaugural flight, Malindo Air is offering special promotional one-way, all inclusive fares starting from  MYR 139 for Economy Class and MYR 599 for Business Class. The fares include your baggage allowance (30kg in Economy) in-flight entertainment and refreshments.
Flights may be booked on the Malindo Air website, or if you're using a mobile device, you may use the Malindo Air Mobile site or download the Malindo Air App on Google Play and App Store.
Schedule between Kuala Lumpur and Phuket
| | | | | |
| --- | --- | --- | --- | --- |
| Sector | Flight No. | ETD | ETA | Frequency |
| Kuala Lumpur (KUL) – Phuket (HKT) | OD 540 | 14:45 (2.45 pm) | 15:10 (3.10 pm) | Wednesday, Thursday, Friday, Saturday |
| Phuket (HKT) – Kuala Lumpur (KUL) | OD 541 | 15:55 (3.55 pm) | 18:25 (6.25 pm) | Wednesday, Thursday, Friday, Saturday |
*All timings are local. Economy Traveller travelled on the Inaugural flight courtesy of Malindo Air. Watch for our review of the flight, coming soon.