When Malaysia Airlines' first A350 XWB flew into cloudy skies at Kuala Lumpur's International airport this morning, the rain stayed away. 9M-MAB flew low over the runway at 11.45am, before coming in to land about twenty minutes later.
A traditional water salute for 9M-MAB
The water salute, provided by two airport fire tenders, is something special, reserved for extraordinary events. The first aircraft of a new type joining an airline is certainly one such event. 9M-MAB got a good wash down, before moving forward to park in front of the hangar. The flight and cabin crew, along with the delivery team, finally came down the steps to be greeted by the new CEO, Board members and special guests. 
So what's it like?
This writer had the opportunity to grab a quick word with the Flight Commander, Captain Norazman, who pronounced the aircraft 'very smooth'. He noted in particular that it's a very quiet aircraft which will please passengers, especially on a long haul flight.
The A350 XWB is configured in a three class layout, with a total of 286 seats. It's the first of this type in Asia to include a First Class section, with only four seats. There are 35 Business Class seats and 247 Economy seats. Economy class seats, arranged nine across two aisles are more spacious, with better leg room. The first three rows three rows in the front Economy Class cabin have blue headrests. This distinguishes them as 'special' – they have 5″ extra legroom and a footrest. Otherwise the seats are the same as other economy seats.
All seats recline, including those at the back of the cabin. Exit row seats are located at Row 26, facing the crew seats. There are two seats rather than the usual three. This gives extra leg room to passengers seated in Rows 27A and K.
Other features that will appeal to passengers in Economy Class include:
in-seat power supply
a new in-flight entertainment experience
in-flight wifi
higher ceilings and larger windows
ambient LED lighting designed to help reduce jet lag.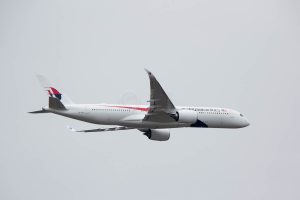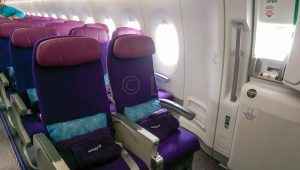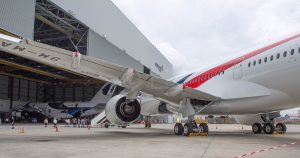 Some technical stuff!
It's not very technical, really! But we discovered that:
The aerodynamic design of the aircraft features a carbon fibre fuselage and wings.
Rolls Royce Trent XWB engines are fuel efficient and should reduce fuel burn and emissions by 25%.
This should help lower maintenance costs.
There are six A350-900 aircraft arriving in stages, by the second quarter 2018.
The aircraft are leased from Air Lease Corporation and will go into service on the London route in January 2018.
Until January, you can fly the new A350-900 as it does endorsement flights to Bangkok, Penang and Singapore. Book your seat at malaysiaairlines.com.
Watch for our 'best seat' story coming soon.
images©LL