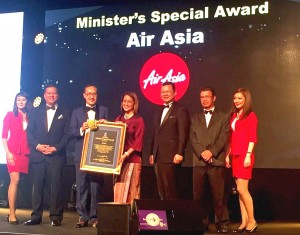 AirAsia has been recognised for their contribution towards Sabah's tourism growth at the recent Sabah Tourism Awards 2015 with their receipt of the 'Best Airline Award' for bringing the highest number of visitors to Sabah in the past two years.
With 698 weekly flights to and from Kota Kinabalu, Tawau and Sandakan in the state, AirAsia has carried over 8.4 million people in and out of Sabah in the past two years and sees great potential for future growth.
…We have big plans for Sabah and look forward to growing the current 3 million passengers per annum to at least 12 million passengers. We are confident this number is not far-fetched and highly possible, with a proper low cost carrier terminal in place in Kota Kinabalu. Sabah has tremendous potential to be a key regional hub and we want to make this a reality. Aireen Omar, CEO of AirAsia Berhad
With Kota Kinabalu offering AirAsia's Fly-Thru service, the airline has also seen a growing trend of guests travelling from the Asian region and Australia into Kota Kinabalu with Bangkok, Beijing, Shanghai and Perth the top cities for passengers connecting into Sabah for the past year.
AirAsia currently has 24 Fly-Thru routes into Kota Kinabalu, providing easy access and convenience for visitors across the region to travel to the state of Sabah.
So. What Can I do in Sabah?
Here are a few ideas to get you started….
Eco-tourism
Despite the expansion of large scale plantations in the state, there are still many locations where you can enjoy the natural environment and see the unique wildlife in their natural habitat. Along the Kinabatangan River, a couple of hours out of Sandakan, there are a number of Eco-resorts where you can stay a few days, enjoying early morning and dusk boat trips along the river to see orang utan, proboscis monkeys, colourful snakes and a wide variety of birds, all living freely. If you're lucky, you may even see a few of the pygmy elephants that live in the area. You can also visit the Sepilok Orang Utan rehabilitation centre in Sandakan where the rescued animals are carefully prepared for a return to their natural habitat.
Go diving
Tawau is the place to go to jump off to some of the most beautiful diving locations in the world. Sipadan Island is a natural wonder and despite it's isolated location, it's well connected and guarded so you may enjoy your stay.
Climb a mountain
Mt Kinabalu is the highest mountain in Borneo at 4,095m and attracts climbers from all over the world. A new track up the mountain has been constructed since the original track was badly damaged in an earthquake in June 2015. (Earthquakes are rare here!) You will be accompanied by experienced guides and you do need to be fit as altitude sickness is common. It is cold up there, and the last part of the climb is made in the dark so you can catch the sunrise, so you need to be fit and well prepared. Fly in to Kota Kinabalu to start for mountain journey.
Eat
Sabah is well known for it's long coastline and access to fresh and delicious seafood. There are plenty of restaurants with a wide choice.
Make a historical pilgrimage
Many Australians and others with links to the Second World War, make their way to the Sandakan Memorial Park, built on the site of the POW camp run by the Japanese between 1942 and 1945. The allied soldiers interned here were put to work building an airfield and as the war came to an end, those who were imprisoned were forced to march to Ranau, 260km from Sandakan. Of the 455 POWs who left Sandakan, only six survived.
Book your seat on the AirAsia website, the AirAsia mobile site or download AirAsia's mobile app on iPhone and Android devices.