A quick trip to the Royal town of Muar in the southern state of Johor in Peninsular Malaysia recently, was enough to make us want to go back for more of the culinary delights on offer. Friends have long told us the food is great and this was a chance to try but a small sampling of the offerings.
What's on offer?
While the dishes we checked out were all examples of familiar Malaysian favourites, there were a few differences we noted and some have built a reputation for being extra tasty.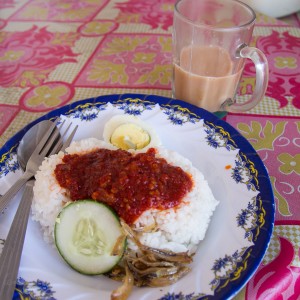 We ate breakfast in a small roadside stall selling Malay food in the owners front garden. The mee rebus (fat egg noodles garnished with egg, soya cake and fresh chilli in a tasty sauce) was complemented by the teh tarik (a sweet tea served in a glass which has been 'pulled' to cool it by pouring from one glass to another). But the delicious surprise was the nasi lemak. Instead of the usual sambal with belacan, it was mostly chilli and suited this writer's taste buds very nicely.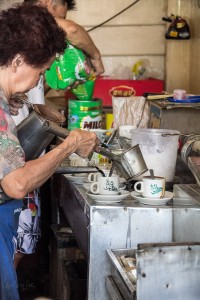 As one of our party wanted some satay we moved on to the Kheng Ping kopitiam to taste some of the famous Muar coffee as we waited for our satay order to arrive. The coffee is prepared in the traditional way using a cloth bag to strain the liquid from the roasted grind before condensed or evaporated milk is added if you want it white. To order you can ask for kopi – hot white coffee, kopi 'O' – black coffee, and if you want it strong, kopi 'O' kow. If you'd prefer it iced – either with milk – kopi peng/kopi ais or without, kopi 'O' peng/kopi 'O' ais. They will also make you Milo, hot or cold and the iced drinks may well be served in a beer glass. By the way – the default value is sweet, so if you don't want too much sugar, tell them you want it 'kurang manis'. That might help a bit.
If you'd like a concentrated eating experience, a good place to head for would be Jln Haji Abu with it's many roadside hawker stalls and the well-known Kim San Public Cooked Food Market at the corner with Jln Ali. In business since 1952, Kim San is a magnet for those who love chicken or pork rice and food from the other stalls, including a decent looking oyster omelette. There's also the resident soya bean drink maker (definitely that gets a 10) and you can't miss the numerous stalls selling Otak otak, a tasty fish paste grilled in coconut leaves as you wait. Easy to eat by itself, even better with rice.
Wash the whole lot down with a glass of herbal tea and you'll be ready for another round at dinner time! These are but a few of the tasty treats on offer in Muar. The town itself is clean and easy to walk around, you can't get lost and there are plenty of well restored old shophouses from the early to mid 20th century to admire as you wander along.
Tip! If you'd like to really enjoy your coffee, drink it from the saucer like the old trishaw pullers used to do, especially if you put one foot on your chair and rest your elbow on your knee. That's why the saucer is made like that. Of course, you'll get some funny looks, because nobody really does it these days, but …..
Getting to Muar
If you're flying into KLIA or KLIA2 and want to get to some of the smaller towns, try Mayang Sari Bus. You can book online to get your tickets to some of the places not directly connected to KLIA/KLIA2 including Muar, Pontian or Batu Pahat, though you need to go into Kuala Lumpur first.
For direct connections to many of the closer destinations, the KLIA2 website will point you in the right direction.
And in case you're still hungry…
Did you know that many of the dishes Malaysians (and travellers from elsewhere) assume to be Chinese dishes, are actually home grown inventions or improvements on the originals?  A few that spring to mind are mooncakes – Chinese visitors take them home by the box full because theirs are not nearly as imaginative or tasty. Most of the Malaysian Chinese 'curry' dishes are home grown. Think of all those wonderful Nyonya dishes that you can eat in restaurants and homes in Penang and Malaccs in particular. For six of the best, check these noted by CoconutsKL.
If your taste buds are whetted and you'd like to travel further afield, grab some of the fare+hotel deals available at the moment, including those from AirAsiaGo. They have flight+hotel deals available for all their destinations and you'll be able to choose from a range of accommodation available.