Singapore Airlines Group's KrisFlyer frequent-flyer programme has launched their new digital wallet, KrisPay, on 24th July 2018. The  earlier announced digital wallet initiative is part of the SIA Group's move towards leadership in the airline digital economy.
The app is the world's first blockchain-based airline loyalty digital wallet, developed in collaboration with KPMG Digital Village and Microsoft.
What is KrisPay?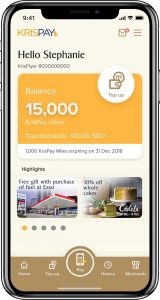 KrisPay is a novel way for KrisFlyer members to use their miles for everyday spending. Eighteen Singapore partner merchants are already on board, with more to come.
KrisFlyer members can use KrisPay to:
pay for purchases at partner merchants,

either partially or in full

minimum 15 KrisPay miles (equivalent to about S$0.10)
Users can look forward to frequent in-app promotions and more app features.  Download KrisPay on the Apple and Google Play Store. 
Once you've downloaded the app:
Convert your KrisFlyer miles into KrisPay miles using the app's instant top-up function.
Once transferred, KrisPay miles have a validity of six months.
To pay for purchases:

scan the KrisPay QR code at the merchant,
key in the amount to pay with your KrisPay miles
settle any balance.
Categories
Beauty Services
Food and Beverage
Petrol
Retail
Merchants
• Browhaus
• Qi Mantra
• Spa Esprit
• Strip
• We Need A Hero
• Cedele 1
• TWG Tea 2
• Shangri-La Hotel (Origin Grill and Nami Restaurant & Bar)
• Gong Cha 3
• Greenwood Fish Market
• PizzaExpress
• Toss & Turn
• Workspace Espresso Bar
• Xiao Ban Beancurd
• Esso Service Stations 4
• Challenger
• M1
• LEGO® Certified Stores (Bricks World)
1 Available initially at 11 out of 25 Cedele outlets island-wide
2 Available at 3 out of 11 TWG Tea outlets island-wide
3 Available at 11 out of 14 outlets island-wide
4 Available initially at 23 out of 62 Esso service stations island-wide
….. By creating a miles-based digital wallet which integrates the use of miles into their daily lives, KrisFlyer members have yet another way to use miles instantly on everyday transactions. Goh Choon Phong, Singapore Airlines CEO