As workplaces are reopened during the recovery phase of Malaysia's Movement Control Order, Express Rail is encouraging commuters to return to public transport. The provider of the KLIA Transit is offering a free Weekly TravelCard Reload Voucher, with every purchase of a Monthly TravelCard. This offer is available for ticket counter purchases during the promotional period from 1st July to 31st August 2020.
Passengers between KLSentral and Bandar Tasik Selatan, Putrajaya & Cyberjaya, Salak Tinggi and KLIA or klia2, benefit from this offer. The Reload Voucher is valid for the same travel sector as the Monthly TravelCard purchased. Make redeemption by 30th November 2020. For full terms and conditions, please visit KLIAekspres.com/travelcardbuy1free1.
….. We want to encourage (commuters) to start using public transportation again for their daily commute with this KLIA Transit TravelCard Buy 1 Free 1 offer. The Monthly TravelCard is heavily discounted and available for all sectors, with discounts of up to 83%. We hope the free Weekly TravelCard can provide additional savings for our commuters. Noormah Mohd Noor, CEO of ERL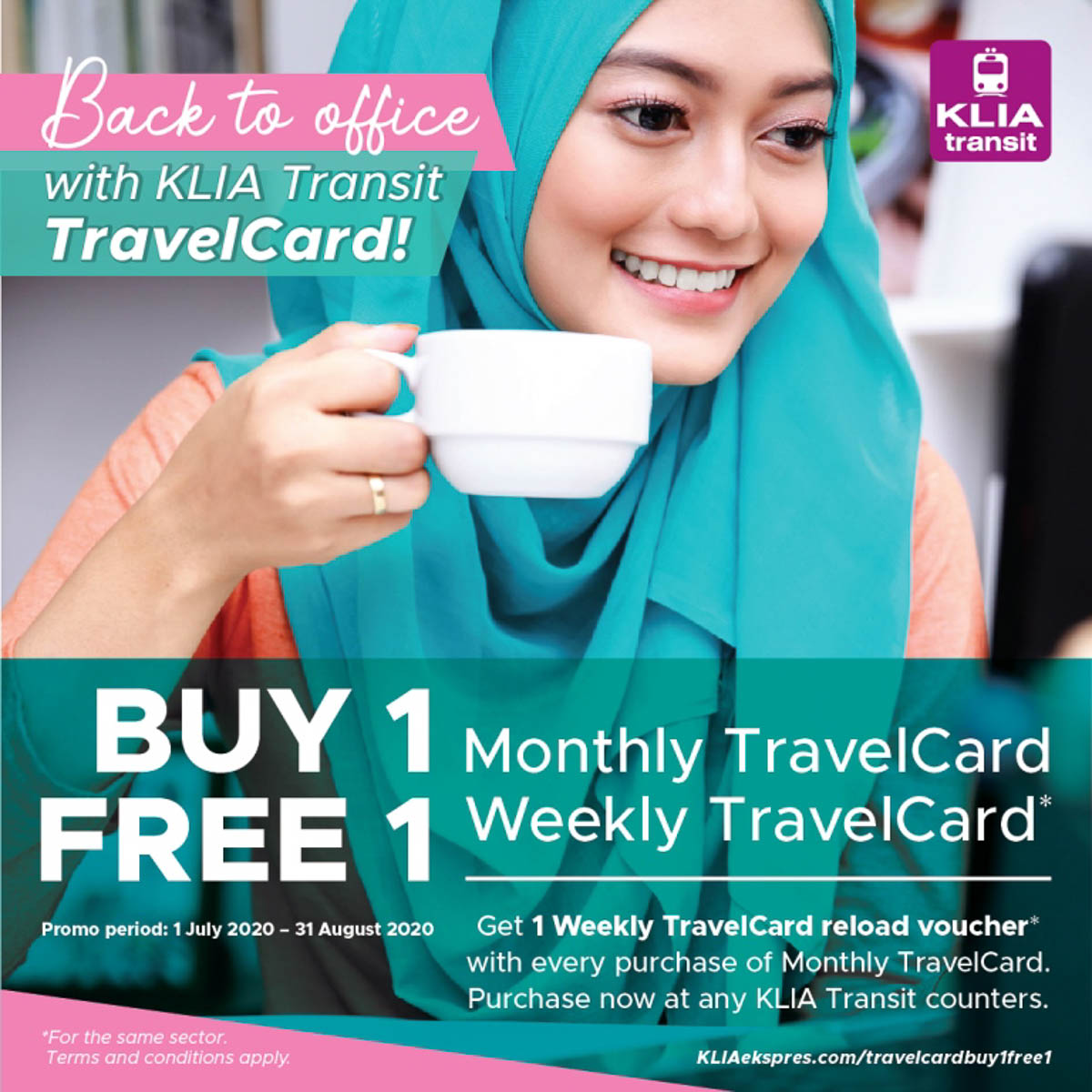 Train Schedule
KLIA Ekspres and KLIA Transit are currently operating a combined service from 6:00 am to 11:10 pm every day.
Trains now run every:
20 minutes during peak hours on weekdays,
30 minutes during off-peak hours on

weekdays,
weekends and
national public holidays,

60 minutes after 9:00 pm every day.
The schedule is reviewed periodically and adjusted to passenger ridership. Check the latest schedule (15th June) HERE.
Travelling Safely During The RMCO
Body temperature checks on all passengers before entry to the train station.

Passengers body temperature 37.5⁰C or higher will be denied entry.

All passengers must wear a mask at all times when using the train service.

Passengers refusing to wear a mask will not be allowed to board the train.

Passengers should to keep a safe distance of at least one metre apart at all times:

at the ticket counter,
ticketing kiosk,
the gate
on the platform.

Hand sanitiser is available at all ERL ticket counters.
High cleaning frequency of high contact areas at all stations since early February 2020.
Disinfection of all high contact areas on the trains

train seat steam cleaning conducted during nightly deep cleaning.
For the full train schedule, or purchase tickets please visit KLIAekspres.com.