We were at Kuala Lumpur International Airport (KLIA) recently to see someone off and with some time to spare, decided to drop in to the newly renovated KLIA Food Garden for a quick lunch. This popular food court has been closed for most of the last two years due to Covid-19. Border closures meant that flights were severely impacted and there was very little 'foot traffic'. 
With most of the original food outlets closed, there as been quite a bit of reorganisation of outlets, both existing and new businesses. The location of the  hasn't changed, just the look.
It's still on Level 2 below the International Arrival Hall on Level 3 and Departures on Level 5 and easily accessible via the lifts and escalators. The Food Garden is close to the entrance to Carpark B.
KLIA Food Garden offerings
The Food garden is similar in style and offerings to those found in malls across Malaysia and the new layout and vendor mix appears to be well received. There was a mix of patrons including airline staff and travellers and tables were well spaced out, though some chairs weren't suitable for putting a handbag on. Perhaps that's why.
The escalator near the entrance to Carpark B and the bank of lifts A-D is at the 'Drinks' end. Both international and local choices are available with popular franchises represented. Both barista coffee  and local coffee are available, along with popular milk tea and other local favourites. There's also a range of sweet treats available.
At the other side you can enter from the bank of lifts E-H. You'll find sandwiches or pizza beside local favourites and Japanese food. Along one side of the space are stalls selling local choices. Some are still awaiting their tenants. The Food Garden is open from 7am to 10pm daily.
We opted for local food. The Hainanese Chicken Rice stall was popular and we had to queue and added two extra dishes of egg tau foo and some bean sprouts. Two of us are fans of Yong Tau Foo, and after making our selections, we added soup, one curry and one clear.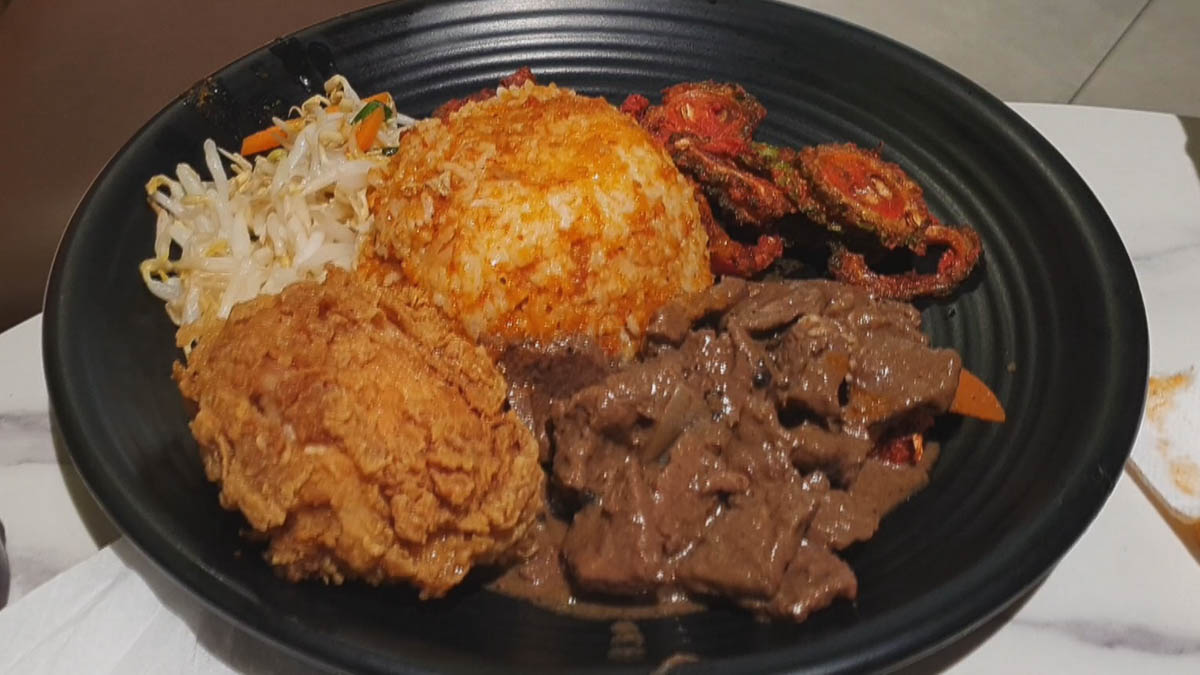 Our Nasi Kandar fan was also happy his favourite was available. He was especially pleased that the stall was offering rice, one meat dish and a veggie for a special price. He added an extra piece of chicken and washed everything down with milk tea. To find out the 'special price', check our video below.
The verdict? Tasty food, reasonably priced in a clean and uncrowded environment. We're very pleased it's reopened.