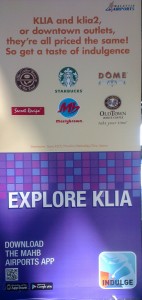 You know how you go to the airport to fly somewhere, or meet someone, to send them off and while you're waiting and you suddenly feel the pangs of hunger? You've probably noticed, or at least heard, that food and drink at an airport is always more expensive because of goodness knows what reason, most likely because they have a captive audience though, I suspect. Like the RMB50 cup of coffee I decided I wasn't thirsty enough for in Chengdu airport departure lounge a couple of years ago! So we went looking at the food choices in KLIA.
While it is true that the prices in food outlets in KLIA seem to be higher than outside, this writer noticed a sign the other day that says a number of popular local and foreign franchises charge the same at the airport as they do downtown. Good to know, they didn't used to, so maybe I'll try them again next time. You can find a number of these outlets on both the Arrivals level, either side of the Exit gate as well as on the Departure level.
On the Departure level, there are a number of such outlets easily visible after you've completed your check-in, on your way to the Departure Gates, both International and Domestic. There are more, including popular fast food outlets, arranged around the open area surrounding the escalators down to the Immigration Hall. After Immigration, there are mostly franchise outlets in both the nearside and satellite buildings, airside.
In our efforts to find places to eat that won't hurt the pocket, we did the best thing – follow the locals. That lead us to the Food Garden on Level 2, where there's a pretty decent selection of local food and drinks on offer. This is the level where you go to and from the car park.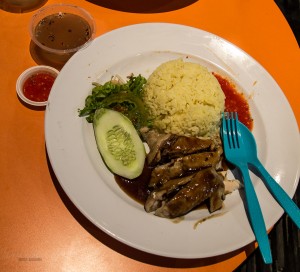 The food isn't exceptional, but it's not too bad and the portions are reasonably sized. A bowl of tom yam noodles will set you back around MYR7 and you'll get a little change from MYR8 for a place of chicken rice, which comes with a small bowl of clear soup.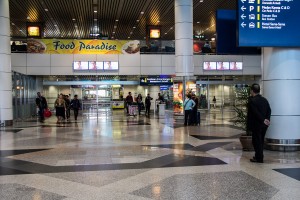 Another place to check is the Food Paradise on the mezzanine above the Arrival Hall and one floor below the Departure Hall. Go up or down the escalator, or hop in the lift. This one is on the same floor as the Airline Offices, so if you see the staff eating there, take it as a good sign. Please do note that the stalls do change from time to time, so we haven't mentioned any particular outlet.
Tip! If you arrive at (or are leaving from) KLIA by bus, the bus station is accessed by a skybridge to Block C Parking. There are a few hawker type stalls and a small minimarket along this skybridge. Turn to the right as you exit the Arrival Hall and go down the escalator.