If you're flying into or out of Kuala Lumpur this holiday season, KLIA Ekspres savers is back. Whether you're travelling as a family or a group of three adults, you can save up to 25% off the normal fares.
The packages are only available for online purchase from KLIAekspres.com from 3rd May to 9th July 2017.
KLIA Ekspres savers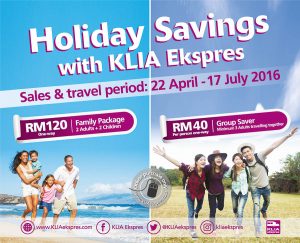 If you're travelling together in a group of three or more:
The Group Saver fare is priced at MYR 40 per person. This is a MYR 15 saving from the normal one-way fare of RM55.
If you're travelling as a family:
The Family Package will cost you MYR 120 one-way for 2 adults and 2 children aged 2 to 12 years old. This is a saving of 25% from the normal fares.
You do need to nominate the date of travel as the e-tickets are valid for travel only on the selected travel date within this period.
Check in online
If you're flying out of KLIA with Malaysia Airlines, Malindo Air and Cathay Dragon, you can save time by using the check-in and drop baggage facility available at KL City Air Terminal in KL Sentral.
This means you'll avoid the long queues  at the airport. In addition, your bags are taken care of for you and all you need to do is head straight for the Departure Gates when you get there.
The non-stop journey on KLIA Ekspres between KL Sentral and KLIA takes 28 minutes. Passengers can continue their journey to KLIA2 which takes another 3 minutes.
images © LL, one supplied