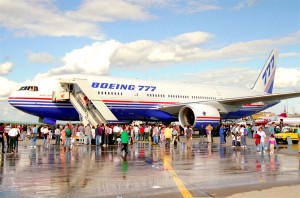 NERD ALERT: This is probably only of any significance to the aviation nerds, but the Boeing 777 celebrates a very important milestone today. On this day in 1995, United Airlines flew the world's very first commercial Boeing 777 flight. In the subsequent years, about 50 airlines have ordered more than 1,200 of these aircraft. If you've flown anywhere on a medium to long haul flight, you've very likely been on one of these landmark planes.
Here are a few highlights, amongst many:
[lists style="star" color="#eeee22″]
Boeing worked around a concept called "Working Together" to make this plane's design and launch as close as possible to specifications and customer requirements. This applied to both teams working internally and the launch customers – all provided input into the design from the get go. The first airframe flew with the words "Working Together" proudly printed under the cockpit windows.
This was the first airplane to be designed entirely using computers – not one sheet of paper was used in the draughting of the plane's design.
The 777-300ER series (the most recent) uses the world's largest and most powerful turbofan engine – the GE90-115B made by General Electric. One of these engines can maintain a Boeing 747 at cruise, all on its own.
[/lists]
Even after 20 years, the 777 is nowhere near running out of steam. A revamp of the line-up is due to begin rolling off the production line later this decade with over 150 orders locked in even without a final design.
So from Economy Traveller to the Boeing 777: happy birthday, and here's to at least another 20 years of safe and affordable travel!