Even if you're not travelling somewhere exciting, you can always have a mini-holiday or even an extended holiday by going on a photo safari.
Safari? You mean with lions and stuff?
Well, if you live near a wildlife reserve in Africa or a safari park elsewhere, maybe, but otherwise you can do what Australian photographer Lea Hawkins suggests in her article in Digital Photography School. Go on a Cow Safari! Yes.
If you are sufficiently long lived to remember travelling in cars with no radio/tape/CD players, or pre-digital device days, you may recall playing a game called 'I Spy'. Goes like this… 'I spy with my little eye, something beginning with….. P.' Then everyone else in the car looks out for something (you guessed it!) beginning with the letter 'P'. The person who gets it right then picks the next letter and so on. With little kids, you can play it with colours.
Anyway, I digress.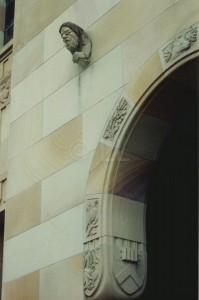 A 'cow safari' is a good way of helping you to focus your attention on what you're experiencing when you travel, even if it's only in your own locality, perhaps especially in your own locality, because it's so easy to miss good stuff in places that are familiar to us. Another benefit is that while we're looking for our particular chosen target, we will see other details we may have otherwise missed.
You could confine your 'cow safari' to a particular excursion, or build up a collection over many excursions / trips / years. I realise I've been collecting photos of griffins, gargoyles and other high up building decorations for many years now and have an eclectic collection from various locations.
What will you do with your trophies?
Well, obviously you're not going to have a trophy head to put up on the wall (thankfully) but you will have a collection of photos. If you're a fan of film, put them in an album, frame them and put them on the wall or collage them on a tabletop.
This writer uses Adobe Lightroom to catalogue all her photos (including all the old scanned prints). By locating your photos (use Google Earth if your photos don't have GPS info attached) and making use of a Search Engine, you can find out the background information about your 'trophy'.
You may also find you have enough, or a collection of collections, to make yourself a coffee table book. Use one of the great self-publishing tools available these days which make this easy. I use Photobook, which also has templates for posters, canvas prints calendars and cards. The software is easy to use and they do the printing and send it back you you within about a week. You need to download their free Photobook Designer software for your country and away you go.
So. What are you waiting for? Get that camera and go!