Are you one of those thousands of Australians and Kiwis in London for the Rugby World Cup Final? Perhaps you want something else to amuse yourself with while you waile or after the trophy has been presented?
We had a reminder from the folk at Cheapflights Australia, that it's Halloween and they've given us their favourite list of spooky things to do in London when you're not at the big game.
There are ghosts galore around London even, it's rumoured, at the Oatlands Park Hotel in Weybridge, where New Zealand's All Blacks have been staying. 
Here's their list, you're sure to find something scary (or not) here to keep you busy.
1. Haunted Pubs
If sipping on a cold pint before kick-off is your thing, a visit to some of London's most haunted pubic houses might be up your alley. The Black Cap, Camden, has been selling beer since the 18th century and it is a widely held belief that their first landlady was a witch.
Watch out if you find yourself in The Rising Sun Inn, Smithfield, next to St. Barts hospital. Legend has it that in the early 19th century it was the preying ground of 'body snatchers' who would drug drinkers at the pub and later murder them to sell their bodies to the hospital for medical research.
Jack the Ripper's famed local, The Ten Bells, Spitalfields, is also rumoured to be a den of paranormal activity. Customers and bar staff alike report hearing footsteps in empty corridors and experiencing unexplained cold spots in the bar.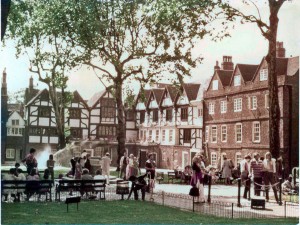 2. Famous Ghosts
Henry VIII's second wife, Anne Boleyn, is perhaps the best-travelled ghost in the entire world. Sightings of her apparition have been reported throughout Britain including at the site of her imprisonment and execution, the Tower of London, where she's been seen wearing a white Tudor dress. She's also been seen at Windsor Castle, Hampton Court Palace and at some of her childhood homes: Hever Castle and Blickling Hall.
3. Visit the first 'Tower of Terror'
If you are planning a visit to London's scarier destinations then the original tower of terror, the Tower of London, is a must see spot. Originally a royal palace, the tower was also London's most notorious prison and regularly held executions. If he was still around, Henry VIII would back this up, as he ordered the execution of two of his wives there.
Young princes Edward V, Richard of York and Arabella Stuart are just a few of the ghostly souls reportedly still imprisoned in the tower.
4. Track down 'Jack the Ripper'?
Head out east to retrace the steps of one of Britain's most notorious serial killers – Jack the Ripper. The inspiration for umpteen movies and more than 100 books, you can revisit his trail of terror in London's East End with Jack the Ripper Ghost Walks. A creepy walk around Whitechapel is sure to get the nerve ends tingling.
5. Ghoulish Museums
If a visit to a museum is more your style, then look no further than the Hunterian Museum in Lincolns Inn Fields. Located at the Royal College of Surgeons, bottled human foetuses, preserved monkey heads and out of shape skeletons are just some of the exhibits that await you. All were once the creepy specimens of famed Georgian surgeon Sir John Hunter.
If you're still in Oz and can get organised fast, perhaps you can find a cheap ticket and just go!