The new Conditional Movement Control Order (CMCO) introduced on 1st May 2020 is a relaxation of the previous MCO. As such, the Express Rail Link Sdn Bhd (ERL) is running limited train services during CMCO from 4th May. The new CMCO provides train services for commuters and air travellers between KL Sentral and KLIA.
UPDATED as at 1st June 2020
Train services during CMCO
KLIA Ekspres and KLIA Transit now run as a combined service from 6:00 am to 11:00 pm every day. This is effective 4th May 2020 until further notice. Trains run every 20 minutes during peak hours on weekdays, and every 30 minutes during off-peak hours, weekends and national public holidays.
During Ramadan, the afternoon peak hours will be adjusted to 4:00 pm – 6:00 pm to allow time for the public to travel home safely for the breaking of fast.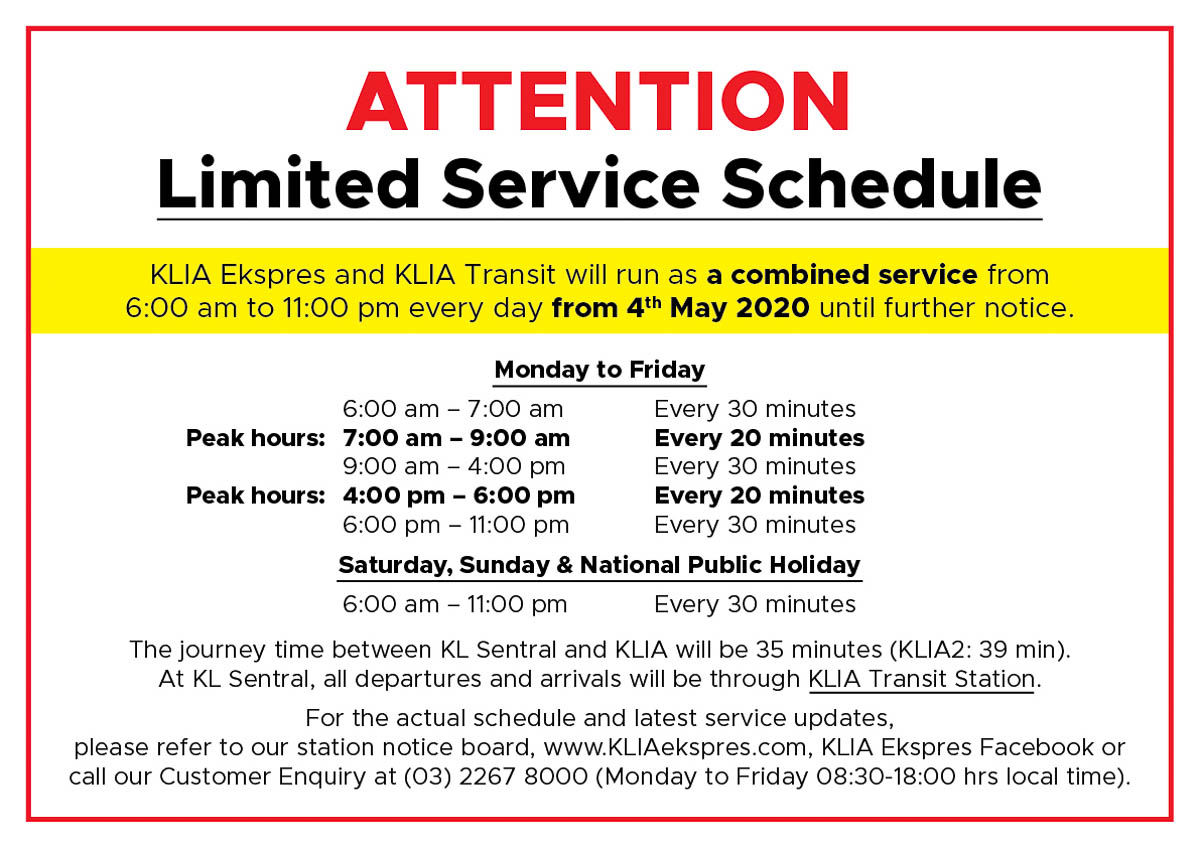 Please note:
Please Note:
There will be NO train services before 6:00 am and after the last train departure at 11:00 pm.
The schedule will be reviewed and adjusted as necessary to suit growing passenger ridership.
New schedules will be published five days prior to implementation

following consultation and approval from the authorities
Please click here for the full train schedule.
Travelling safely during the MCO Period
To ensure passenger safety on public transportation, the Ministry of Transport requires rail operators to:
Care
Conduct body temperature checks on all passengers before allowing entry to the train station.
Any passenger whose body temperature is 37.5⁰C or higher will be denied entry.
All passengers are must wear a mask at all times when using the train service.
Caution
Passengers should practise the 3C's for travelling safely on the train.
ERL has implemented measures to ensure adherence to social distancing.
Passengers must keep a safe distance of at least one metre apart at all times,

including on the platform and onboard the train.

Hand sanitiser is available at all ERL ticket counters.
Cashless
Passengers are encouraged to avoid paying by cash.
Save money: go contactless/cashless when buying tickets

Purchase tickets at the kiosk