Make sure you catch EkkaNIGHTS, even if you haven't the time to go for a whole day to see everything on offer.  This year the organisers have introduced quite a few new ideas, including a half price Twilight Ticket to encourage people to enjoy the evening programme, EkkaNIGHTS.
EkkaNIGHTS – what's on
The programme is fast paced, starting at 5.15pm, which is just before dark as it's still winter. Ekka 2017 has been blessed with a very mild winter, with many people wearing light clothes. This is not always the case, so it's wise to be prepared for cooler and sometimes, windy, weather.
So, what did we enjoy?
Harness racing
They run one event each night, at 5.15pm with six entrants. The riders sit is a special two wheeled 'carriage' pulled by the horse. Watch the way the horses run at a trot, rather than galloping.
Bring on the cars (and the clown)
The Holden Racing Team in their red Holden 'utes' will have you in the edge of your seat with their daredevil racing and drifting, and the clown doing his own brand of daredevil car surfing.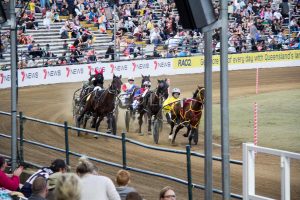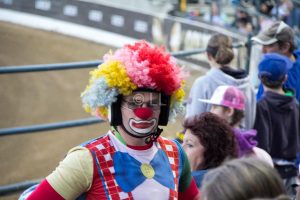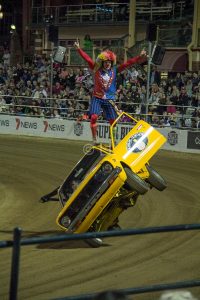 Skill and Style
Enjoy the display of archery on horseback, with the archers and their support rider dressed in medieval costume. Hold your breath as a very brave young man escapes the flaming 'jaws of death' and a straitjacket, while suspended high above the crowd.
Horses, cattle and showmen (and girls)
Cheer for the brumby (wild horses) muster, watch Bella match the big guy for style and moves and see just how those cattle managed to get on the rooftop!
There are also two fireworks displays in 2017, one at 6pm and the second at 8pm. There's lots more in this fast moving programme, including a tag team event involving horses, wood chopping and Mini cars. Curious – you have a few more days to find out!
Of course, after all the events in the Main ring, you can still stay and enjoy Sideshow Alley and the various food and live entertainment venues until late.
Economy Traveller is at the Ekka flying as a guest of Malindo Air.
images ©LL