Airlines have always been profit oriented and it is their interest to think of that bottom line when they are scheduling their flights. Parking spaces at airports are expensive and if they occupy them too long, not only does it cost them in fees directly, but it can mess with the schedules of other airlines who have flights waiting for slots to become available. They have a strong interest in having that aircraft leave on time.
So, with that in mind, who's responsible for getting that flight off the ground on time, or increasingly these days, a wee bit early?
The airline?
It's the responsibility of the airline to ensure that all pre-flight checks are done and flight plans submitted and approved in a timely manner.
It's their responsibility to ensure that passenger check-in procedures are smooth. Provision of online check-in, self check-in, baggage drop counters or the provision of facilities to help you tag and drop your own bags are all innovations adopted by an increasing number of airlines to ease the check-in process. They must also ensure that all baggage is correctly stowed in the aircraft holds and the flight is cleared to leave on time. Cleaning of the aircraft, crew hand-over procedures and other such administrative tasks must be smooth and efficient.
Airline Loyalty programmes and provision of Lounges encourage card holding passengers to 'go in early'. Priority boarding and other 'extras' are now making their way even into the low-cost sector to encourage passengers to be on time.
The airport?
The role of the airport is to make it easy for passengers to complete their passage from arrival at the airport to leaving on their flight. They must also make it easy for airlines to complete all the necessary safety checks, baggage clearance and facilities for loading.
Passenger flow and facilities are very important. In some airports in some countries, it is possible for non-flying friends to accompany passengers right to the actual departure gate for domestic flights. This is also not common in many countries and you will have to say goodbye before you pass the first security check or Immigration counters.
Immigration clearance has generally become quicker with the introduction of more sophisticated passports, methods of reading the security features and agreements between countries to read information in these new types of passports.
Transit and Transfer facilities help keep extra people out of the queues at check-in and immigration lines by enabling them to route  their baggage through to their destination and save themselves the time and inconvenience of going through immigration / baggage collection / check-in when they are not spending any time in the transfer location.
Providing facilities in the departure lounges to engage passengers – shopping, cafes, IT facilities, transit hotels, spa facilities are among the things that encourage people to enter the secure area before the boarding gates. With things to do, places to sit and read or watch TV or rest, passengers are much closer to their boarding gates when they need to be there.
The passengers?
The days where you could sit in the airport coffeeshop or bar having that last drink or chat with friends or family and then make a last minute dash to board after they'd called your name a few times are long gone. They'll either go without you (especially the low-cost airlines) or they'll off load your baggage while you stand and fume, and then go without you.
Depending on the airport, the distance you need to go to your boarding gate, the number of immigration / security checks you need to go through, you may need to allow 20 minutes – half an hour or more before your boarding time. It is in everyone's interest that you are at your boarding gate on time.
Where you need to show your LAG bag (Liquids, Aerosols & Gels) have these ready to show in an easily accessible place and have belts and shoes ready for removal if needed. Ensure that you don't have any of the prohibited items – there's always a list prominently displayed before the check and don't start searching for phone, laptop and so on only when you get to the head of the queue.
Check the departure display boards. They will give you all the important information you need regarding boarding time and departure gate.
If all the passengers have boarded, all baggage is on board and all pre-flight checks are complete, you may even find yourself leaving a bit early. Just think how you would feel if you knew everything was ready to go and you continue to sit and sit and sit and the plane doesn't move. You're in a remote parking spot and everyone has been bussed out. Then, after forty-five minutes (longer than the time the flight would take) a car pulls up at the base of the steps and a couple gets out and they stroll up the stairs to their seats. If looks….
Please don't let that be you. If you are a big enough shot to think you have the right to hold up a flight – hire your own private aircraft!
So who's the best?
Despite all the above contributing to 'on-time' results, it's the airlines that get the good or bad reputation. There are a number of groups collecting data .
FlightStats is one of the respected groups awarding airlines for their On-time Performance. They have quite a range of criteria they use to determine the ranking
Top of the List of Major International Airlines with an On-time Performance in 2014 of 88.66% was Royal Dutch Airline KLM, with the balance of the top ten places occupied by SAS – Scandinavian Airlines, Iberia, Japan Airlines, Saudia, ANA – All Nippon Airways, Lufthansa, Air Berlin, LAN Airlines and Singapore Airlines.
In the Airline Alliance category, the OneWorld grouping took top spot with 79.97%, closely followed by Star Alliance and SkyTeam.
Top airlines in the various regional groupings also recorded high figures – you can see all the results by clicking on the Flightstats link above or this Interactive Link.
The South China Morning Post dipped into the data from the FlightStats study and noted that Chinese Airports were somewhat behind in the list. Actually, a few of them were among the worst. Anyone who's flown through a Chinese airport over the past few years will have noticed that many are actually excellent and some are in the process of being upgraded so, hopefully these figures will improve.
One of the most notoriously not-on-time performers, Shanghai's Pudong Airport has improved from 28.72% on-time in 2013, to 37.26% in 2014. Beijing's Capital International Airport has also thankfully improved on the 18.3% on-time departures it recorded in 2013, so there may be hope!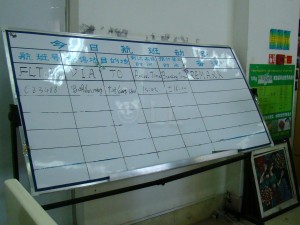 Here's a little bit of photo trivia that may also give hope. Taken at Lijiang airport in China in January 2010 while the airport was undergoing renovations. This is the Arrivals/Departures notice board in the Departure Lounge. I specially like the tinsel touch. and the +- beside the arrival time.
And if you're wondering where we had our 'waiting experience' it wasn't at one of those named as worst in China, but at Chengdu Domestic airport some years ago, which is now part of a large programme to decentralise International airline traffic in and out of China and will become one of the main hubs.