Fly to Madrid for MYR99/THB999/IDR333,000/AUD199 (USD25) depending whether you fly from Kuala Lumpur, Bangkok, Jakarta or Sydney? Impossible, right? How about if that includes your fare back as well? Sounds even more impossible! Well it will be possible, but only for one day – tomorrow, 16th November 2019.
Fly to Madrid so cheap? How?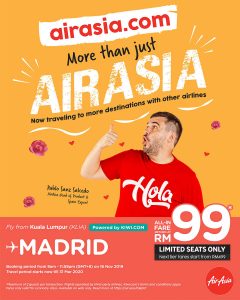 AirAsia have just announced a great new initiative that expends their network without actually doing so. Call it disruptive technology, thinking out of the box, whatever. Malaysia's low-cost airline is working with Czech company Kiwi.com to expand its online offering to include flights on other airlines.
Madrid is the taste of things to come. It's a one day offer on 16th November 2019 starting at 9am Malaysian time (GMT+8). The all-in return promotional fares are for immediate travel until 31st March 2020. Make your booking online at airasia.com. Tickets are limited, so get in quickly or you'll definitely miss out. 
If you miss the really cheap fares, you do get a second try. A second promotional all-in return fare of MYR499/THB4,999/IDR1,699,000/AUD399* (USD125) will also be available for those who miss out on the initial fare offer.
As always, there are some conditions:
* Maximum 2 passengers per transaction. Flights are operated by third party airlines and available for booking from Kuala Lumpur, Bangkok, Jakarta and Sydney on 16 November 2019 only. Kiwi.com terms and conditions apply. Available for booking on web only. 
So how does it work?
The promotional fares to Madrid were announced at the launch of AirAsia's online offering to include other airlines on airasia.com. This is the next step in the airline's evolution into the Asia Pacific's leading travel and lifestyle platform. The inclusion of other airlines is made possible by AirAsia's partnership with leading travel technology company Kiwi.com. This makes destinations such as London, Dubai, Madrid and Auckland more accessible to 50 million+ unique monthly users who book flights, hotels, activities and more on airasia.com.
The campaign was launched at AirAsia's global headquarters RedQ in Kuala Lumpur today and is part of the reorganisation was announced in August, which has already seen 700 new staff based across Asia Pacific. In addition, a new airasia.com campus will open in central Kuala Lumpur early next year.
Also announced today:
The selection of Madrid as the first destination celebrates AirAsia's partnership with Davis Cup by Rakuten, which takes place on 18-24 November 2019 in Madrid, Spain. AirAsia has kickstarted a global marketing campaign featuring its very own Spanish Allstar, airasia.com Head of Product Pablo Sanz Salcedo.
And there's more!
Check out the Deals link on the right side of your screen when you open the Home page. This is a virtual booklet full of discounts, offers and value deals. It's quite new and look to be pretty useful if you're travelling in Malaysia. Look out for it to be expanded.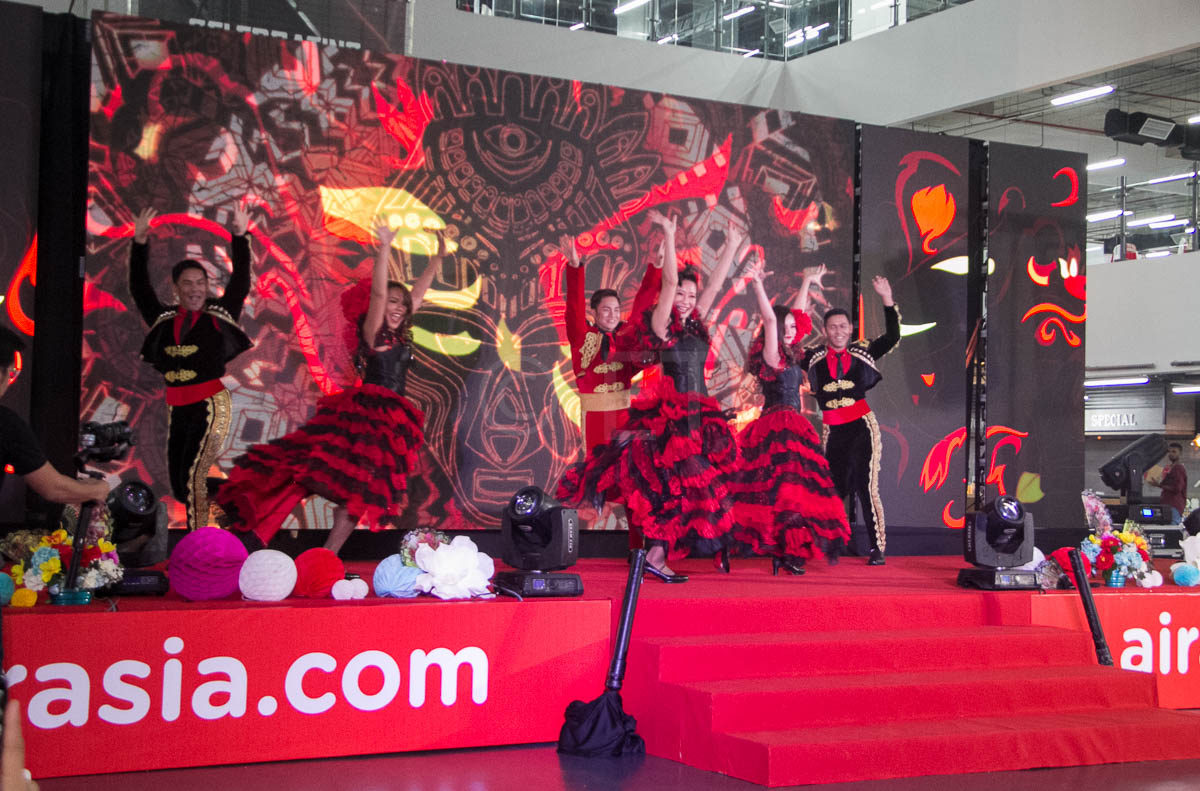 Founded by Oliver Dlouhý and Jozef Képesi in 2012, Czech company Kiwi.com is an online search engine allowing users to combine transportation from non-cooperating carriers.