AirAsia X is back with seven more destinations added to the first three starters, Sydney, Seoul and New Delhi. Returning to the line-up will be popular Japanese destinations Tokyo (Haneda), Osaka (Kansai) and Sapporo (Chitose). Honolulu returns as well, as a continuation of the Osaka service.  London also returns, as a jump on from newcomer Dubai and Istanbul is the other fresh face.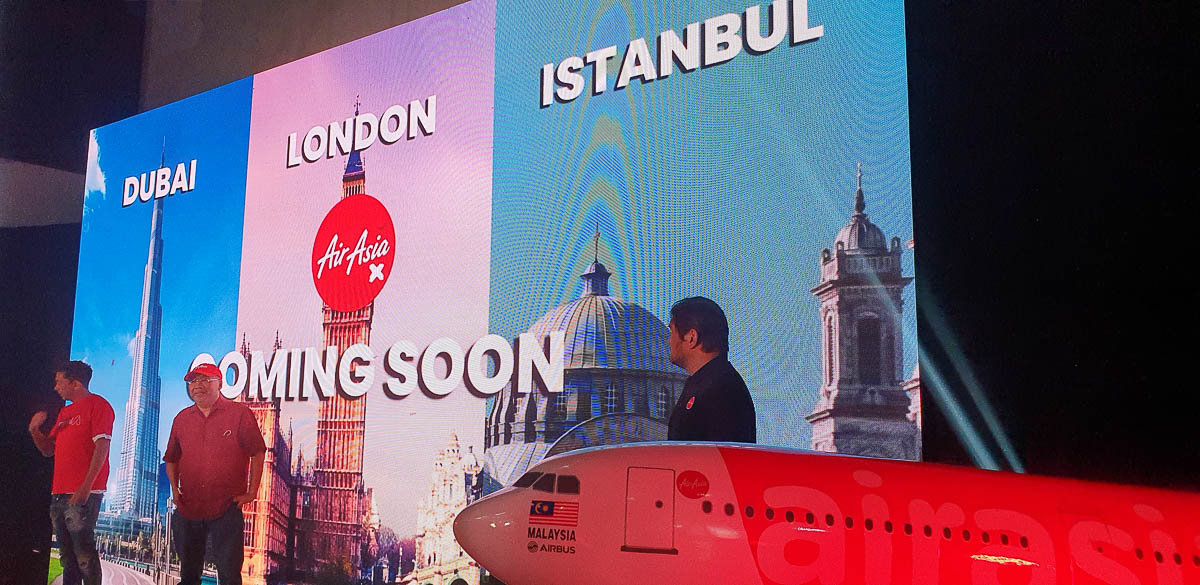 AirAsia X is back with Promo fares
Although we don't yet have start dates for London, Dubai and Istanbul, services are planned to start this year. Like all airlines that have had to hibernate aircraft for up to two years, they have to fully prepare them before they can return to service and get their furloughed flight and cabin crew back to full strength.
AirAsia X (AAX) is now offering all-in,* one-way flights starting from RM499 for economy seats and from RM1,499 for a Premium Flatbed. Flights are on sale until 26th June 2022, for travel between 1st July 2022 to 26th March 2023.
These offers are for flights across seven popular routes from Kuala Lumpur to
New Delhi

Sydney

Seoul (Incheon)

Tokyo (Haneda)

Sapporo (Chitose)

Osaka (Kansai)

and from Osaka (Kansai) to Honolulu.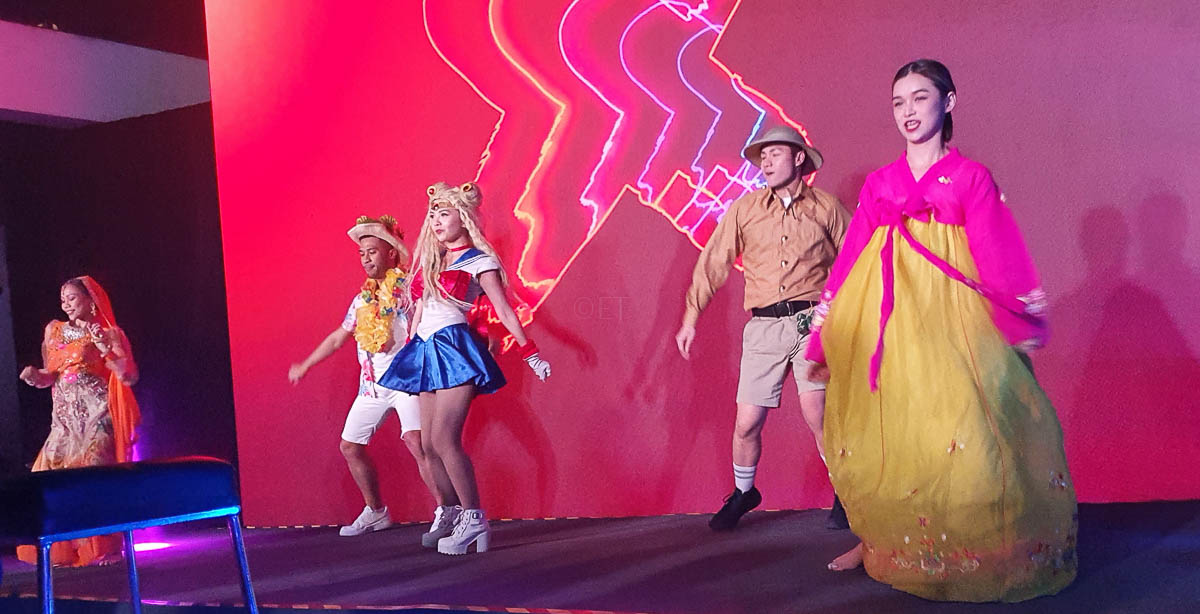 Flight Schedules
[table style="table-striped"]
Flight
Route
Departure
Arrival
Days of service
Dates
Weekly Frequency
SEOUL
D7 504
Kuala Lumpur –Seoul (Incheon)
23:00 (11pm)
06:30 (6.30am next day)
Wednesday, Saturday
3rd -31st Jul 22
2X
D7 505
Seoul (Incheon)  – Kuala Lumpur
07:45  (7.45am)
13:35   (1.35pm)
Thursday, Sunday
3rd -31st Jul 22
2X
NEW DELHI
D7 182
Kuala Lumpur  -New Delhi
19:20  (7.20pm)
22:15  (10.15pm)
Monday, Wednesday, Sunday
3rd Jul-5th Oct 22
3X
D7 183
New Delhi – Kuala Lumpur
23:30 (11.30pm)
07:30  (7.30am)
Monday, Wednesday, Sunday
3rd Jul-5th Oct 22
3X
TOKYO**
D7522
Kuala Lumpur -Tokyo(Haneda)
15:50  (3.50pm)
23:55   (23.55pm)
Thursday, Sunday
14th Jul-4th Sep 22
2X
D7523
Tokyo(Haneda) –Kuala Lumpur
1:15 (1.15am)
7:25 (7.25am)
Monday, Friday
15th Jul-5th Sep 22
2X
OSAKA**
D71
Kuala Lumpur – Osaka(Kansai)
14:10 (2.10pm)
21:35 (9.35pm)
Monday, Friday
3rd Oct-2nd Dec 22
2X
D72
Osaka (Kansai) –Kuala Lumpur
23:00 (11pm)
05:10 (5.10am)
Tuesday, Saturday
4th Oct-2nd Dec 22
2X
HONOLULU**
D71
Osaka (Kansai) – Honolulu
23:55 (11.55pm)
12:20 (12.20pm)
Monday, Friday
3rd Oct-2nd Dec 22
2X
D72
Honolulu – Osaka (Kansai)
16:20  (4.20pm)
21:40 (9.40pm)
Monday, Friday
3rd Oct-2nd Dec 22
2X
SYDNEY
D7220
Kuala Lumpur – Sydney
0:05 (12.05am)
9:50 (9.50am)
Monday, Friday
2nd -30th Sep 22
2X
D7221
Sydney – Kuala Lumpur
11:00  (11am)
17:50 (5.50pm)
Monday, Friday
2nd -30th Sep 22
2X
SAPPORO**
D7 550
Kuala Lumpur – Sapporo(Chitose)
23:50  (11.50pm)
08:25 (8.25am next day)
Tuesday, Thursday, Saturday, Sunday
1st Dec-28th Feb 23
4X
D7 551
Sapporo(Chitose) – Kuala Lumpur
09:35 (9.35am)
17:15 (5.15pm)
Monday, Wednesday, Friday, Sunday
2nd Dec-1st Mar 23
4X
[/table]
All times are local
*All-in fares include airport tax, fuel surcharge and other applicable fees. Terms and conditions apply. 
**Flights to Japan and Hawaii are on sale subject to regulatory approvals.
Sitting in front of a screen showing off the new AirAsia X logo, top management of AirAsia X and the Group, Capital A, fielded wide ranging questions from media. They also reassured travellers keen to see other Australian favourites appear along with Sydney. It was explained that these will be announced, hopefully soon, along with other popular destinations. Quick Tip: As Australia reopens to the world, visa applications (Australian ETA (Electronic Travel Authority) are taking longer for some applicants and more documents may be requested. So apply early, even before buying your ticket.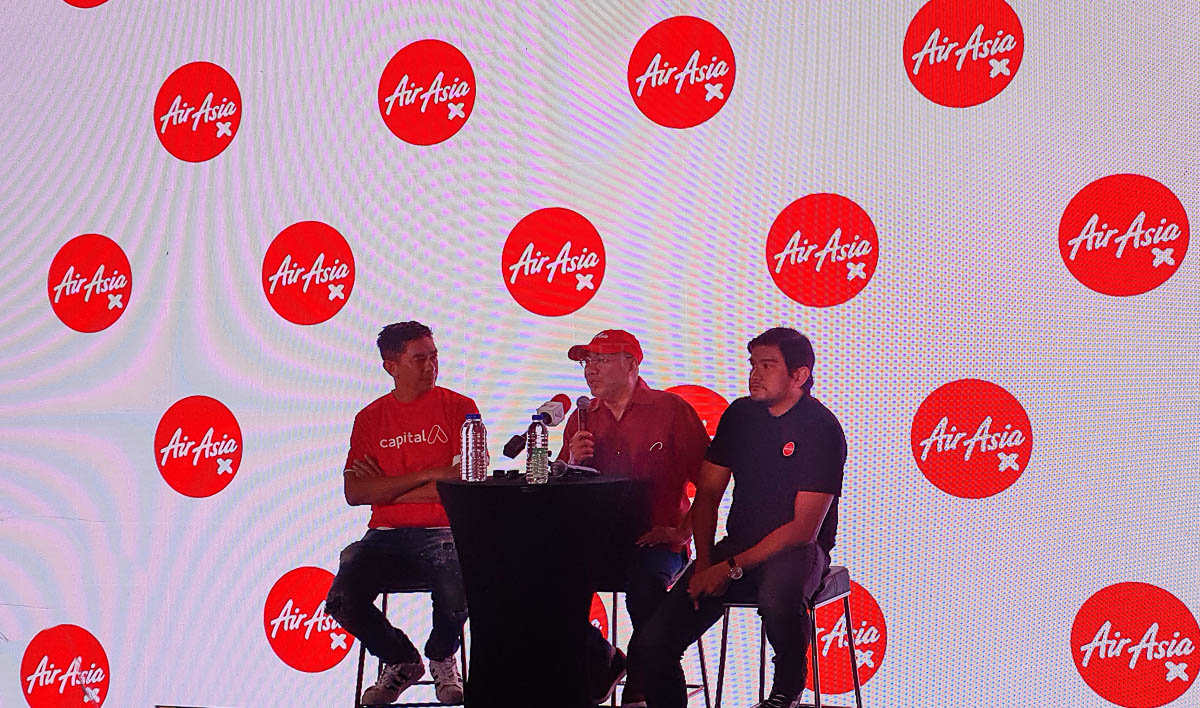 New logo behind Colin Currie, President (Commercial) Capital A, Datuk Kamarudin Meranun, Executive Chairman of Capital A, Benyamin Ismail, AirAsia X CEO
Kamarudin Meranun, Executive Chairman of Capital A and Founder of AirAsia X flagged the event as an incredibly exciting day as AAX returns to the skies refreshed and rejuvenated. He also shared that Istanbul is his favourite destination and he can't wait to share its many highlights with travellers.

…. The resumption of four popular medium haul routes and announcement of three new long haul services today is a significant milestone following the most challenging time in aviation history. We are thrilled to return to London and to launch flights for the first time to Dubai and Istanbul. Kamarudin Meranun
He also clarified the terms of the AAX restructure, explaining that the company is governed by a Court order that does not allow the return of cash (i.e. refunds) to their passengers, so credit vouchers for the full value owed have been sent out in the past month. This has the added benefit of improving passenger loads as flights return.
AAX has six aircraft currently in service. These have been running cargo flights since early 2021, so travellers can be reassured that both aircraft and flight crews are flight ready. Five more aircraft are due to return to service before the end of 2022, allowing more routes and flights to be added progressively.
Capital A President (Commercial) Colin Currie introduced AAX's refreshed branding to signal the new start.
….. Maximum value, maximum experience and maximum destinations are what the relaunched AAX stands for. However, the ethos of AirAsia – delivering low cost, high quality will continue to underpin the new-look AAX, providing maximum opportunity for everyone to go to their dream destinations. Colin Currie
As part of Capital A, AAX
will be well supported
with synergies within their broad ecosystem of travel and lifestyle products. These include the airasia Super App, the cargo business Teleport, fintech arm BigPay and all of the other airlines in the AirAsia Aviation Group.
….. We are back, better and stronger than ever. We have spent the downtime in flying reviewing every aspect of the operation to deliver even greater value and choice for medium and long haul travel. ……… Today's announcement of the resumption of four routes to Japan and Hawaii and to launch flights to London, Istanbul and Dubai is just the beginning. We have many more destinations in the pipeline which we will announce soon, to meet strong pent up demand. AirAsia X CEO Benyamin Ismail
He looks forward to bringing all their fleet of aircraft out of hibernation and to gradually bring their valued pilots and cabin crew who were on furlough, back to service. They are confident that all of the resumed or new services will prove to be very popular and AAX will return to pre-Covid capacity on some of the core routes within the next 12 months.
Benyamin also made mention of the company's strategic new model, combining cargo and passengers, which enables AirAsia X to fly profitably where other airlines may not be able to. This makes operations to longer-haul routes like Dubai, Istanbul and London commercially viable and more affordable for travellers.